Are Adult Crambid Snout Moths (Crambinae) and Larval Stages of Lepidoptera Suitable Tools for an Environmental Monitoring of Transgenic Crops? — Implications of a Field Test
1
Institute of Environmental Geosciences, University of Basel, Bernoullistrasse 30, Basel CH-4056, Switzerland
2
Büro Geyer & Dolek, Obere Dorfstr. 16, Wörthsee D-82237, Germany
3
gaiac – Research Institute for Ecosystem Analysis and Assessment e.V., RWTH Aachen University, c/o Institute of Environmental Research - Biology V, Worringerweg 1, Aachen D-52056, Germany
*
Author to whom correspondence should be addressed.
Received: 2 July 2011 / Revised: 25 July 2011 / Accepted: 3 August 2011 / Published: 10 August 2011
Abstract
Butterflies and moths (Lepidoptera) have been suggested for the environmental monitoring of genetically modified (GM) crops due to their suitability as ecological indicators, and because of the possible adverse impact of the cultivation of current transgenic crops. The German Association of Engineers (VDI) has developed guidelines for the standardized monitoring of Lepidoptera describing the use of light traps for adult moths, transect counts for adult butterflies, and visual search for larvae. The guidelines suggest recording adults of Crambid Snout Moths during transect counts in addition to butterflies, and present detailed protocols for the visual search of larvae. In a field survey in three regions of Germany, we tested the practicability and effort-benefit ratio of the latter two VDI approaches. Crambid Snout Moths turned out to be suitable and practical indicators, which can easily be recorded during transect counts. They were present in 57% of the studied field margins, contributing a substantial part to the overall Lepidoptera count, thus providing valuable additional information to the monitoring results. Visual search of larvae generated results in an adequate effort-benefit ratio when searching for lepidopteran larvae of common species feeding on nettles. Visual search for larvae living on host plants other than nettles was time-consuming and yielded much lower numbers of recorded larvae. Beating samples of bushes and trees yielded a higher number of species and individuals. This method is especially appropriate when hedgerows are sampled, and was judged to perform intermediate concerning the relationship between invested sampling effort and obtained results for lepidopteran larvae. In conclusion, transect counts of adult Crambid Moths and recording of lepidopteran larvae feeding on nettles are feasible additional modules for an environmental monitoring of GM crops. Monitoring larvae living on host plants other than nettles and beating samples of bushes and trees can be used as a supplementary tool if necessary or desired.
View Full-Text
►

▼

Figures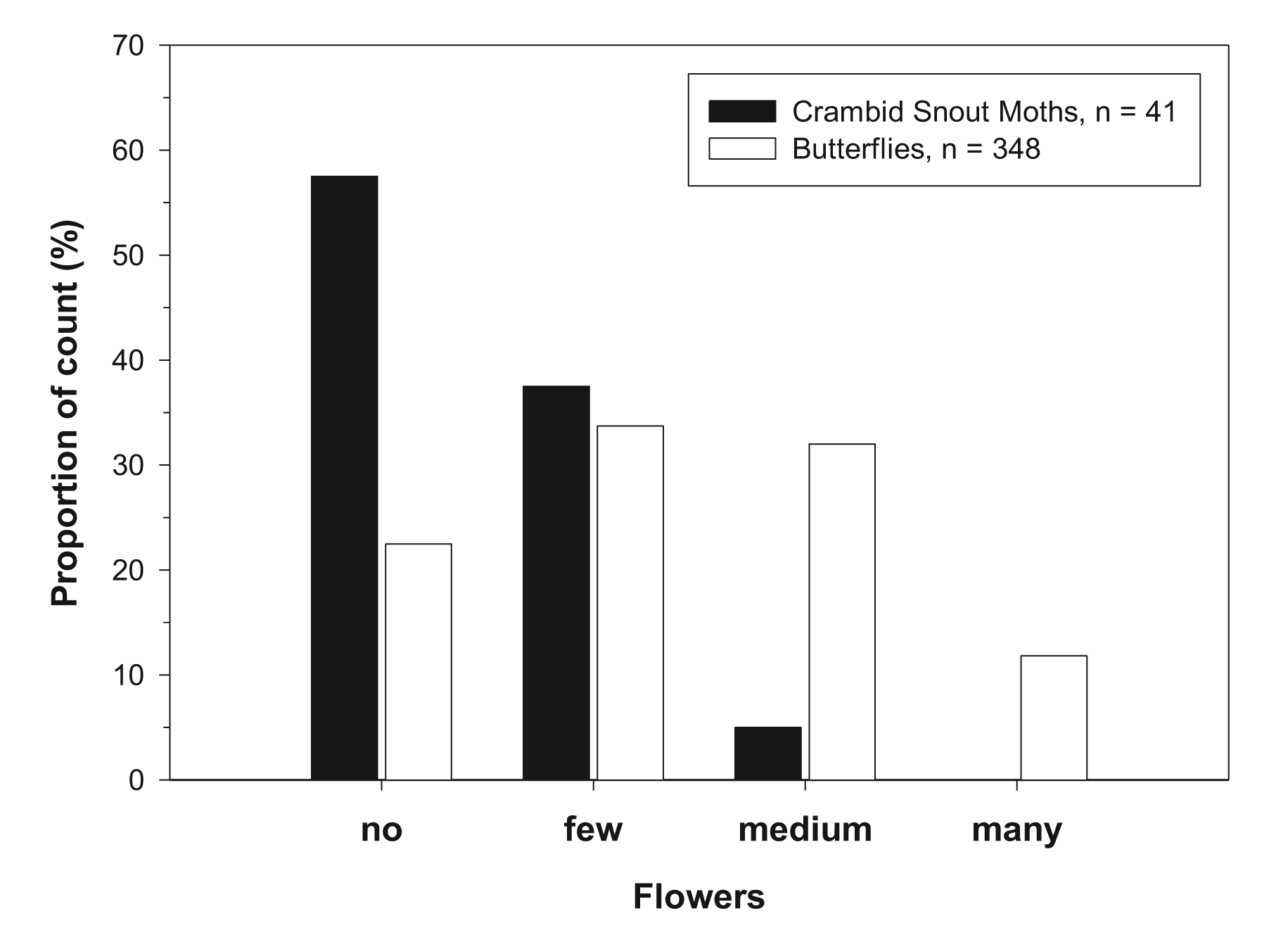 Share & Cite This Article
MDPI and ACS Style
Lang, A.; Dolek, M.; Theißen, B.; Zapp, A. Are Adult Crambid Snout Moths (Crambinae) and Larval Stages of Lepidoptera Suitable Tools for an Environmental Monitoring of Transgenic Crops? — Implications of a Field Test. Insects 2011, 2, 400-411.
Related Articles
Comments
[Return to top]