Clues to tRNA Evolution from the Distribution of Class II tRNAs and Serine Codons in the Genetic Code
Department of Biochemistry, University of Otago, Dunedin 9016, New Zealand
Academic Editors: Lluís Ribas de Pouplana, Adrian Gabriel Torres and Helga Stan-Lotter
Received: 1 December 2015 / Revised: 20 February 2016 / Accepted: 22 February 2016 / Published: 24 February 2016
Abstract
We have previously proposed that tRNA
Gly
was the first tRNA and glycine was the first amino acid incorporated into the genetic code. The next two amino acids incorporated would have been the other two small hydrophilic amino acids serine and aspartic acid, which occurred through the duplication of the tRNA
Gly
sequence, followed by mutation of its anticodon by single C to U transition mutations, possibly through spontaneous deamination. Interestingly, however, tRNA
Ser
has a different structure than most other tRNAs, possessing a long variable arm; because of this tRNA
Ser
is classified as a class II tRNA. Also, serine codons are found not only in the bottom right-hand corner of the genetic code table next to those for glycine and aspartic acid, but also in the top row of the table, next to those for two of the most hydrophobic amino acids, leucine and phenylalanine. In the following, I propose that the class II tRNA structure of tRNA
Ser
and the arrangement of serine codons in the genetic code provide clues to the early evolution of tRNA and the genetic code. In addition, I address Di Giulio's recent criticism of our proposal that tRNA
Gly
was the first tRNA, and discuss how early peptides produced from a restricted amino acid alphabet of glycine, serine and aspartic acid might have possessed proteolytic activity, which is possibly important for the early recycling of amino acid monomers.
View Full-Text
►

▼

Figures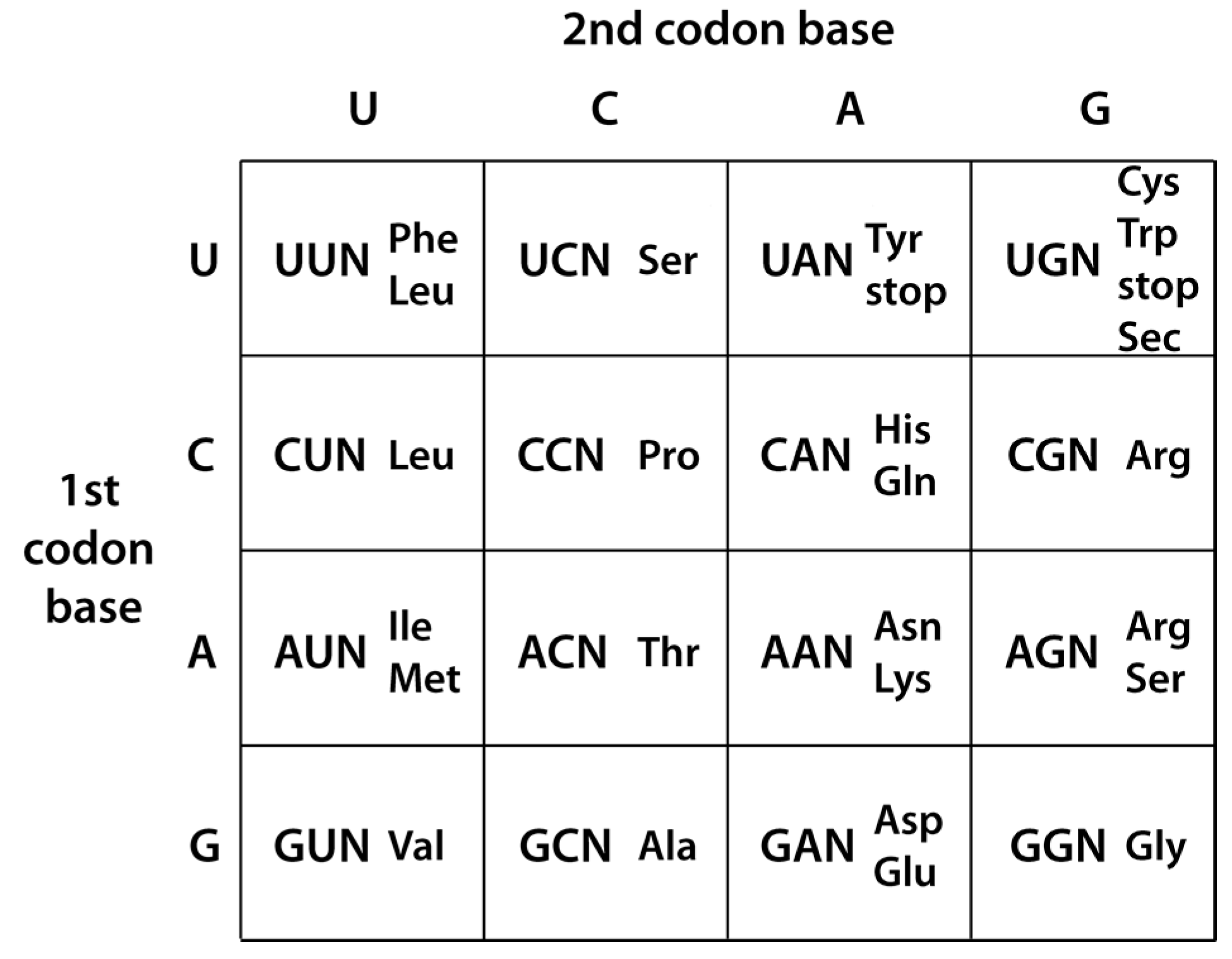 Figure 1
This is an open access article distributed under the
Creative Commons Attribution License
which permits unrestricted use, distribution, and reproduction in any medium, provided the original work is properly cited. (CC BY 4.0).
Share & Cite This Article
MDPI and ACS Style
Bernhardt, H.S. Clues to tRNA Evolution from the Distribution of Class II tRNAs and Serine Codons in the Genetic Code. Life 2016, 6, 10.
Note that from the first issue of 2016, MDPI journals use article numbers instead of page numbers. See further details here.
Related Articles
Comments
[Return to top]