World-Class PGE-Cu-Ni Talnakh Deposit: New Data on the Structure and Unique Mineralization of the South-Western Branch
1
Vernadsky Institute of Geochemistry and Analytical Chemistry, Russian Academy of Sciences, Kosygin St., 19, 119991 Moscow, Russia
2
V.S.Sobolev Institute of Geology and Mineralogy, Siberian Branch of Russian Academy of Sciences, Koptyuga Ave., 3, 630090 Novosibirsk, Russia
3
Russian Federal Geological Foundation, 3d Magistralnaya St., 38, 125993 Moscow, Russia
4
MMCo Norilsk Nickel, Polar Division, Lenina Ave., 1, 663300 Norilsk, Russia
5
Institute Geology of Ore Deposits, Petrography, Mineralogy and Geochemistry, Russian Academy of Sciences, Staromonetny Per., 35, 119017 Moscow, Russia
6
Lomonosov Moscow State University, Leninsky Gory, 1, 119992 Moscow, Russia
*
Author to whom correspondence should be addressed.
Received: 30 December 2017 / Revised: 15 March 2018 / Accepted: 15 March 2018 / Published: 21 March 2018
Abstract
The Talnakh deposit is one of the largest PGE-Cu-Ni deposits in the world. It is located inside the North-Western part of the Siberian Trap province and consists of three branches. The problem of massive ore origins has been discussed for several decades. The structure of the South-Western branch and the mineralogy of related its Cu-rich ore are discussed in this article. The Southern-2 orebody has a deep inclination (45°) inside the intrusive body, close to its wall, in contrary to the horizontal orebodies of the North-Eastern branch. Mineral composition of the Southern-2 orebody differs from the composition the other orebodies of the Talnakh intrusion as well. It consists ofchalcopyrite, pentlandite with subordinate cubanite, and pyrrhotite. Its specific feature is a large amount of bornite and chalcocite. These minerals occur in disseminated and massive ores. The ores of the other branches of the Talnakh intrusion have chalcopyrite-pyrrhotite compositions whilethe Southern-2 massive ore is enriched in Cu (19.03–25.8 wt %; Cu/Ni = 3.8–8.6) and PGE: ΣPGE changes from 39.1 to 279 ppm, Pd/Pt = 1.3–32. Twelve minerals of the systems Pd-Sn-Cu, Pd-Pb-Bi, Pd-Ni-As, Au-Ag-Pd-Cu, and intermetallics of the Pt-Fe-Cu-Ni types were discovered in ores, but are also widespread in other orebodies. Isoferroplatinum, sperrilite and cooperitewere not found. The unusual structure and composition of the Southern-2 orebody suggest its origin from a separate magma impulse. The correlation between disseminated and massive ores of the Southern 2 orebody in term of chemical and mineralogical composition is evidence of the formation of massive oresin situ, without displacement along the bottom of the massif.
View Full-Text
►

▼

Figures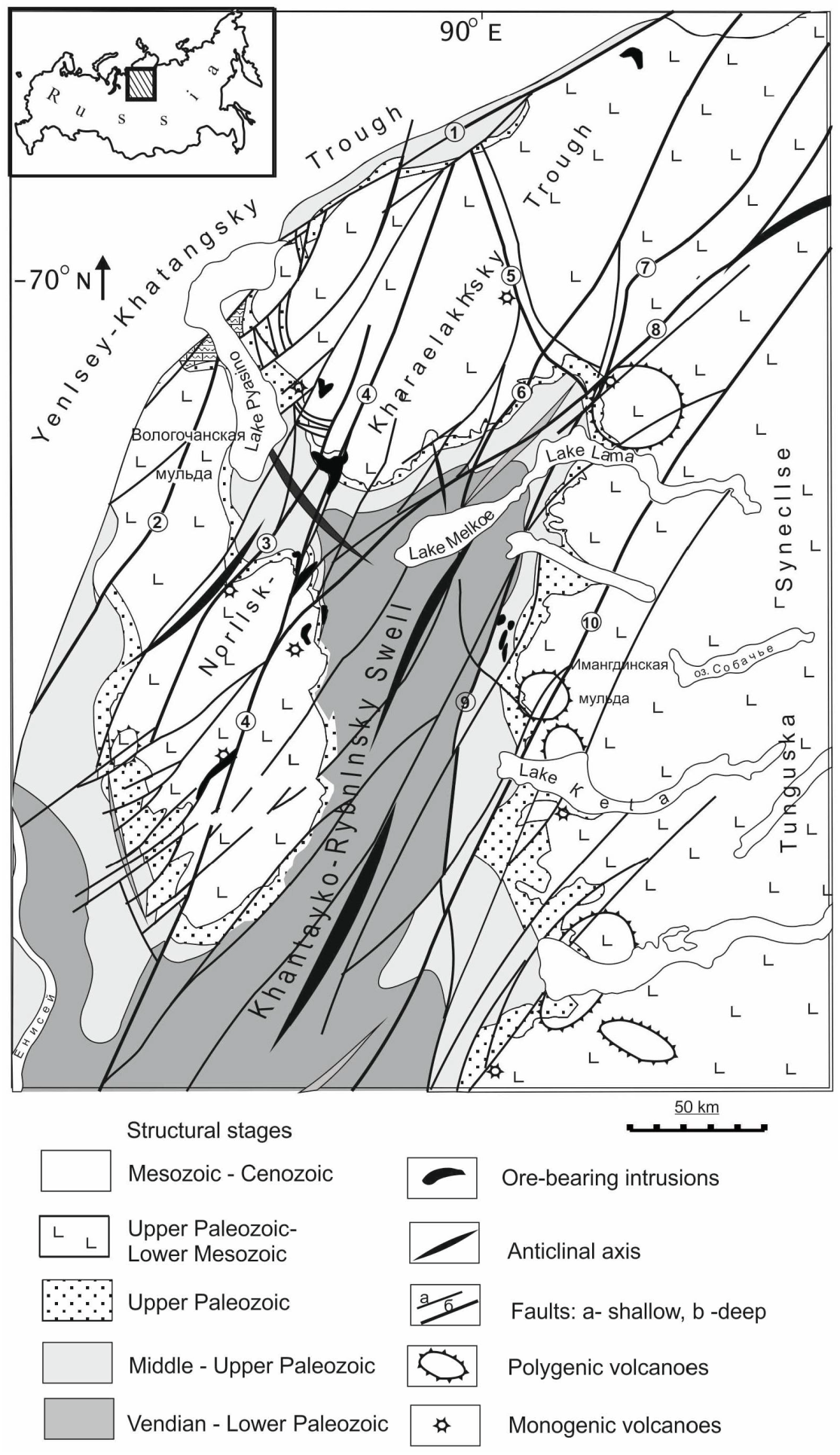 Figure 1
This is an open access article distributed under the
Creative Commons Attribution License
which permits unrestricted use, distribution, and reproduction in any medium, provided the original work is properly cited. (CC BY 4.0).
Share & Cite This Article
MDPI and ACS Style
Krivolutskaya, N.; Tolstykh, N.; Kedrovskaya, T.; Naumov, K.; Kubrakova, I.; Tyutyunnik, O.; Gongalsky, B.; Kovalchuk, E.; Magazina, L.; Bychkova, Y.; Yakushev, A. World-Class PGE-Cu-Ni Talnakh Deposit: New Data on the Structure and Unique Mineralization of the South-Western Branch. Minerals 2018, 8, 124.
Note that from the first issue of 2016, MDPI journals use article numbers instead of page numbers. See further details here.
Related Articles
Comments
[Return to top]