Chemoorganotrophic Bioleaching of Olivine for Nickel Recovery†
1
School of Engineering, University of Guelph, Guelph, ON N1G 2W1, Canada
2
Department of Microbial and Molecular Systems, KU Leuven, Leuven 3001, Belgium
3
Department of Chemical Engineering, KU Leuven, Leuven 3001, Belgium
4
Laboratory for Microbial and Biochemical Technology (Lab μBCT), KU Leuven @ Brugge-Oostende (Kulab), Oostende 8400, Belgium
†
Note: Contents of this paper also appear in the conference proceedings of the MetSoc of CIM's 7th International Hydrometallurgy Symposium, Victoria, BC, Canada, 22–25 June 2014.
*
Author to whom correspondence should be addressed.
Received: 8 May 2014 / Revised: 11 June 2014 / Accepted: 12 June 2014 / Published: 20 June 2014
Abstract
Bioleaching of olivine, a natural nickel-containing magnesium-iron-silicate, was conducted by applying chemoorganotrophic bacteria and fungi. The tested fungus,
Aspergillus niger
, leached substantially more nickel from olivine than the tested bacterium,
Paenibacillus mucilaginosus
.
Aspergillus niger
also outperformed two other fungal species:
Humicola grisae
and
Penicillium chrysogenum
. Contrary to traditional acid leaching, the microorganisms leached nickel preferentially over magnesium and iron. An average selectivity factor of 2.2 was achieved for nickel compared to iron. The impact of ultrasonic conditioning on bioleaching was also tested, and it was found to substantially increase nickel extraction by
A. niger
. This is credited to an enhancement in the fungal growth rate, to the promotion of particle degradation, and to the detachment of the stagnant biofilm around the particles. Furthermore, ultrasonic conditioning enhanced the selectivity of
A. niger
for nickel over iron to a value of 3.5. Pre-carbonating the olivine mineral, to enhance mineral liberation and change metal speciation, was also attempted, but did not result in improvement as a consequence of the mild pH of chemoorganotrophic bioleaching.
View Full-Text
►

▼

Figures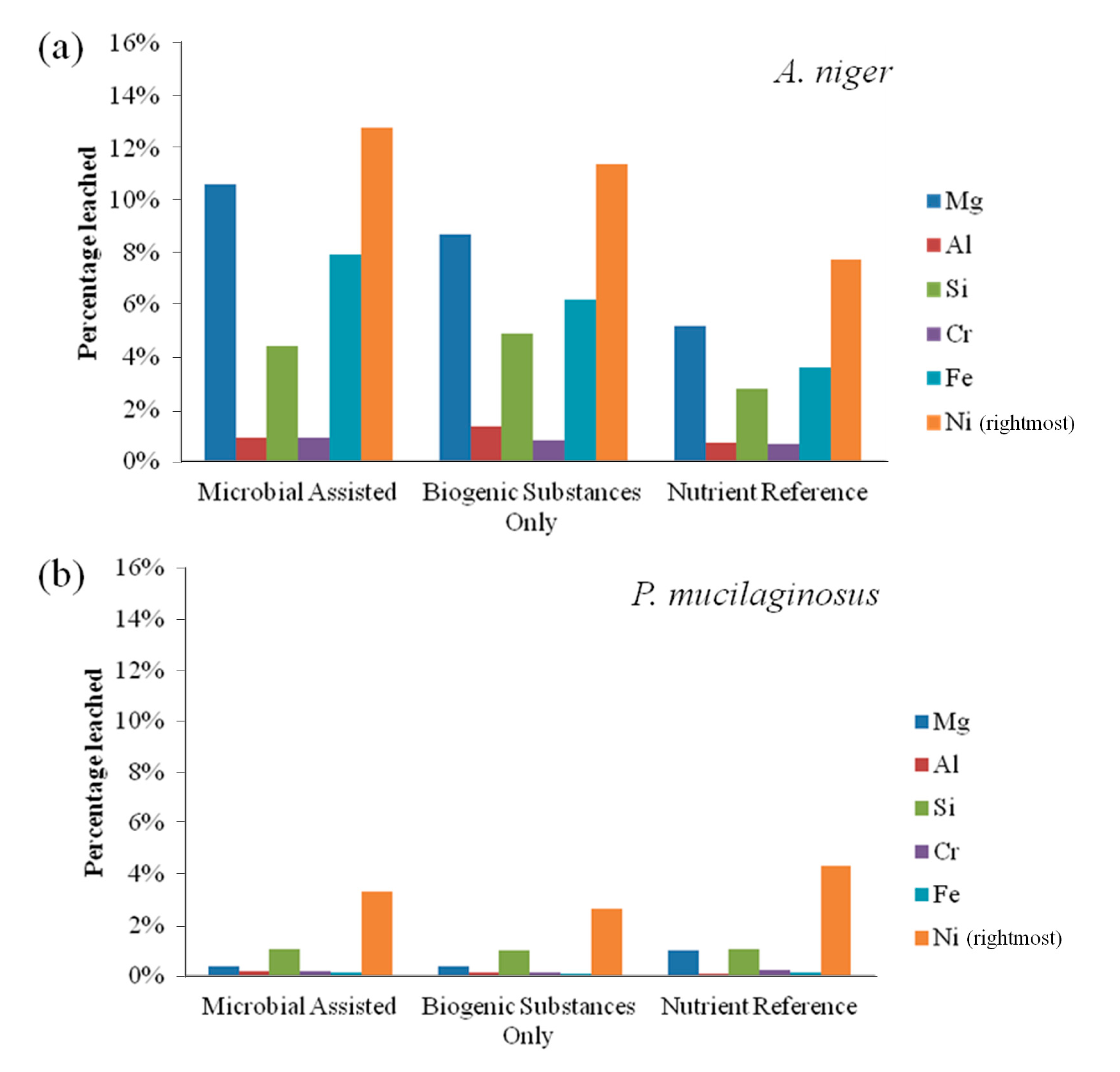 Figure 1
Share & Cite This Article
MDPI and ACS Style
Chiang, Y.W.; Santos, R.M.; Van Audenaerde, A.; Monballiu, A.; Van Gerven, T.; Meesschaert, B. Chemoorganotrophic Bioleaching of Olivine for Nickel Recovery. Minerals 2014, 4, 553-564.
Related Articles
Comments
[Return to top]