Dehydration and Rehydration of Carbonated Fluor- and Hydroxylapatite
1
Department of Chemistry, Franklin & Marshall College, Lancaster, PA 17603, USA
2
Department of Earth and Planetary Sciences and The Center for Materials Innovation, Washington University in St. Louis, St. Louis, MO 63130-4899, USA
*
Author to whom correspondence should be addressed.
Received: 12 January 2012 / Revised: 19 March 2012 / Accepted: 21 March 2012 / Published: 30 March 2012
Abstract
The recent definitive deuterium solid state NMR spectroscopic evidence for structural water in fluor- and hydroxylapatites has prompted our study of the conditions necessary for the removal and reincorporation of this important structural feature of apatites. Thermal gravimetric analysis of 20 synthetic carbonated calcium hydroxylapatite (CCaApOH) samples and nine carbonated calcium fluorapatite (CCaApF) samples has been used to determine the amount of structural and adsorbed water in each sample. No correlation between the weight percent and number of moles of structural water and the weight percent carbonate in CCaApOH and CCaApF has been found. In contrast, there appears to be a relationship between the amount of adsorbed water and the carbonate concentration in the fluorapatites prepared with a two hour digestion time, as well as in the hydroxylapatites prepared with one hour digestion periods, presumably due to the effect of carbonate on crystallite size. Structural water can be removed from the apatite lattice, primarily above 200 °C, but heating to over 550 °C is required for complete removal. This water can be partly reincorporated through an apparently kinetically-controlled process that is enhanced by an increase in time and/or temperature. We speculate that the incorporation of structural water occurs at the beginning of the formation of the apatite structure, approximately coincident with the incorporation of carbonate. We also speculate that water is both removed and reincorporated by proton transfers from water molecules to hydroxide ions.
View Full-Text
►

▼

Figures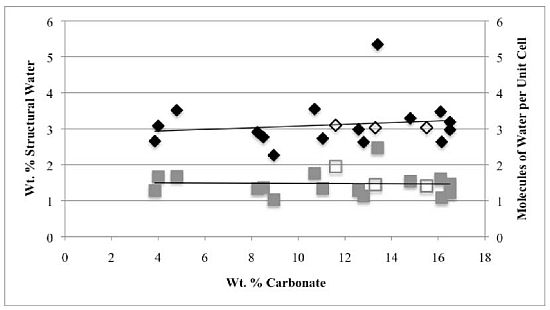 Share & Cite This Article
MDPI and ACS Style
Yoder, C.; Pasteris, J.; Worcester, K.; Schermerhorn, D.; Sternlieb, M.; Goldenberg, J.; Wilt, Z. Dehydration and Rehydration of Carbonated Fluor- and Hydroxylapatite. Minerals 2012, 2, 100-117.
Related Articles
Comments
[Return to top]