Symmetry Detection in Visual Impairment: Behavioral Evidence and Neural Correlates
1
Department of Psychology, University of Milano-Bicocca, 20126 Milano, Italy
2
Brain Connectivity Center, National Neurological Institute C. Mondino, 27100 Pavia, Italy
3
Brain Research Unit, OV Lounasmaa Laboratory, Aalto University School of Science, 02150 Espoo, Finland
4
Laboratory for Visual Neuroplasticity, Department of Ophthalmology, Massachusetts Eye and Ear Infirmary Harvard Medical School, Boston, MA 02115, USA
5
Department of Psychology, Faculty of Science and Technology, University of Westminster, London W1W 6UW, UK
6
Department of Psychology, Rochester Institute of Technology, Rochester, NY 14623, USA
7
Department of Brain and Behavioral Sciences, University of Pavia, 27100 Pavia, Italy
*
Author to whom correspondence should be addressed.
Received: 19 February 2014 / Revised: 13 May 2014 / Accepted: 14 May 2014 / Published: 26 May 2014
Abstract
Bilateral symmetry is an extremely salient feature for the human visual system. An interesting issue is whether the perceptual salience of symmetry is rooted in normal visual development. In this review, we discuss empirical work on visual and tactile symmetry detection in normally sighted and visually impaired individuals. On the one hand, available evidence suggests that efficient visual symmetry detection may need normal binocular vision development. On the other hand, converging evidence suggests that symmetry can develop as a principle of haptic perceptual organization in individuals lacking visual experience. Certain features of visual symmetry detection, however, such as the higher salience of the patterns containing a vertical axis of symmetry, do not systematically apply to the haptic modality. The neural correlates (revealed with neuroimaging) associated with visual and haptic symmetry detection are also discussed.
View Full-Text
►

▼

Figures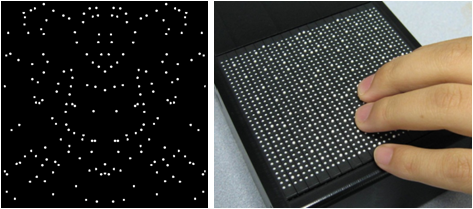 Share & Cite This Article
MDPI and ACS Style
Cattaneo, Z.; Bona, S.; Bauer, C.; Silvanto, J.; Herbert, A.M.; Vecchi, T.; Merabet, L.B. Symmetry Detection in Visual Impairment: Behavioral Evidence and Neural Correlates. Symmetry 2014, 6, 427-443.
Related Articles
Comments
[Return to top]