Construction of Fullerenes and Pogorelov Polytopes with 5-, 6- and one 7-Gonal Face
Steklov Mathematical Institute of Russian Academy of Sciences, 119991 Moscow, Russia
†
The author is a Young Russian Mathematics award winner.
Received: 19 January 2018 / Revised: 7 March 2018 / Accepted: 9 March 2018 / Published: 15 March 2018
Abstract
A Pogorelov polytope is a combinatorial simple 3-polytope realizable in the Lobachevsky (hyperbolic) space as a bounded right-angled polytope. These polytopes are exactly simple 3-polytopes with cyclically 5-edge connected graphs. A Pogorelov polytope has no 3- and 4-gons and may have any prescribed numbers of
k
-gons,
. Any simple polytope with only 5-, 6- and at most one 7-gon is Pogorelov. For any other prescribed numbers of
k
-gons,
, we give an explicit construction of a Pogorelov and a non-Pogorelov polytope. Any Pogorelov polytope different from
k
-barrels (also known as Löbel polytopes, whose graphs are biladders on
vertices) can be constructed from the 5- or the 6-barrel by cutting off pairs of adjacent edges and connected sums with the 5-barrel along a 5-gon with the intermediate polytopes being Pogorelov. For fullerenes, there is a stronger result. Any fullerene different from the 5-barrel and the
-nanotubes can be constructed by only cutting off adjacent edges from the 6-barrel with all the intermediate polytopes having 5-, 6- and at most one additional 7-gon adjacent to a 5-gon. This result cannot be literally extended to the latter class of polytopes. We prove that it becomes valid if we additionally allow connected sums with the 5-barrel and 3 new operations, which are compositions of cutting off adjacent edges. We generalize this result to the case when the 7-gon may be isolated from 5-gons.
View Full-Text
►

▼

Figures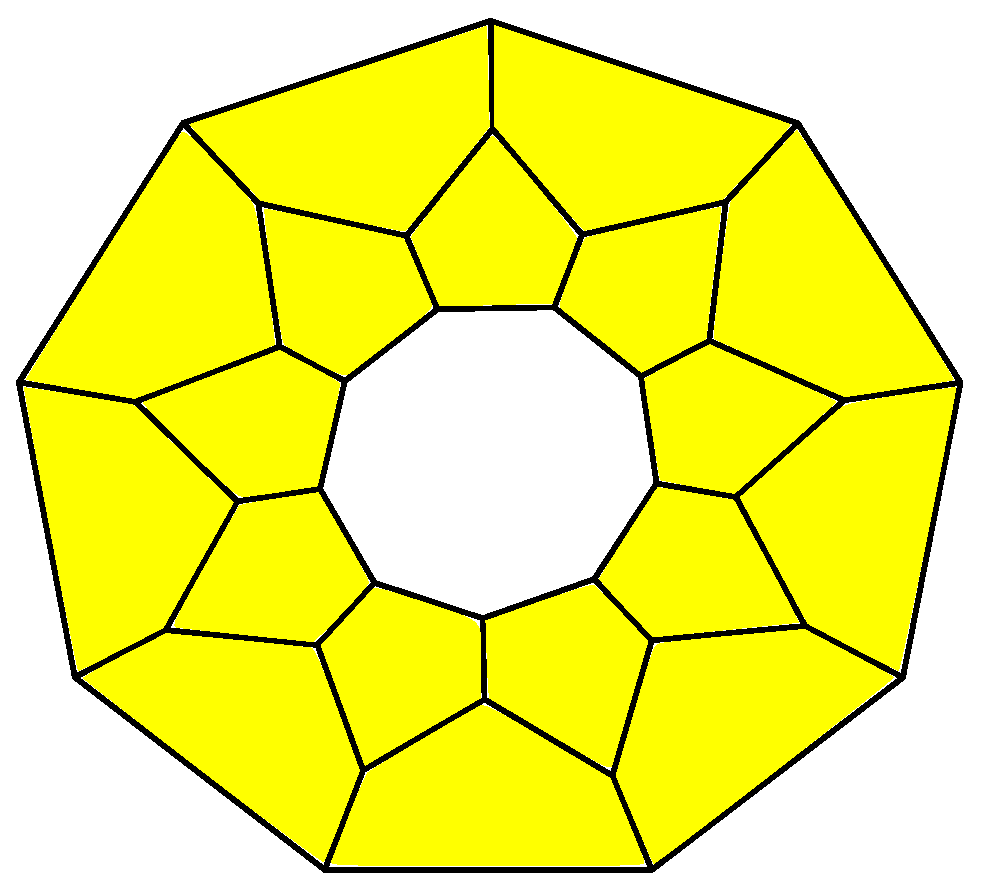 Figure 1
This is an open access article distributed under the
Creative Commons Attribution License
which permits unrestricted use, distribution, and reproduction in any medium, provided the original work is properly cited. (CC BY 4.0).
Share & Cite This Article
MDPI and ACS Style
Erokhovets, N. Construction of Fullerenes and Pogorelov Polytopes with 5-, 6- and one 7-Gonal Face. Symmetry 2018, 10, 67.
Note that from the first issue of 2016, MDPI journals use article numbers instead of page numbers. See further details here.
Related Articles
Comments
[Return to top]