Organophosphines in Cis-PtP2CCl Derivatives Structural Aspects
1
Department of Pharmaceutical Analysis and Nuclear Pharmacy, Faculty of Pharmacy, Comenius University in Bratislava, Odbojárov 10, SK-832 32 Bratislava, Slovak Republic
2
Toxicological and Antidoping Center, Faculty of Pharmacy, Comenius University in Bratislava, Odbojárov 10, SK-832 32 Bratislava, Slovak Repubic
3
Department of Chemistry, York University, 4700 Keele st., Toronto, ON M3J 1P3, Canada
*
Author to whom correspondence should be addressed.
Received: 11 January 2018 / Revised: 19 February 2018 / Accepted: 21 February 2018 / Published: 28 February 2018
Abstract
This manuscript summarizes and analyzes X-ray data of monomeric cis-PtP
2
CCl derivatives. These complexes crystallize in the following crystal systems: tetragonal, P4
2
/n (3), triclinic, Pī (10), orthorhombic, P2
1
2
1
2
1
(prevails)(16), and monoclinic, P2
1
/c (prevails) (36) examples. There are three sub-groups of the respective complexes: Pt(η
1
-PL)
2
(η
1
-CL)(η
1
-Cl); Pt(η
2
-P
2
L)(η
1
-CL)(η
1
-Cl) and Pt(η
1
-PL)(η
2
-P,CL)(η
1
-Cl). The chelating P,P-donor ligands form: four-(POP, PCP), five-(PC
2
P), six-(PC
3
P, PCNCP), seven-(PC
4
P) and even ten-(PCNCNCNCP) membered rings. The chelating P.C-donor ligands create three-(PC), four-(PCC) and five-(PC
2
C) membered rings. The mean Pt-L bond distance elongates in the sequence: 2.10 Å (C, trans to P) < 2.222 Å (P, trans to Cl) < 2.312 Å (P, trans to C) < 2.360 Å (Cl, trans to P). There are examples which exist in two isomeric forms, of the distortion isomer type.
View Full-Text
►

▼

Figures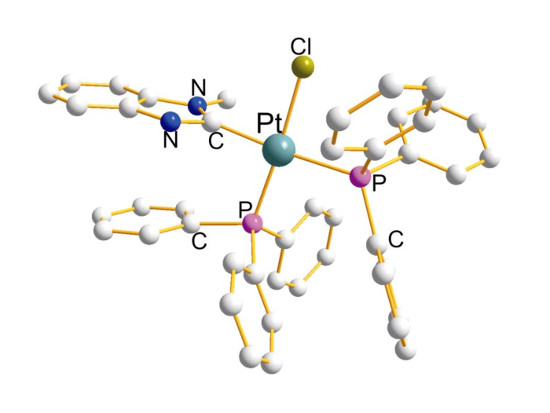 This is an open access article distributed under the
Creative Commons Attribution License
which permits unrestricted use, distribution, and reproduction in any medium, provided the original work is properly cited. (CC BY 4.0).
Share & Cite This Article
MDPI and ACS Style
Melnik, M.; Mikus, P.; Holloway, C.E. Organophosphines in Cis-PtP2CCl Derivatives Structural Aspects. Symmetry 2018, 10, 56.
Note that from the first issue of 2016, MDPI journals use article numbers instead of page numbers. See further details here.
Related Articles
Comments
[Return to top]