Typologies and Spatialization of Agricultural Production Systems in Rondônia, Brazil: Linking Land Use, Socioeconomics and Territorial Configuration
1
National Institute for Space Research—INPE 1, Av. dos Astronautas, 1758 CP. 515, 12227-010 São José dos Campos, SP, Brazil
2
Brazilian Agricultural Research Corporation—EMBRAPA Eastern Amazon, Trav. Dr. Enéas Pinheiro, s/n°, Caixa postal 48, 66095-100 Belém, PA, Brazil
3
Institut de Recherche pour le Développement—IRD UMR Espace-Dev, 500 rue Jean François Breton, 340930 Montpellier, France
*
Author to whom correspondence should be addressed.
Academic Editor: Richard Aspinall
Received: 30 March 2016 / Revised: 6 June 2016 / Accepted: 13 June 2016 / Published: 22 June 2016
Abstract
The current Amazon landscape consists of heterogeneous mosaics formed by interactions between the original forest and productive activities. Recognizing and quantifying the characteristics of these landscapes is essential for understanding agricultural production chains, assessing the impact of policies, and in planning future actions. Our main objective was to construct the regionalization of agricultural production for Rondônia State (Brazilian Amazon) at the municipal level. We adopted a decision tree approach, using land use maps derived from remote sensing data (PRODES and TerraClass) combined with socioeconomic data. The decision trees allowed us to allocate municipalities to one of five agricultural production systems: (i) coexistence of livestock production and intensive agriculture; (ii) semi-intensive beef and milk production; (iii) semi-intensive beef production; (iv) intensive beef and milk production, and; (v) intensive beef production. These production systems are, respectively, linked to mechanized agriculture (i), traditional cattle farming with low management, with (ii) or without (iii) a significant presence of dairy farming, and to more intensive livestock farming with (iv) or without (v) a significant presence of dairy farming. The municipalities and associated production systems were then characterized using a wide variety of quantitative metrics grouped into four dimensions: (i) agricultural production; (ii) economics; (iii) territorial configuration, and; (iv) social characteristics. We found that production systems linked to mechanized agriculture predominate in the south of the state, while intensive farming is mainly found in the center of the state. Semi-intensive livestock farming is mainly located close to the southwest frontier and in the north of the state, where human occupation of the territory is not fully consolidated. This distributional pattern reflects the origins of the agricultural production system of Rondônia. Moreover, the characterization of the production systems provides insights into the pattern of occupation of the Amazon and the socioeconomic consequences of continuing agricultural expansion.
View Full-Text
►

▼

Figures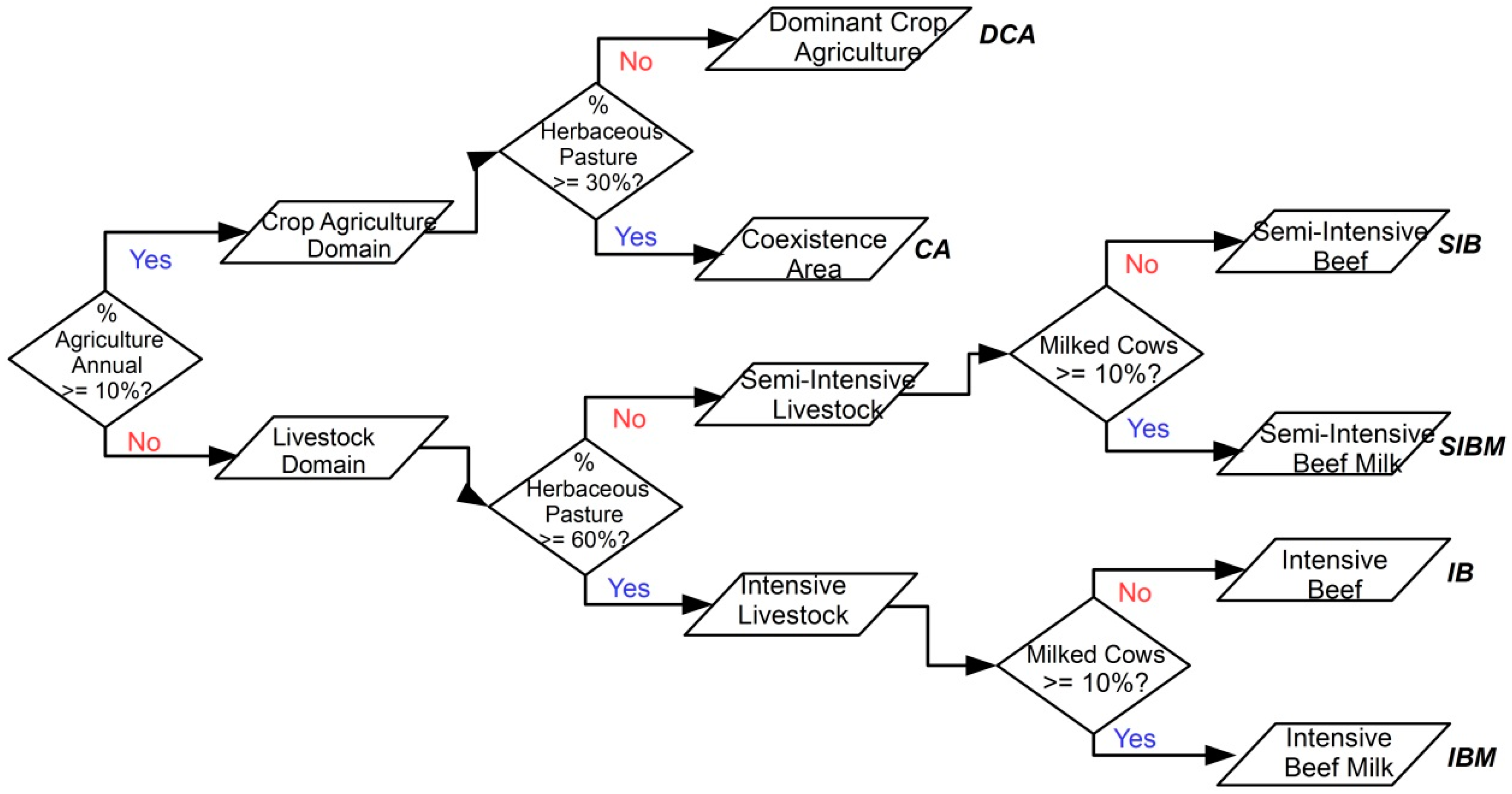 Figure 1
This is an open access article distributed under the
Creative Commons Attribution License
which permits unrestricted use, distribution, and reproduction in any medium, provided the original work is properly cited. (CC BY 4.0).
Share & Cite This Article
MDPI and ACS Style
Almeida, C.; Mourão, M.; Dessay, N.; Lacques, A.-E.; Monteiro, A.; Durieux, L.; Venturieri, A.; Seyler, F. Typologies and Spatialization of Agricultural Production Systems in Rondônia, Brazil: Linking Land Use, Socioeconomics and Territorial Configuration. Land 2016, 5, 18.
Note that from the first issue of 2016, MDPI journals use article numbers instead of page numbers. See further details here.
Related Articles
Comments
[Return to top]