Quorum Sensing and Quorum Quenching in Agrobacterium: A "Go/No Go System"?
Institute for Integrative Biology of the Cell (I2BC), CEA, CNRS, Univ. Paris-Sud, Université Paris-Saclay, Avenue de la terrasse, 91198 Gif sur Yvette CEDEX, France
*
Author to whom correspondence should be addressed.
Received: 7 March 2018 / Revised: 8 April 2018 / Accepted: 9 April 2018 / Published: 16 April 2018
Abstract
The pathogen
Agrobacterium
induces gall formation on a wide range of dicotyledonous plants. In this bacteria, most pathogenicity determinants are borne on the tumour inducing (Ti) plasmid. The conjugative transfer of this plasmid between agrobacteria is regulated by quorum sensing (QS). However, processes involved in the disturbance of QS also occur in this bacteria under the molecular form of a protein, TraM, inhibiting the sensing of the QS signals, and two lactonases BlcC (AttM) and AiiB that degrade the acylhomoserine lactone (AHL) QS signal. In the model
Agrobacterium
fabrum
strain C58, several data, once integrated, strongly suggest that the QS regulation may not be reacting only to cell concentration. Rather, these QS elements in association with the quorum quenching (QQ) activities may constitute an integrated and complex "go/no go system" that finely controls the biologically costly transfer of the Ti plasmid in response to multiple environmental cues. This decision mechanism permits the bacteria to sense whether it is in a gall or not, in a living or decaying tumor, in stressed plant tissues, etc. In this scheme, the role of the lactonases selected and maintained in the course of Ti plasmid and agrobacterial evolution appears to be pivotal.
View Full-Text
►

▼

Figures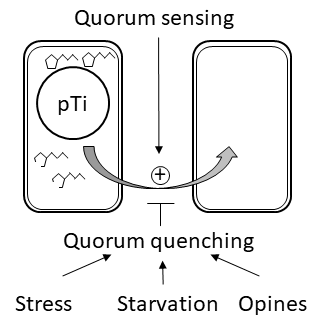 This is an open access article distributed under the
Creative Commons Attribution License
which permits unrestricted use, distribution, and reproduction in any medium, provided the original work is properly cited. (CC BY 4.0).
Share & Cite This Article
MDPI and ACS Style
Dessaux, Y.; Faure, D. Quorum Sensing and Quorum Quenching in Agrobacterium: A "Go/No Go System"? Genes 2018, 9, 210.
Note that from the first issue of 2016, MDPI journals use article numbers instead of page numbers. See further details here.
Related Articles
Comments
[Return to top]