Fungal Screening on Olive Oil for Extracellular Triacylglycerol Lipases: Selection of a Trichoderma harzianum Strain and Genome Wide Search for the Genes
1
Unidad de Biotecnología, Centro de Investigación Científica de Yucatán, A.C., Calle 43 No. 130 X 32 y 34, Col. Chuburná de Hidalgo, C.P. 97205 Merida, Mexico
2
Centro de Estudios Tecnológicos del Mar No. 17, km 1.5 Carr. Antigua Chelem, C.P. 97320 Yucalpetén, Mexico
3
Unidad de Bioquímica y Biología Molecular de Plantas, Centro de Investigación Científica de Yucatán, A.C., Calle 43 No. 130 X 32 y 34, Col. Chuburná de Hidalgo, C.P. 97205 Merida, Mexico
4
Departamento de Ingeniería Química y Bioquímica, Tecnológico Nacional de México, Campus Instituto Tecnológico de Mérida, Km. 5 Carr. Mérida-Progreso S/N, C.P. 97118 Merida, Mexico
5
División de Ingeniería Bioquímica, Instituto Tecnológico Superior de Purísima del Rincón. Blvd del Valle #2301, Guardarrayas, C.P. 36413 Purísima del Rincón, Guanajuato, Mexico
*
Author to whom correspondence should be addressed.
Received: 7 November 2017 / Revised: 15 December 2017 / Accepted: 20 December 2017 / Published: 25 January 2018
Abstract
A lipolytic screening with fungal strains isolated from lignocellulosic waste collected in banana plantation dumps was carried out. A
Trichoderma harzianum
strain (B13-1) showed good extracellular lipolytic activity (205 UmL
−1
). Subsequently, functional screening of the lipolytic activity on Rhodamine B enriched with olive oil as the only carbon source was performed. The successful growth of the strain allows us to suggest that a true lipase is responsible for the lipolytic activity in the B13-1 strain. In order to identify the gene(s) encoding the protein responsible for the lipolytic activity, in silico identification and characterization of triacylglycerol lipases from
T. harzianum
is reported for the first time. A survey in the genome of this fungus retrieved 50 lipases; however, bioinformatic analyses and putative functional descriptions in different databases allowed us to choose seven lipases as candidates. Suitability of the bioinformatic screening to select the candidates was confirmed by reverse transcription polymerase chain reaction (RT-PCR). The gene codifying 526309 was expressed when the fungus grew in a medium with olive oil as carbon source. This protein shares homology with commercial lipases, making it a candidate for further applications. The success in identifying a lipase gene inducible with olive oil and the suitability of the functional screening and bioinformatic survey carried out herein, support the premise that the strategy can be used in other microorganisms with sequenced genomes to search for true lipases, or other enzymes belonging to large protein families.
View Full-Text
►

▼

Figures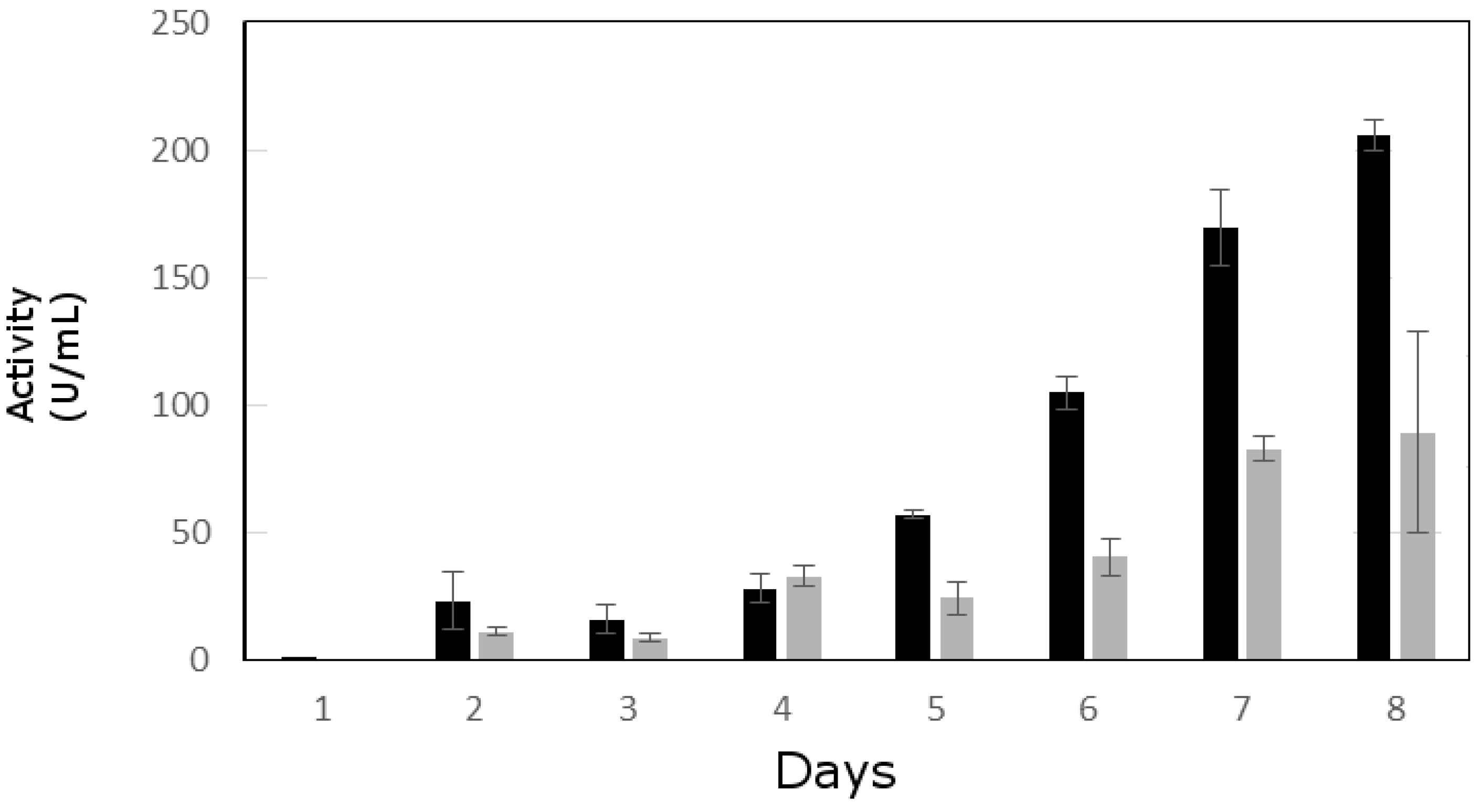 Figure 1
This is an open access article distributed under the
Creative Commons Attribution License
which permits unrestricted use, distribution, and reproduction in any medium, provided the original work is properly cited. (CC BY 4.0).
Supplementary materials
Supplementary File 1:

DOCX-Document (DOCX, 2820 KB)

Externally hosted supplementary file 1
Doi: No published. This is material for present paper
Link: http://No published. This is material for present paper
Description: Table S1. List of primers used in this study. Table S2. List of all lipase proteins identified in the T. harzianum genome homepage. Figure S1. Fungal strains B13-1 (A) and B13-3 (B) selected in screening for extracellular lipolytic activity using olive oil as carbon source in Rhodamine B test. Figure S2. Three-dimensional model proposed for (A) 551811; (B) 87496; (C) 526309; (D) 514427; (E) 510832; (F) 92423; (G) 135964; (H) 77338; (I) 514252; (J) 78181. In all protein models: (1) Red, -helixes; yellow, -strands. (2) Close up showing the lid (yellow), the catalytic triad (in red) and the oxyanion (in blue). (3) Superposition with best template protein model (see Table 4). (4) Superposition of catalytic triad in both proteins. All models were generated by I-TASSER and visualizations were performed in PyMOL. Figure S2. Continued.
Scifeed alert for new publications
Never miss any articles
matching your research
from any publisher
Get alerts for new papers matching your research
Find out the new papers from selected authors
Updated daily for 49'000+ journals and 6000+ publishers
Share & Cite This Article
MDPI and ACS Style
Canseco-Pérez, M.A.; Castillo-Avila, G.M.; Chi-Manzanero, B.; Islas-Flores, I.; Apolinar-Hernández, M.M.; Rivera-Muñoz, G.; Gamboa-Angulo, M.; Sanchez-Teyer, F.; Couoh-Uicab, Y.; Canto-Canché, B. Fungal Screening on Olive Oil for Extracellular Triacylglycerol Lipases: Selection of a Trichoderma harzianum Strain and Genome Wide Search for the Genes. Genes 2018, 9, 62.
Note that from the first issue of 2016, MDPI journals use article numbers instead of page numbers. See further details here.
Related Articles
Comments
[Return to top]