RAD4 and RAD23/HMR Contribute to Arabidopsis UV Tolerance
Department of Biological Sciences, University of Manitoba, Winnipeg, MB R3T 2N2, Canada
*
Author to whom correspondence should be addressed.
Received: 12 October 2017 / Revised: 15 December 2017 / Accepted: 19 December 2017 / Published: 28 December 2017
Abstract
In plants, exposure to solar ultraviolet (UV) light is unavoidable, resulting in DNA damage. Damaged DNA causes mutations, replication arrest, and cell death, thus efficient repair of the damaged DNA is essential. A light-independent DNA repair pathway called nucleotide excision repair (NER) is conserved throughout evolution. For example, the damaged DNA-binding protein Radiation sensitive 4 (Rad4) in
Saccharomyces cerevisiae
is homologous to the mammalian NER protein Xeroderma Pigmentosum complementation group C (XPC). In this study, we examined the role of the
Arabidopsis thaliana
Rad4/XPC homologue (AtRAD4) in plant UV tolerance by generating overexpression lines. AtRAD4 overexpression, both with and without an N-terminal yellow fluorescent protein (YFP) tag, resulted in increased UV tolerance. YFP-RAD4 localized to the nucleus, and UV treatment did not alter this localization. We also used yeast two-hybrid analysis to examine the interaction of AtRAD4 with
Arabidopsis
RAD23 and found that RAD4 interacted with RAD23B as well as with the structurally similar protein HEMERA (HMR). In addition, we found that
hmr
and
rad23
mutants exhibited increased UV sensitivity. Thus, our analysis suggests a role for RAD4 and RAD23/HMR in plant UV tolerance.
View Full-Text
►

▼

Figures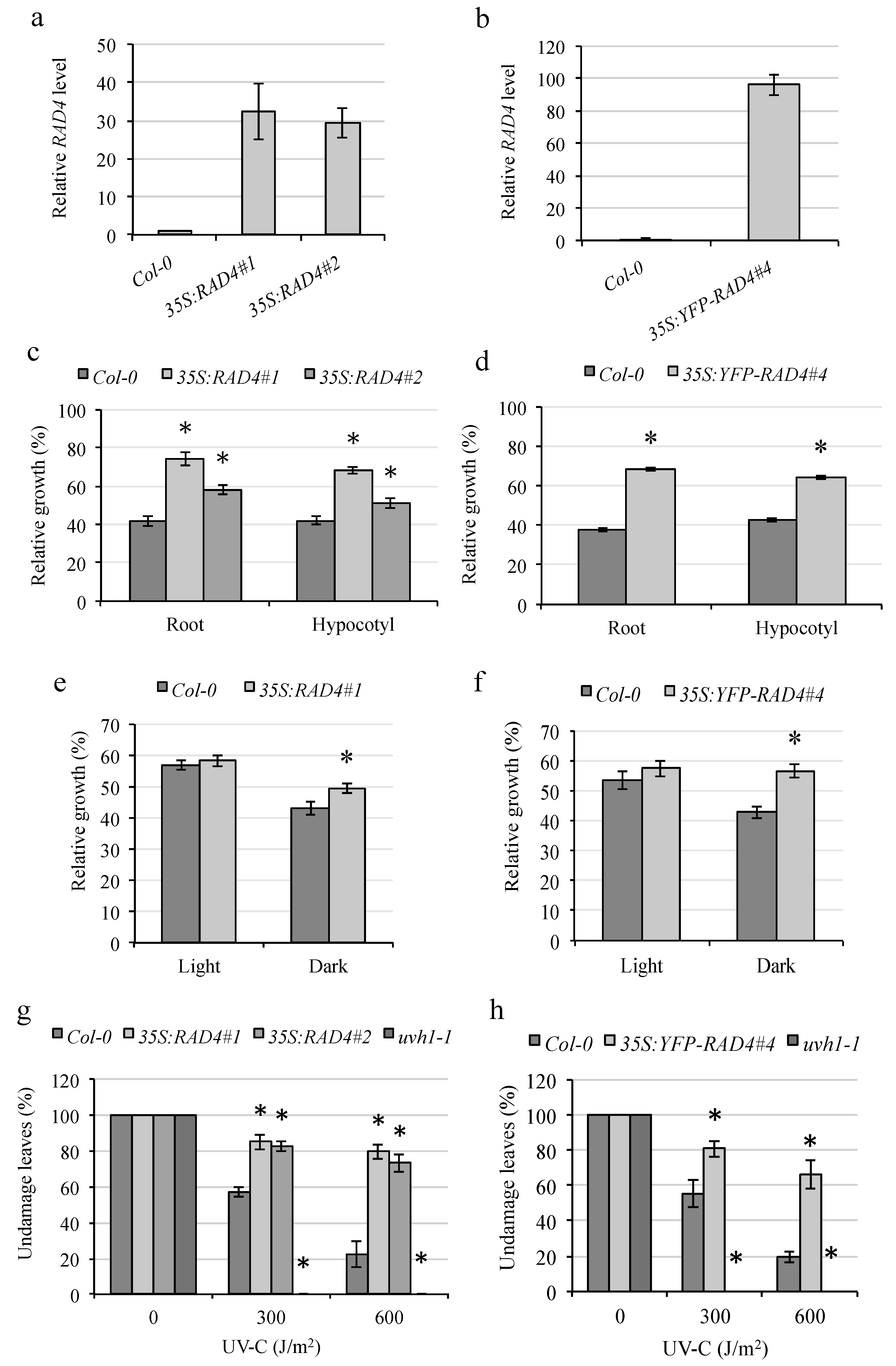 Figure 1
This is an open access article distributed under the
Creative Commons Attribution License
which permits unrestricted use, distribution, and reproduction in any medium, provided the original work is properly cited. (CC BY 4.0).
Share & Cite This Article
MDPI and ACS Style
Lahari, T.; Lazaro, J.; Schroeder, D.F. RAD4 and RAD23/HMR Contribute to Arabidopsis UV Tolerance. Genes 2018, 9, 8.
Note that from the first issue of 2016, MDPI journals use article numbers instead of page numbers. See further details here.
Related Articles
Comments
[Return to top]