Transcriptome Analysis of Paraburkholderia phymatum under Nitrogen Starvation and during Symbiosis with Phaseolus Vulgaris
Department of Plant and Microbial Biology, University of Zurich, CH-8057 Zurich, Switzerland
*
Author to whom correspondence should be addressed.
Received: 31 October 2017 / Revised: 29 November 2017 / Accepted: 4 December 2017 / Published: 15 December 2017
Abstract
Paraburkholderia phymatum
belongs to the β-subclass of proteobacteria. It has recently been shown to be able to nodulate and fix nitrogen in symbiosis with several mimosoid and papilionoid legumes. In contrast to the symbiosis of legumes with α-proteobacteria, very little is known about the molecular determinants underlying the successful establishment of this mutualistic relationship with β-proteobacteria. In this study, we performed an RNA-sequencing (RNA-seq) analysis of free-living
P. phymatum
growing under nitrogen-replete and -limited conditions, the latter partially mimicking the situation in nitrogen-deprived soils. Among the genes upregulated under nitrogen limitation, we found genes involved in exopolysaccharides production and in motility, two traits relevant for plant root infection. Next, RNA-seq data of
P. phymatum
grown under free-living conditions and from symbiotic root nodules of
Phaseolus vulgaris
(common bean) were generated and compared. Among the genes highly upregulated during symbiosis, we identified—besides the
nif
gene cluster—an operon encoding a potential cytochrome o ubiquinol oxidase (Bphy_3646-49). Bean root nodules induced by a
cyoB
mutant strain showed reduced nitrogenase and nitrogen fixation abilities, suggesting an important role of the cytochrome for respiration inside the nodule. The analysis of mutant strains for the RNA polymerase transcription factor RpoN (σ
54
) and its activator NifA indicated that—similar to the situation in α-rhizobia—
P. phymatum
RpoN and NifA are key regulators during symbiosis with
P. vulgaris
.
View Full-Text
►

▼

Figures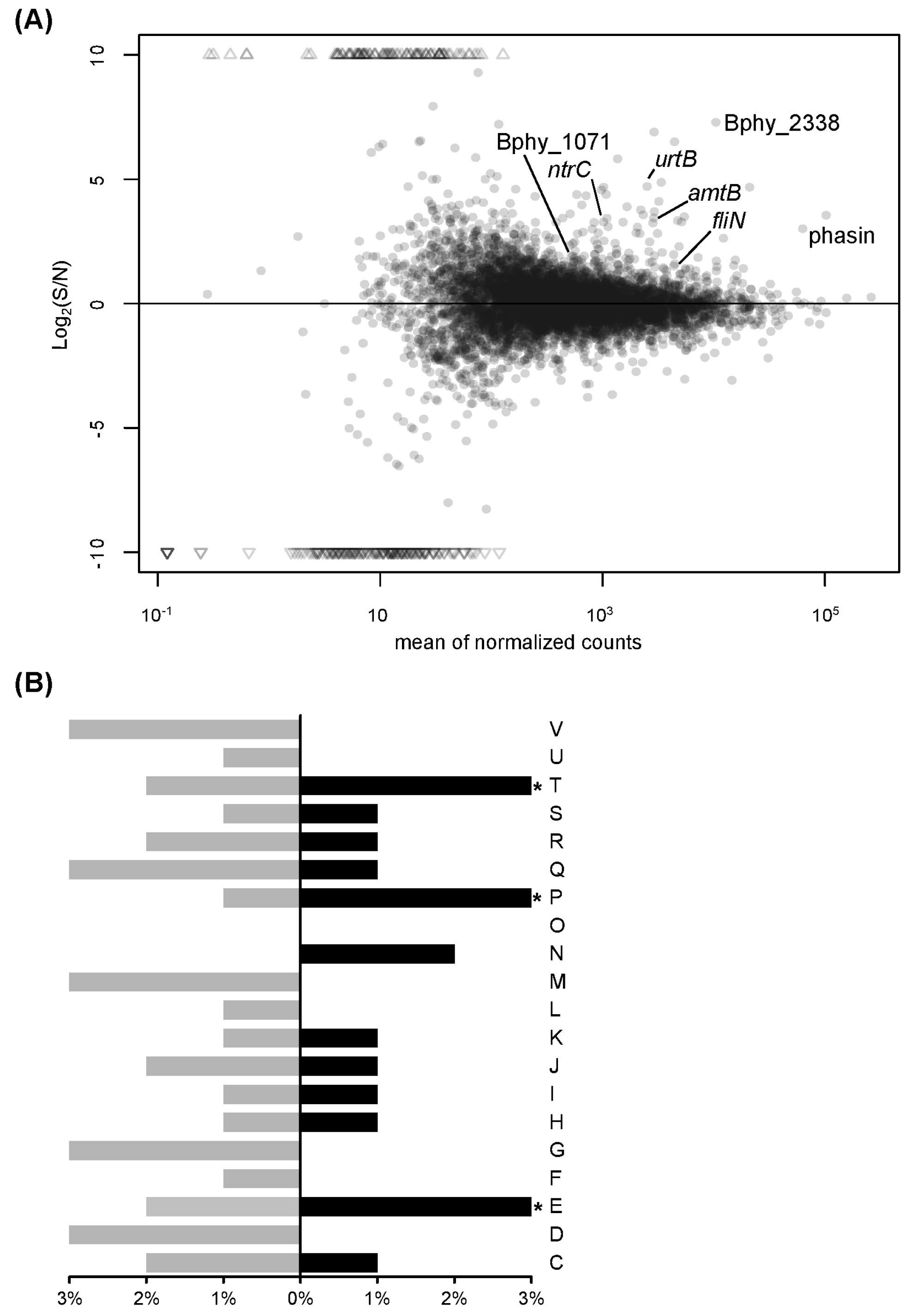 Figure 1
This is an open access article distributed under the
Creative Commons Attribution License
which permits unrestricted use, distribution, and reproduction in any medium, provided the original work is properly cited. (CC BY 4.0).
Share & Cite This Article
MDPI and ACS Style
Lardi, M.; Liu, Y.; Purtschert, G.; Bolzan de Campos, S.; Pessi, G. Transcriptome Analysis of Paraburkholderia phymatum under Nitrogen Starvation and during Symbiosis with Phaseolus Vulgaris. Genes 2017, 8, 389.
Note that from the first issue of 2016, MDPI journals use article numbers instead of page numbers. See further details here.
Related Articles
Comments
[Return to top]