An Expanded Multi-Organ Disease Phenotype Associated with Mutations in YARS
1
DNA Analysis Laboratory, Wrocław Research Centre EIT+, 54-066 Wrocław, Poland
2
Department of Human Genetics, Radboud University Medical Center, 6525 GA Nijmegen, The Netherlands
3
Bartiméus, Institute for the Visually Impaired, 3700 BA Zeist, The Netherlands
4
Donders Institute for Brain, Cognition and Behavior, Radboud University Medical Center, 6525 EN Nijmegen, The Netherlands
5
Department of Genome Sciences, University of Washington, Seattle, WA 98195, USA
6
Department of Pediatrics, University of Washington, Seattle, WA 98195, USA
7
University of Washington, Seattle, WA 98195, USA
8
Department of Clinical Genetics, The Kennedy Centre/Rigshospitalet/, DK-2600 Glostrup, Denmark
9
Audiological Research Centre/Swedish Institute of Disability Research, University Hospital Örebro, Örebro University, 701 85 Örebro, Sweden
10
Department of Clinical Science Lund, Ophthalmology, University of Lund, 221 00 Lund, Sweden
11
Institute of Clinical Medicine, University of Copenhagen, DK-2200 Copenhagen N, Denmark
†
Current address: Department of Genetics, University Medical Center Utrecht, 3508 AB Utrecht, The Netherlands.
*
Author to whom correspondence should be addressed.
Academic Editor: Jian-Min Chen
Received: 2 November 2017 / Revised: 24 November 2017 / Accepted: 29 November 2017 / Published: 11 December 2017
Abstract
Whole exome sequence analysis was performed in a Swedish mother–father-affected proband trio with a phenotype characterized by progressive retinal degeneration with congenital nystagmus, profound congenital hearing impairment, primary amenorrhea, agenesis of the corpus callosum, and liver disease. A homozygous variant c.806T > C, p.(F269S) in the tyrosyl-tRNA synthetase gene (
YARS
) was the only identified candidate variant consistent with autosomal recessive inheritance. Mutations in
YARS
have previously been associated with both autosomal dominant Charcot-Marie-Tooth syndrome and a recently reported autosomal recessive multiorgan disease. Herein, we propose that mutations in
YARS
underlie another clinical phenotype adding a second variant of the disease, including retinitis pigmentosa and deafness, to the spectrum of
YARS
-associated disorders.
View Full-Text
►

▼

Figures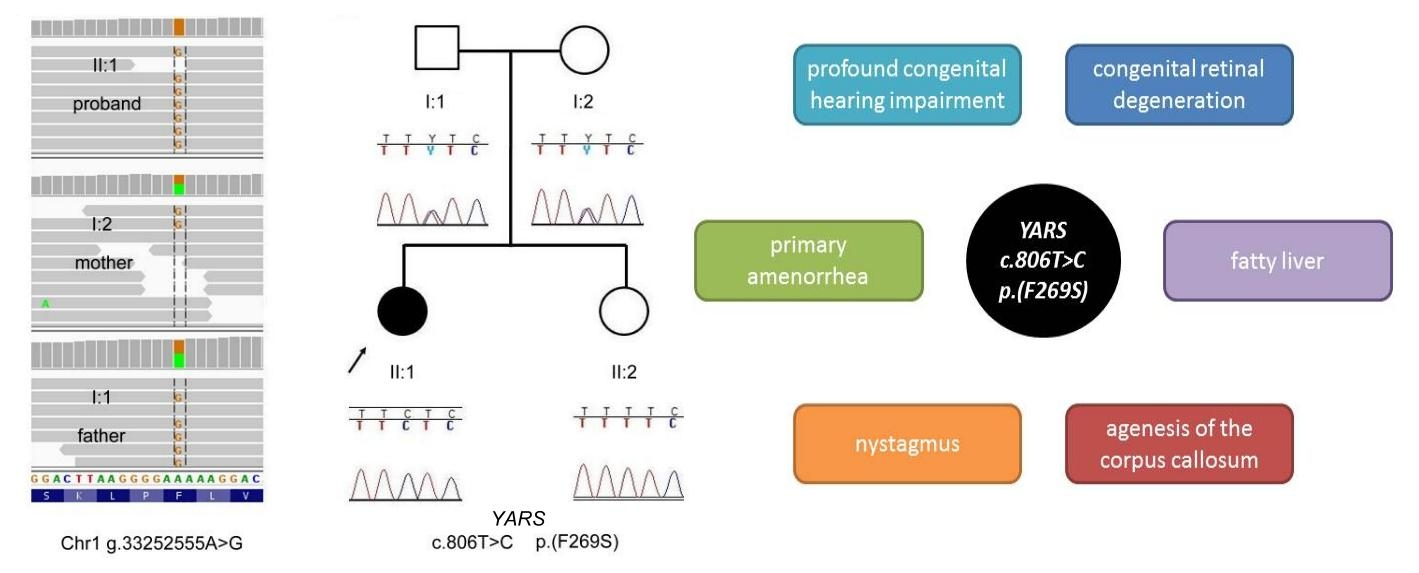 This is an open access article distributed under the
Creative Commons Attribution License
which permits unrestricted use, distribution, and reproduction in any medium, provided the original work is properly cited. (CC BY 4.0).
Share & Cite This Article
MDPI and ACS Style
Tracewska-Siemiątkowska, A.; Haer-Wigman, L.; Bosch, D.G.M.; Nickerson, D.; Bamshad, M.J.; University of Washington Center for Mendelian Genomics; van de Vorst, M.; Rendtorff, N.D.; Möller, C.; Kjellström, U.; Andréasson, S.; Cremers, F.P.M.; Tranebjærg, L. An Expanded Multi-Organ Disease Phenotype Associated with Mutations in YARS. Genes 2017, 8, 381.
Note that from the first issue of 2016, MDPI journals use article numbers instead of page numbers. See further details here.
Related Articles
Comments
[Return to top]