Involvement of Type IV Pili in Pathogenicity of Plant Pathogenic Bacteria
1
Department of Plant Pathology and Microbiology and the Otto Warburg Center for Agricultural Biotechnology, The Robert H. Smith Faculty of Agriculture, Food and Environment, The Hebrew University of Jerusalem, Rehovot 76100, Israel
2
Department of Entomology and Plant Pathology, Auburn University, Auburn, AL 36849, USA
†
Current Address: Department of Plant Pathology, University of California, Davis, CA 95616, USA
*
Author to whom correspondence should be addressed.
Received: 30 August 2011 / Revised: 8 October 2011 / Accepted: 10 October 2011 / Published: 18 October 2011
Abstract
Type IV pili (T4P) are hair-like appendages found on the surface of a wide range of bacteria belonging to the β-, γ-, and δ-Proteobacteria, Cyanobacteria and Firmicutes. They constitute an efficient device for a particular type of bacterial surface motility, named twitching, and are involved in several other bacterial activities and functions, including surface adherence, colonization, biofilm formation, genetic material uptake and virulence. Tens of genes are involved in T4P synthesis and regulation, with the majority of them being generally named
pil/fim
genes. Despite the multiple functionality of T4P and their well-established role in pathogenicity of animal pathogenic bacteria, relatively little attention has been given to the role of T4P in plant pathogenic bacteria. Only in recent years studies have begun to examine with more attention the relevance of these surface appendages for virulence of plant bacterial pathogens. The aim of this review is to summarize the current knowledge about T4P genetic machinery and its role in the interactions between phytopathogenic bacteria and their plant hosts.
View Full-Text
►

▼

Figures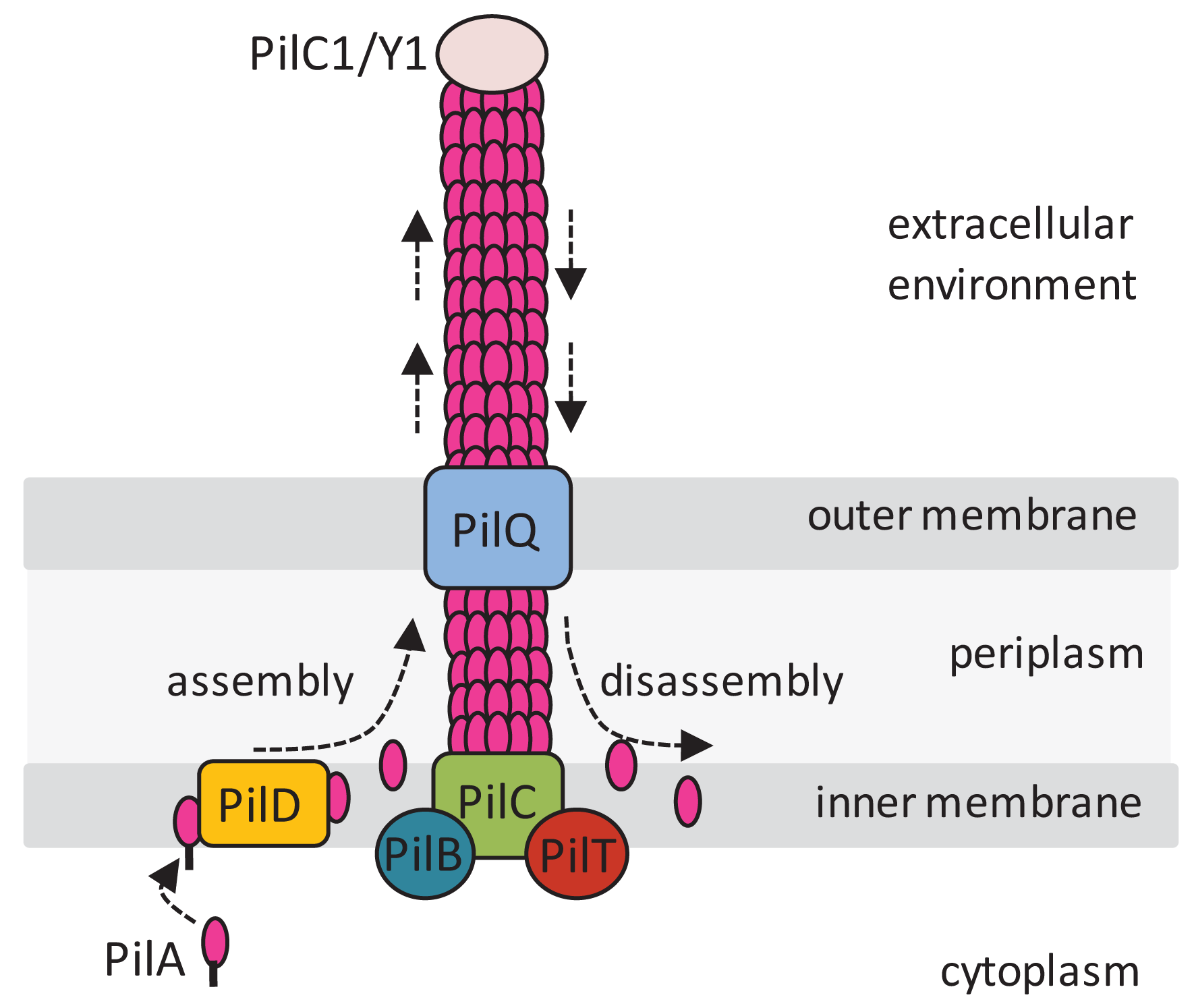 Share & Cite This Article
MDPI and ACS Style
Burdman, S.; Bahar, O.; Parker, J.K.; De La Fuente, L. Involvement of Type IV Pili in Pathogenicity of Plant Pathogenic Bacteria. Genes 2011, 2, 706-735.
Related Articles
Comments
[Return to top]