Clinical Experiences with Radiation Induced Thyroid Cancer after Chernobyl
Department of Nuclear Medicine, University of Würzburg, Oberdürrbacherstr.6, D-97082 Würzburg, Germany
Received: 14 April 2011 / Revised: 24 May 2011 / Accepted: 30 May 2011 / Published: 31 May 2011
Abstract
The risk of developing thyroid cancer increases considerably after exposure to external or internal radiation, especially in children below the age of 10. After the Chernobyl reactor accident, the yearly incidence of childhood thyroid cancer in Belarus increased to approximately 40 per 1.000.000 in girls and to roughly 20 per 1.000.000 in boys compared to approximately 0.5 cases per 1.000.000 prior to the accident. Typically, young children with thyroid cancer after radiation exposure present in ≈95% of the cases as papillary cancers, in ≈50% as invasive tumors growing outside the thyroid capsule, in ≈65% with lymph node metastases and in ≈15% with distant metastases. A joint Belarusian-German project starting in April 1993 that combined treatment with surgery and radioiodine was organized in 237 selected children from Belarus who were exposed to the Chernobyl fallout and had advanced stages of thyroid cancer. The study group included 141 girls and 96 boys. Their median age at the time of the accident was 1.7 years; whereas the median age at the time of diagnosis was 12.4 years. With the exception of two cases with follicular histology, the majority of the patients had been diagnosed with papillary thyroid cancers. In 63%, the tumor had grown outside the thyroid capsule and invaded the tissue of the neck (pT4). Nearly all of the selected cases (96%) showed-up with lymph node metastases (pN1) and 43% of the patients with distant metastases mainly to the lungs (pM1). In 58% of the children, complete remissions of thyroid cancer could be achieved until December 31st 2010 and in 34% of the children, stable partial remissions; in the remaining 8% of the patients, partial remissions were observed. The risk of radiation-induced thyroid cancer increased considerably in children and adolescents who were affected by the Chernobyl reactor accident. In spite of the fact, that thyroid cancers in young children seem to behave more aggressively than in older patients, the results of combined treatment with thyroidectomy, radioiodine therapy and thyroid hormone replacement are excellent.
View Full-Text
►

▼

Figures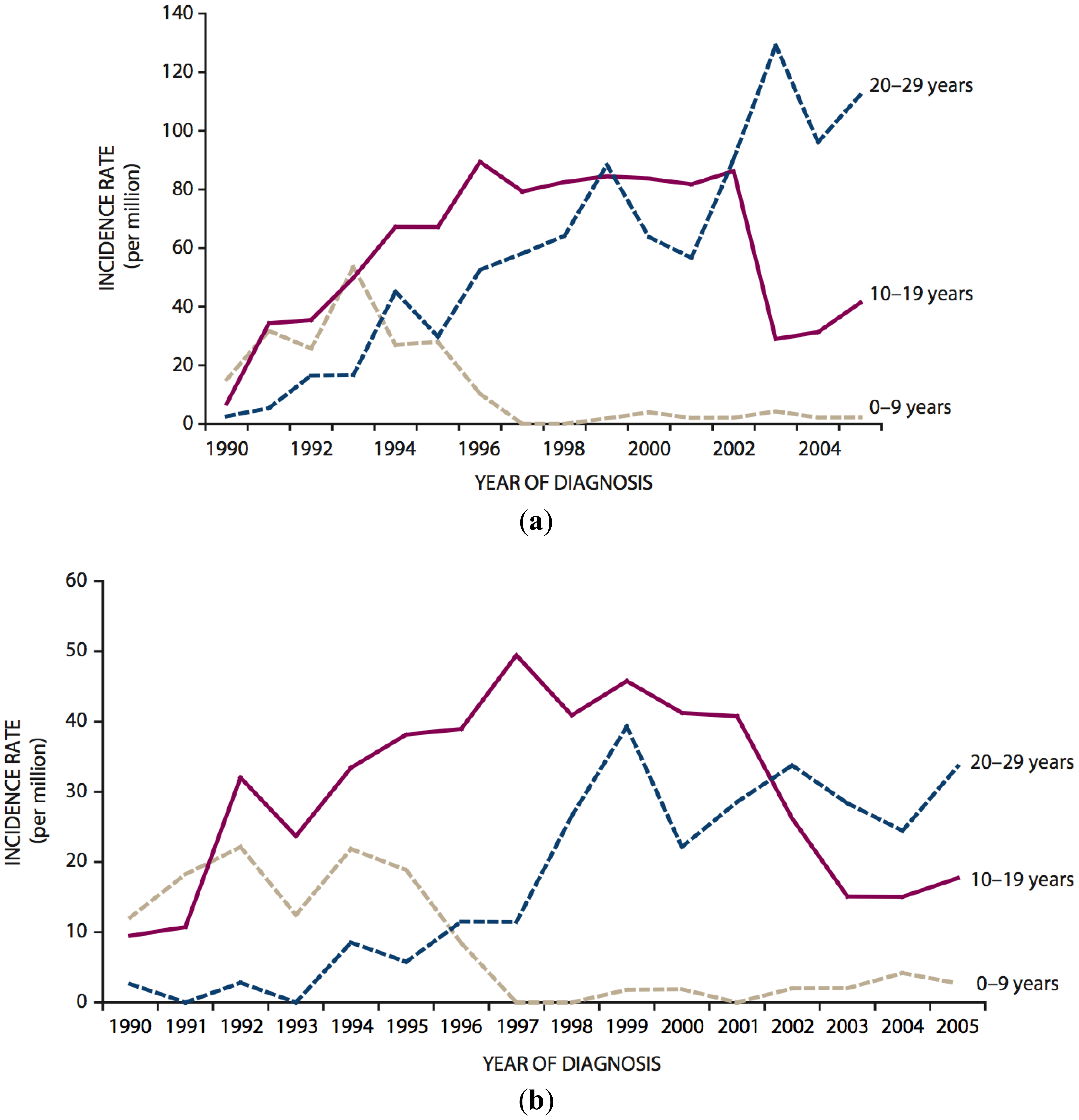 Share & Cite This Article
MDPI and ACS Style
Reiners, C. Clinical Experiences with Radiation Induced Thyroid Cancer after Chernobyl. Genes 2011, 2, 374-383.
Related Articles
Comments
[Return to top]