Open Access This article is
freely available
re-usable
Article
Systems Analysis of Drug-Induced Receptor Tyrosine Kinase Reprogramming Following Targeted Mono- and Combination Anti-Cancer Therapy
1
Scottish Informatics, Mathematics, Biology and Statistics Centre (SIMBIOS), Abertay University, Dundee, DD1 1HG, United Kingdom
2
The James Hutton Institute, Invergowrie, Dundee, DD2 5DA, United Kingdom
3
Lester and Sue Smith Breast Center, Baylor College of Medicine, One Baylor Plaza, Houston, TX 77030, USA
4
Division of Pathology, Institute of Genetics and Molecular Medicine, University of Edinburgh, Western General Hospital, Edinburgh, EH4 2XU, United Kingdom
5
School of Medicine, University of St Andrews, St Andrews, KY16 9TF, United Kingdom
*
Author to whom correspondence should be addressed; Tel.: +44-138-308-432.
Received: 31 March 2014; in revised form: 14 May 2014 / Accepted: 19 May 2014 / Published: 10 June 2014
Abstract
: The receptor tyrosine kinases (RTKs) are key drivers of cancer progression and targets for drug therapy. A major challenge in anti-RTK treatment is the dependence of drug effectiveness on co-expression of multiple RTKs which defines resistance to single drug therapy. Reprogramming of the RTK network leading to alteration in RTK co-expression in response to drug intervention is a dynamic mechanism of acquired resistance to single drug therapy in many cancers. One route to overcome this resistance is combination therapy. We describe the results of a joint

in silico

,

in vitro

, and

in vivo

investigations on the efficacy of trastuzumab, pertuzumab and their combination to target the HER2 receptors. Computational modelling revealed that these two drugs alone and in combination differentially suppressed RTK network activation depending on RTK co-expression. Analyses of mRNA expression in SKOV3 ovarian tumour xenograft showed up-regulation of HER3 following treatment. Considering this in a computational model revealed that HER3 up-regulation reprograms RTK kinetics from HER2 homodimerisation to HER3/HER2 heterodimerisation. The results showed synergy of the trastuzumab and pertuzumab combination treatment of the HER2 overexpressing tumour can be due to an independence of the combination effect on HER3/HER2 composition when it changes due to drug-induced RTK reprogramming.
Keywords:
HER2; HER3; trastuzumab; pertuzumab; combination cancer therapy; signalling reprogramming
1. Introduction
The ErbB receptor network consists of four members (ErbB1-4 or HER1-4): epidermal growth factor receptor (EGFR or HER1) together with human epidermal growth factor receptors HER2, HER3 and HER4. Although the ErbB receptor family belongs to the type I receptor tyrosine kinase (RTK) superfamily, the receptors HER2 and HER3 are non-autonomous and possess key defining features. HER2 has no known ligands and pseudo-kinase HER3 lacks tyrosine kinase activity [1]. These features define the interactions between HER2 and HER3 receptors for forming active heterodimer and homodimer complexes. These activation kinetics depend significantly on the expression levels of ErbB1-4 receptors and these levels vary across different cells. This combination of expression level variability and receptor interaction results in complex behaviour within the ErbB1-4 family.
For example, at normal expression levels HER2 functions as the shared co-receptor for EGFR, HER3, and HER4 receptors and these heterodimeric complexes are activated by the partner ligands. In contrast, overexpression of HER2 receptors in cancer cells causes constitutive activation of proliferation pathways in the absence of ligand through homodimerisation and RTK-driven auto-phosphorylation of HER2 [2,3]. Co-expression of various ligands of ErbB receptor contributes to both combinatorial complexity and redundancy in the ErbB network [4]. In this respect the ErbB network plays a role of communicator for the signals from at least six known ligands of EGFR receptors and neuregulins, ligand of HER3 and HER4, which represent a family of EGF-like growth factors encoded by at least four different genes, NRG1-4 [5,6]. A higher level of complexity in ErbB signalling activity emerges due to the co-activation of different signalling pathways following RTK phosphorylation. Dimerization-driven stimulation of the intrinsic tyrosine kinase leads to the phosphorylation of tyrosine residues in the intracellular domain of the receptors that serve as docking sites to recruit a number of signal adapter proteins that link RTKs to different cellular signalling pathways such as phospholipase Cγ , PI3K/AKT/mTOR, MAPK, and STAT pathways [7,8].
Further complexity in ErbB activation and its signalling network arises from the complex regulation of co-expression of ErbB receptors and their ligands in the development of normal and cancerous tissue and organs. Complex and independent programs regulate expression of the different ErbB members and their ligands during morphogenesis in many organs. For example, in epithelial development ErbB receptors control epithelial differentiation and cell migration [6,9,10,11]. Expression of HER2 plays a significant role in adult heart function, where its mutations and deletion cause dilated cardiomyopathy in mutant mice [9]. Thus ErbB receptors and their ligands can act as transforming agents and complex regulators to generate a fully transformed phenotype [10].
In cancer, ErbB receptors and their ligands contribute to the generation of transformed malignant phenotypes [10]. Different co-expression profiles of ErbB receptors and EGF-like growth factors define different cancer types and subtypes [3,11,12]. This suggests that the progression, growth, migration, and survival of carcinoma cells are sustained, at least in part, by a network of RTK of the ErbB family and their ligands. Different co-expression profiles of the ErbB receptors and their ligands in human carcinomas lead to different tumour responses to drugs targeting the ErbB receptor system: from drug sensitivity to resistance, and—according to correlations in clinical data on ErbB1-4 co-expression profiles—disease-free survival and anti-RTK treatment outcome [13]. Amongst the range of inhibitors of RTKs, monoclonal antibodies have been developed to suppress dimerization of ErbB receptors. For example trastuzumab (Herceptin), a HER2 inhibitor, is an effective drug for HER2 overexpressing breast cancer [2,3,14].
RTK-targeted cancer therapies have been reported to fail when tumour cells circumvent the action of a single agent, and this therapeutic resistance is due to co-expression of different ErbB receptors in various cancer types [15]. Importantly, proteomic and genomic profiling revealed that this compensatory response to a single drug intervention results from a reprogramming of the RTK signalling networks following inhibition of one of the members of RTK family [16,17]. For example, transcriptional and post-transcriptional up-regulation of HER3 were reported to compensate for RTK-targeted therapy [18,19]. More recently, the development of combination therapies targeting multiple RTKs has been shown to successfully suppress de novo and acquired resistance [15], and the co-expression profile of different ErbB receptors is used as a basis for informed rational drug co-development and drug-diagnostics combination strategy [20,21]. In line with this strategy, some anticancer drugs have been approved and recommended for use in combination therapy. For example, pertuzumab, a humanized anti-HER2 monoclonal antibody, has been approved only in combination with trastuzumab [22]. In contrast to trastuzumab, pertuzumab mainly blocks ligand-dependent receptor heterodimerisation of HER2 and HER3 [23], while trastuzumab is more effective at ligand-independent tumour growth [24]. In this way pertuzumab effectively acts against tumours co-expressing HER2 (at low levels) and its other partners.
Trastuzumab and pertuzumab bind to different extracellular domains of HER2 and prevent both homo- and heterodimerisation of HER2 (Figure 1). This differential binding has been assumed to lead to a more effective inhibition when these drugs act in combination. Recent data show the synergistic antitumour activity of trastuzumab and pertuzumab combination therapy in HER2 overexpressing non-small cell lung, breast [25], gastric [26] and ovarian [27,28] cancers. The mechanisms of this observed synergistic combination effect are not yet clear. One proposed mechanism, based on the computational modelling of antibody interactions with HER2 receptors [29], is that the observed synergism might arise from cooperative binding of the two drugs with HER2 receptor and the formation of a ternary complex. Another mechanism of synergistic activity of trastuzumab and pertuzumab was reported in terms of the different actions of these two drugs: while trastuzumab inhibits the shedding of the extracellular domain (ECD) of HER2, which produces active truncated p95HER2 [28,30] and suppresses ligand-independent HER3/HER2 heterodimerisation [31], pertuzumab inhibits ligand-dependent HER2 heterodimerisation [14]. The combination of these actions leading to inhibitor synergism depends mainly on the co-expression of all the members of the ErbB family, their ligands, and receptor activating proteases. The benefit of this combination was suggested to correlate with up-regulation of HER2 heterodimerisation partners like HER3 and growth factors like heregulin during trastuzumab treatment [28].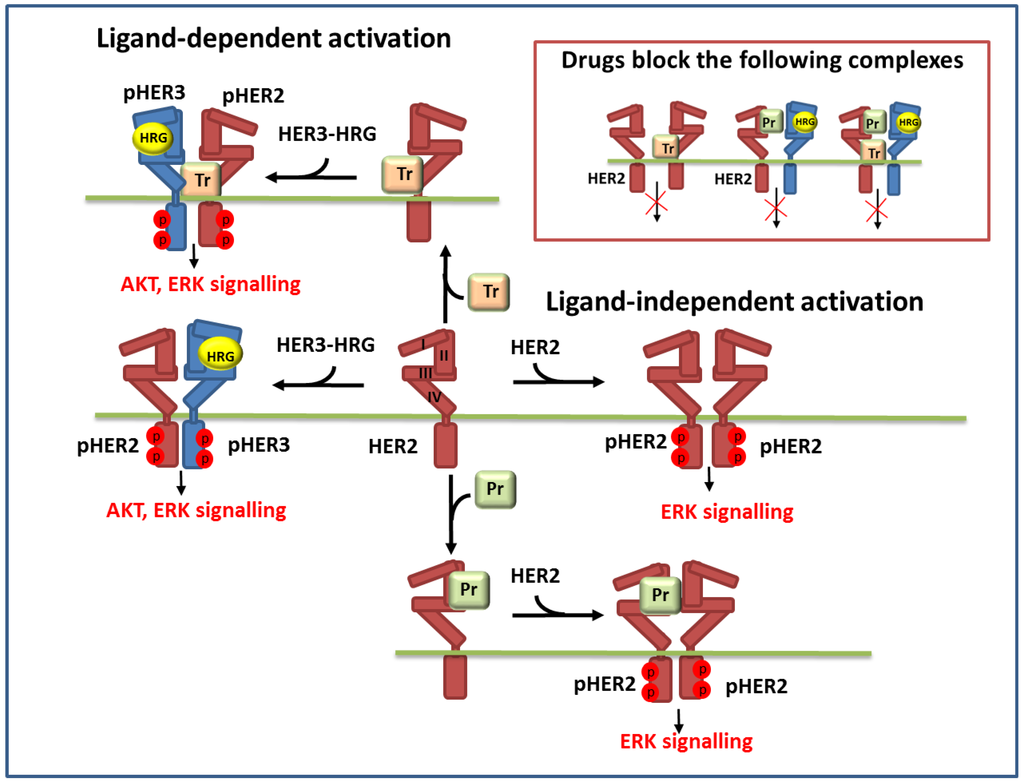 Figure 1. Schematic representation of the reactions of ligand-independent and ligand-dependent homo- and heterodimerisation of HER2 and HER3 receptors in the presence of HER3 ligand (HRG) and anti-HER2 drugs: trastuzumab (Tr) and pertuzumab (Pr). Inset in the upper right corner depicts the dimer complexes of HER2 and HER3 which are blocked by these drugs.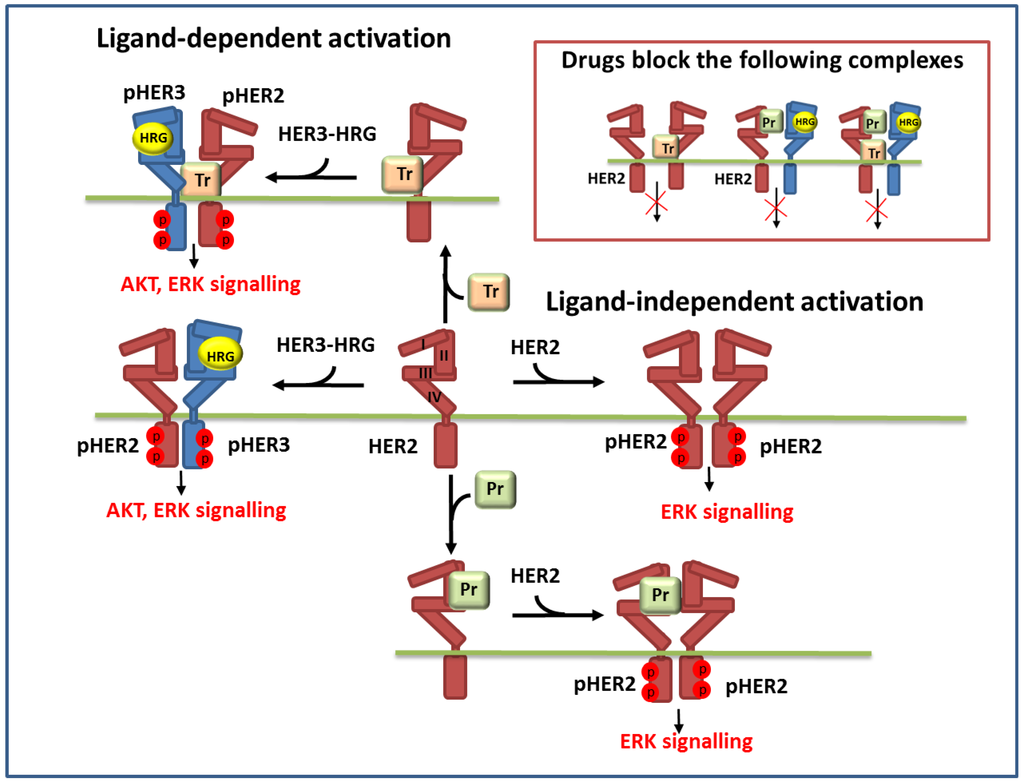 To confirm this suggestion, and to design advanced combination therapeutic strategies generally, requires a deeper understanding of RTK co-expression regulation and its dynamical response to therapy. Computational systems biology offers a possible route forward to enhance our understanding of dynamical responses to therapy [32,33,34,35,36]. For example, recent systems biology research has proven useful in the study of the impact of complex RTK kinetics on cancer phenotypes and drug interaction with ErbB receptors of different expression levels [37]. The main attraction of computational modelling lies in the generation of kinetic models of different cancer phenotypes corresponding to a specific ErbB composition. The use of these models in describing drug action targeting RTKs facilitates the unravelling of the combinatorial contributions of different RTKs, co-expression levels of ErbBs and growth factors to drug effectiveness.
In a series of papers [38,39,40,41], computational models of the ErbB network were developed to establish the link between the complex kinetics of receptor dimerization and the integrated downstream signalling with consideration of ErbB and ligand co-expression in different cells. The following features of the ErbB receptor kinetics were established in joint in vitro and in silico experiments. First, HER2 has a diminished interaction with EGFR when HER3 was expressed in the cells [40]. Second, co-expression of EGFR and HER2-4 at low-to-moderate levels may enable a cell to match the phenotype of overexpression of HER2 due to the increasing dimerisation of HER3/HER2 [38]. Third, HER2 level is a strong determinant in phosphorylation of HER3 and attending HER3/PI3K/AKT signalling in the cells with different level of HER2 expression [39].
In this paper we describe a general approach to understand mechanisms of combination anti-HER2 drug effects in terms of reprogramming of the RTK signalling networks following mono- and combination therapies. To demonstrate this approach, we employ a computational systems biology approach to investigate the inhibition effects of pertuzumab and trastuzumab mono- and combination therapies in the context of changing levels of ErbB co-expression. We incorporate bioinformatic data on changes in gene expression profile during mono- and combination treatment [28] into our computational model which we then use to analyse the effectiveness of mono- and combination treatments. In particular, we investigate mechanisms of the trastuzumab and pertuzumab inhibition effects based on in vitro and in vivo experimental data on breast and ovarian cancer cell lines with a wide spectrum of ErbB co-expression.
2. Experimental
2.1. Computational Modelling
Model background: ErbB signalling network. In our model of ErbB signalling, we considered the kinetics of HER receptor activation and inhibition of HER2 by pertuzumab and trastuzumab alone and in combination (Figure 1). In the model we took into account heregulin (HRG)-induced HER3/HER2 heterodimerisation, which was reported to activate the most mitogenic signal and induce cellular growth in many cancers [12,24,42]. HRG binds with domains I and III of HER3 and changes the receptor conformations from "auto-inhibited" to "active" conformation resulting in a stretching of domain II, which is responsible for the formation of the receptor–dimer interface [3] (Figure 1 and Figure 2). This active conformation makes the receptor available for dimerization and stabilization of the receptor heterodimer with HER2 through an interaction between domain II in both receptors.
In contrast to HER3, the HER2 receptor has all four ECDs in a stretched conformation and this is assumed to result in uncontrolled dimerization and activation (Figure 2). Additionally, it has been assumed that the transmembrane region of HER2 contributes to self-association and activation control [3]. We considered ligand-independent homodimerisation of HER2 receptors at overexpression of HER2 (Figure 1).

Figure 2.
Complexes of the extracellular domain of HER2 receptor with pertuzumab (
A
) and trastuzumab (
B
). The structure of the extracellular domain of HER3 receptor (
C
). 3D structures of the proteins were retrieved from Protein Data Bank [
43
]: PDB codes 1S78 (
A
), 1N8Z (
B
), and 1M6B (
C
).

The formation of HER2 homodimers and HER3/HER2 heterodimers stimulates RTK activity by tyrosine trans- and auto-phosphorylation. In the model we assumed that breast and ovarian cancer cells overexpressing HER2 can be activated in both a ligand-independent and dependent manners. When HER2 is overexpressed, RTK activation occurs ligand-independently because of constitutive HER2 homodimerisation; at normal expression levels, HER2 acts as the shared partner for other ErbB family members and these heterodimeric complexes are activated in response to the ligands.
The tyrosine auto-phosphorylation sites in RTKs serve as docking sites for recruitment and activation of different adapter proteins that activate downstream responses induced by growth factor stimulation [6]. In Figure 3 we illustrate phospho-tyrosine docking sites to show the different interactions of HER2 and HER3 with both PI3K (p85 subunit) and Grb2, adaptor proteins of MAPK pathway. HER2 has only one interaction site with Grb2 and none with p85, the regulatory subunit of PI3K; HER3 has two binding sites for Grb2 and multiple sites for p85 binding [6]. This indicates that the homodimeric HER2 activates the MAPK pathway while the HER2/HER3 heterodimer activates both PI3K and MAPK pathways. Note that in the model we did not consider the indirect activation of PI3K/AKT signalling by HER2 through other cytosolic adapters [44]. For example, we neglected PI3K/AKT activation through binding GAB1 to Grb2 followed by PI3K (p85) binding and its activation induced by HER2 homodimerisation.
According to this difference in ECD structure of HER2 and HER3 receptors, changes in HER2 and HER3 homo- and heterodimerisation kinetics at various HER3/HER2 compositions mean that trastuzumab and pertuzumab can cause different inhibitory effects on PI3K and MAPK pathways despite targeting the same receptor, HER2. It follows that a change in the balance of homo- and heterodimerisation of HER2 and HER3 kinetics can impact the balance between PI3K/AKT and MAPK pathway activation. Further, pertuzumab binds primarily to the domain II of HER2, with a single binding to domain I [23], while trastuzumab binds in domain IV of the HER2 extracellular region [45]. The result of this differential binding is that these drugs block differently homo- and heterodimerisation of HER2.

Figure 3. Schematic structures of the extra- and intracellular domains of receptors HER2 (A) and HER3 (B). Structures show the binding sites of pertuzumab, trastuzumab, HER2 and HER3, the receptor dimerization sites of the receptors, and the phospho-tyrosine binding sites with protein adapter Grb2 and PI3K (p85 subunit).

We made use of the following experimental data to characterise how these two drugs change the activation kinetics of HER2/HER3 receptors. Pertuzumab efficiently inhibits ligand-induced HER3/HER2 heterodimerisation [31]. Trastuzumab does not block heterodimerisation of HER2 with ligand-activated EGFR or HER3 [2,46]. Pertuzumab blocks the association of HER2 with HER3 when cells are stimulated with HER3 ligand, HRG [14]. In the absence of HRG, the abilities of the antibodies to disrupt the ligand-independent HER3/HER2 complex were reversed: the amount of HER3 associating with HER2 was clearly reduced when cells were treated with trastuzumab.
We also took into account the cooperative interaction of trastuzumab and pertuzumab with HER2 receptors, which was investigated computationally in [29]. In Table 1 we summarize the action of trastuzumab and pertuzumab on homo- and heterodimerisation of HER2 discussed above.
In the model we neglected the formation of ligand-independent HER3/HER2 complexes that mainly occur when HER2 is overexpressed [31,47]. In this approximation we relied on the assumption that HRG/HER3/HER2 complexes could be more stable or abundant than the ligand-independent HER3/HER2 complexes [31]. Also, we did not consider the process by which trastuzumab prevents formation of p95HER2 (a truncated and constitutively active phosphorylated form of HER2 [28,30].
We applied this model to describe the effects of trastuzumab and pertuzumab on inhibition of ErbB signalling in SKOV3 ovarian cells with overexpressing HER2, a moderate level of EGFR, and low levels of HER3 and HER4 receptors [42]. We considered HER2 homodimerisation as a key promoter of RTK signalling and studied the impact of increasing HER3/HER2 heterodimerisation on RTK signalling when HER3 was up-regulated as a result of drug treatment. We neglected the impact of EGFR receptors in SKOV3 cells because experimental data suggest a dispensable role of EGFR in HER2 overexpressing cancers [24].
Table 1. Inhibition effects of trastuzumab and pertuzumab on homo- and heterodimerisation of HER3 and HER2 receptors in the presence/absence of HER3 ligands.
Table 1. Inhibition effects of trastuzumab and pertuzumab on homo- and heterodimerisation of HER3 and HER2 receptors in the presence/absence of HER3 ligands.

| Drug | Receptor 1 | Receptor 2 | Ligand | Effect | Ref. |
| --- | --- | --- | --- | --- | --- |
| Trastuzumab | HER2 | HER3 | yes | no/minor | [46] |
| Trastuzumab | HER2 | HER3 | no | yes | [31] |
| Trastuzumab | p95HER2 | | no | yes | [30] |
| Trastuzumab | HER2 | HER2 | no | yes | [2] |
| Pertuzumab | HER2 | HER3 | yes | yes | [14] |
| Pertuzumab | HER2 | HER3 | no | no/minor | [31] |
| Pertuzumab | HER2 | HER2 | no | no | [2] |
Computational model of pertuzumab and trastuzumab effect on MAPK and PI3K/AKT signalling. The computational approach is based on the kinetic model of Ras/RAF/MEK/ERK and PI3K/PTEN/AKT signalling developed in [48]. This model describes the response kinetics of the signalling network to HRG-induced HER3/HER2 receptor heterodimerisation and the effect of HER2 inhibitor, pertuzumab (2C4 antibody), on ERK and AKT activation in the human ovarian carcinoma cell line PE04. The scheme of the signalling network is shown in Figure 4. The signalling network was parameterised by experimental data on the phosphorylation kinetics of HER2, ERK, AKT, and PTEN in the absence and presence of pertuzumab and was validated based on experimental data on the different combination effects of PTEN, PI3K, and HER2 inhibition [49,50,51,52].
We updated the model [48] to take into account homodimerisation of HER2 receptors that allows us to describe ligand-independent activation in HER2 overexpressing cancer cells and the inhibition effect of trastuzumab in HER2 overexpressing cancers (Figure 4). The parameters of the modules describing HER2 homodimerisation were adapted in such a way to represent the main impact of HER2 homodimerisation and HER3/HER2 heterodimerisation on signal activation at high and low HER2 concentrations, respectively (see discussion above). This modification of a previous version of the model significantly changes model behaviour at high concentrations of HER2 but does not affect model behaviour at HER3 and HER2 concentrations near their equimolar composition. The systems of ordinary differential equations corresponding to this updated model and the set of kinetic parameters are given in Supplementary Information 3.
2.2. Bioinformatics Method
We used microarray data on gene expression following trastuzumab (20 mg/kg), pertuzumab (20 mg/kg) and the combination treatment of SKOV3 tumour xenografts in mice [28]. In [28], gene expression data relating to proliferation, apoptosis, cell division and cell cycle were investigated and used to establish predictive biomarkers for trastuzumab and pertuzumab mono- and combination therapies. In this paper we focus on gene expression relating to RTK systems and downstream signalling pathways, namely PI3K/AKT and ERK1/2, which are modulated by the anti-HER2 therapies.
We made use of three different visualization methods to represent the results of statistical analysis of expression data. In addition to typical clustering of expression data in the form of heatmaps, we analysed both volcano plots and signalling network maps. Volcano plots represent fold change in gene expression level together with the statistical significance of this change [53]. Signalling network maps combine gene expression data with protein signalling network downloaded from the KEGG database [54]. We used the R programming language for statistical processing of the data (Student's t-test) and Cytoscape [55] with CytoKEGG plugin for network illustration to integrate the gene expression data with the KEGG signalling networks.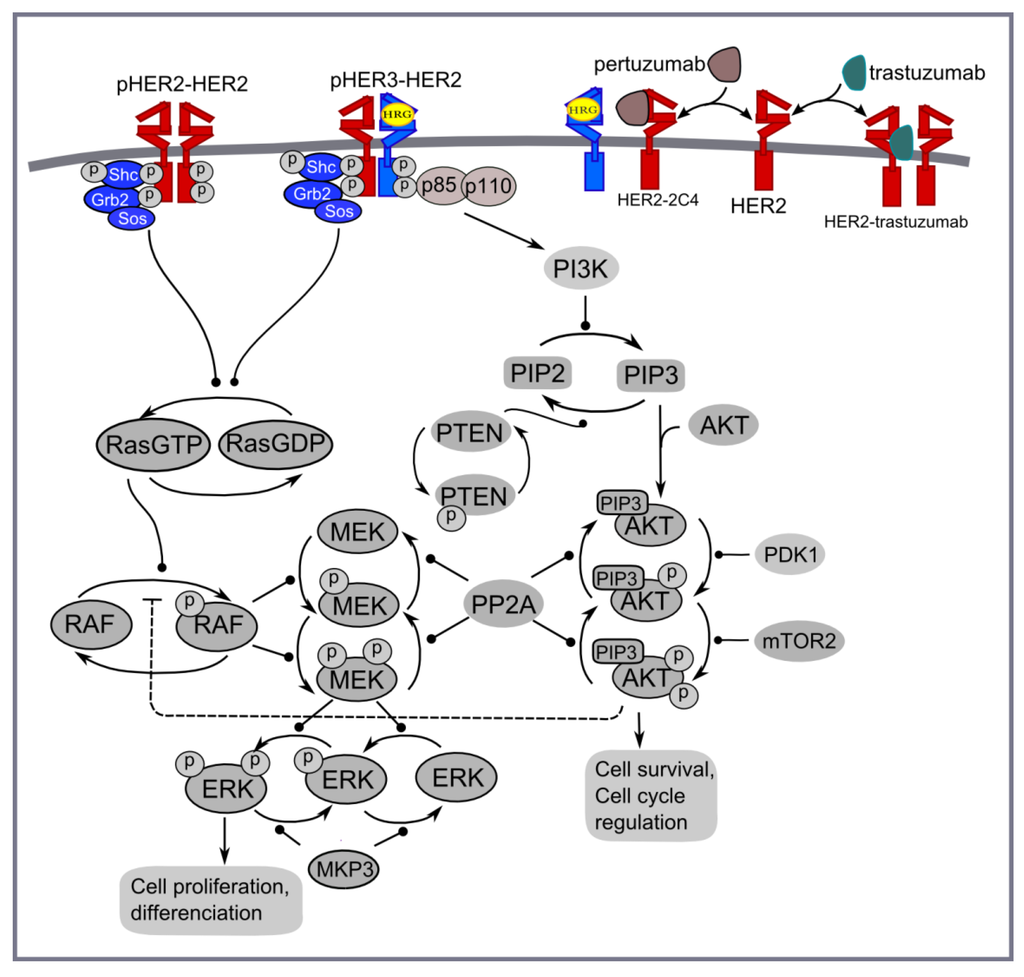 Figure 4. PI3K/AKT and ERK1/2 pathways activated by homo- and heterodimerisation of HER2 and HER3 receptors in the presence of HER3 ligand (HRG) and HER2 inhibitors: trastuzumab and pertuzumab.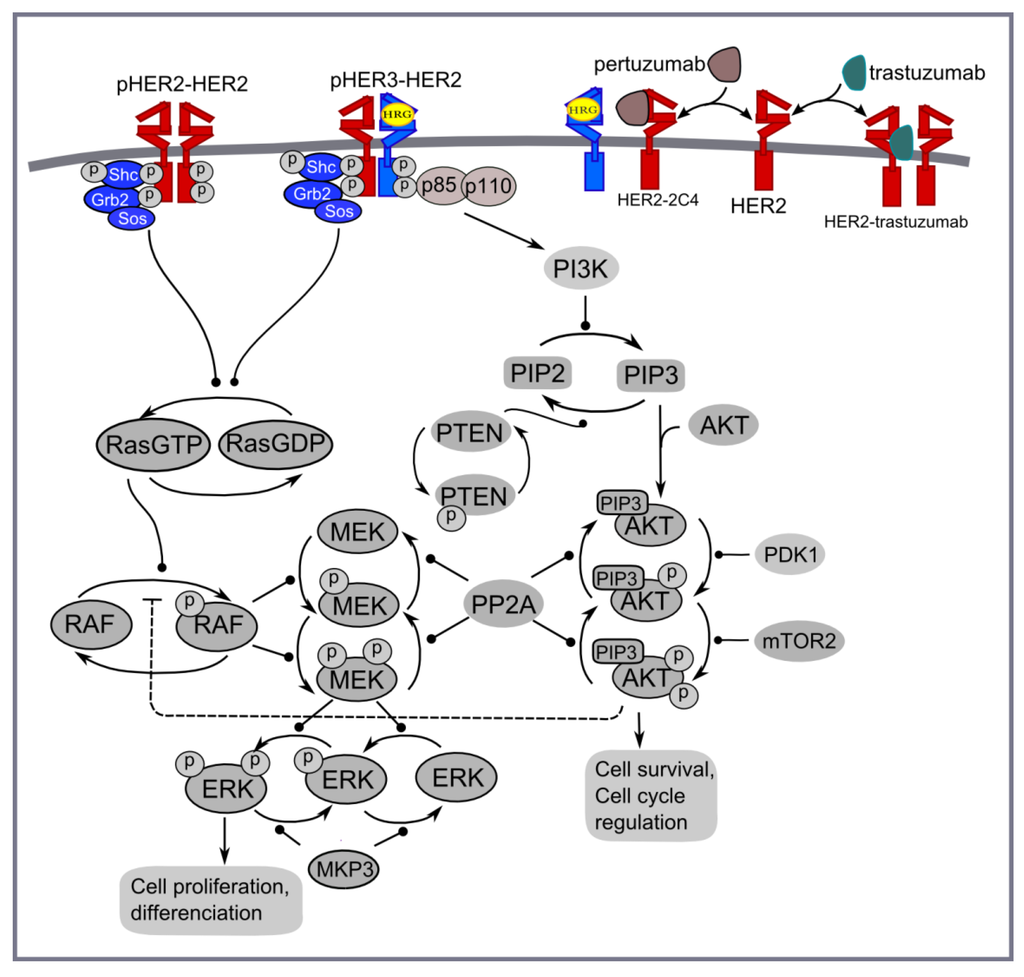 2.3. Cell Lines and Treatment with Stimuli and/or Inhibitors
MCF-7 cells were obtained from ATCC while the HER2 over-expressing cell line, MCF-7/HER2–18 cell line, was a kind gift from the Osborne/Schiff laboratory, Baylor College of Medicine, USA. Both cell lines were routinely maintained in Dulbecco's Modified Eagle Medium (DMEM) containing phenol red supplemented with 10% foetal calf serum (FCS, HarlanSera-Lab LTD) in a 37 °C incubator with 5% CO2. Cells were grown in DMEM without phenol red containing 5% double charcoal stripped serum (DCSS) for 48 h before antibody or HRG-β1 (1 nM) treatment. Cells were incubated with trastuzumab (100 nM) or pertuzumab (100 nM) for 20 min prior to HRG-β1 treatment. For the MCF7/HER2 cell line, the medium was supplemented with 500 μg/mL of Geneticin (Invitrogen). Cell lysates were prepared as previously described [48]. Phospho-Akt and phospho-ERK were measured by reverse phase protein array (RPPA). Treated samples were denatured and reduced protein lysates were spotted onto nitrocellulose-coated glass slides (Eurogentec, Hampshire, UK). Three replicates were spotted per sample in eight two-fold dilutions. Slides were hydrated in Whatman wash buffer for 5 min, Li-Cor Odyssey blocking buffer for 1 h (LI-COR Biosciences, Nebraska, USA), and then incubated with primary antibodies overnight at 4 °C in a sealed box containing a damp paper towel. The following day slides were washed in PBS/T at room temperature for 5 min (×3) before incubating with far-red fluorescently-labelled secondary antibodies diluted in Li-Cor Odyssey Blocking Buffer (1 μL/2 mL) at room temperature for 45 min with gentle shaking. Slides were then washed in excess PBS/T (×3)/PBS (×3) and allowed to air dry before reading on a Li-Cor Odyssey scanner at 680 nm and 780 nm and images exported as TIFF files for further analysis. Antibodies used were anti-pERK1/2 (T202/Y204) (Rabbit, Cell Signalling Technology), anti-pAKT (S473) (Rabbit, Cell Signalling Technology), anti-GAPDH (Rabbit, Cell Signalling Technology) and anti-GAPDH (mouse, Abcam). The secondary antibodies were IRDye 800CW goat anti-mouse or rabbit and IRDye 680 goat anti-mouse or rabbit. The signals were captured with an Odyssey scanner (Li-COR) for fluorescence measurement. RPPA analysis was performed using MicroVigene RPPA analysis module (VigeneTech, Carlisle, MA, USA). Spots were quantified by accurate single segmentation, with actual spot signal boundaries determined by the image analysis algorithm. Each spot intensity was quantified by measuring the total pixel intensity of the area of each spot (volume of spot signal pixels), with background subtraction of 2 pixels around each individual spot. The mean of the replicates was used for normalisation and curve fitting. Curve fitting was performed using five-parameter logistical non-linear regression using a joint estimation approach ("supercurve method"). The quantification y0 (intensity of curve) of sample dilution curves was normalised by corresponding total protein.
3. Results and Discussion
4. Conclusion
As a result of recent experimental and clinical research on the dynamic activity of RTK networks, novel insights were gained on gene–gene interaction networks underlying the genetic reprogramming of RTK during tumour growth and RTK-targeted drug therapy. Assessment of the impact of RTK reprogramming on drug resistance and synergy during prolonged therapy can inform the rational development of effective strategies of drug therapy, particularly combination therapy, and help to design biomarkers for anti-RTK treatment. Computational systems approaches incorporating dynamic change in gene expression profile provide support for experimental and clinical trial design and interpretation of combination therapy. Here, we applied a computational systems approach to investigate trastuzumab and pertuzumab mono- and combination therapies depending on dynamically changing HER2 and HER3 receptor composition and showed that the effectiveness of these three therapies depends on HER3/HER2 dimerization kinetics which is under the strict control of HER3/HER2 co-expression. We showed that, in contrast to mono-therapy, which is receptor composition dependent, combination therapy shows composition-independent inhibition effect in a wide range of HER3/HER2 composition. This feature of the drug combination can contribute significantly to its synergistic action on cellular signalling and tumour growth at the dynamically changing receptor composition and suppression of cancer cell addiction to compensatory control program in HER2 overexpressing tumours which commonly leads to resistance to single therapy.
Supplementary Files
Supplementary File 1:
Supplementary File 2:
Supplementary File 3:
Acknowledgments
This work was supported by grants from Scottish Funding Council (SRDG), and personal support to AG from Scottish Informatics and Computer Science Alliance (SICSA) and to JB from The Northwood Trust. We also acknowledge the anonymous reviewers for their detailed analyses of the results and valuable comments.
Author Contributions
AG designed the study, developed the model, ran simulations, analysed results, and wrote the manuscript; YD analysed bioinformatics data and wrote Section 3.2 and contributed to Section 4; HSK participated in developing the idea of the study and contributed to writing Section 4; TS carried out statistical analysis of mRNA data, designed R code, visualised bioinformatics data, and contributed to writing Section 3.2; SK processed bioinformatics data; HH performed in vitro experiments; SPL and DJH conceived the idea of the study, designed the experiments, analysed the results and critically revised the manuscript; JB participated in study design and coordination and drafted the manuscript.
Conflicts of Interest
The authors declare no conflict of interest.
© 2014 by the authors; licensee MDPI, Basel, Switzerland. This article is an open access article distributed under the terms and conditions of the Creative Commons Attribution license (http://creativecommons.org/licenses/by/3.0/).