Development of a Molecular Breeding Strategy for the Integration of Transgenic Traits in Outcrossing Perennial Grasses
1
Agriculture Victoria, Biosciences Research, Hamilton Centre, Private Bag 105, Hamilton 3300, Australia
2
Faculty of Veterinary and Agricultural Sciences, The University of Melbourne, Private Bag 105, Hamilton 3300, Australia
3
Agriculture Victoria, Biosciences Research, AgriBio, Centre for AgriBioscience, Bundoora 3083, Australia
4
School of Applied Systems Biology, La Trobe University, AgriBio, Centre for AgriBioscience, Bundoora 3083, Australia
*
Author to whom correspondence should be addressed.
Academic Editor: Peter Langridge
Received: 29 September 2016 / Revised: 27 October 2016 / Accepted: 28 October 2016 / Published: 2 November 2016
Abstract
Molecular breeding tools, such as genetic modification, provide forage plant breeders with the opportunity to incorporate high value traits into breeding programs which, in some cases, would not be available using any other methodology. Despite the potential impact of these traits, little work has been published that seeks to optimize the strategies for transgenic breeding or incorporate transgenic breeding with other modern genomics-assisted breeding strategies. As the number of new genomics assisted breeding tools become available it is also likely that multiple tools may be used within the one breeding program. In this paper we propose a strategy for breeding genetically-modified forages using perennial ryegrass as an example and demonstrate how this strategy may be linked with other technologies, such as genomic selection. Whilst the model used is perennial ryegrass the principles outlined are valid for those designing breeding strategies for other outcrossing forage species.
View Full-Text
►

▼

Figures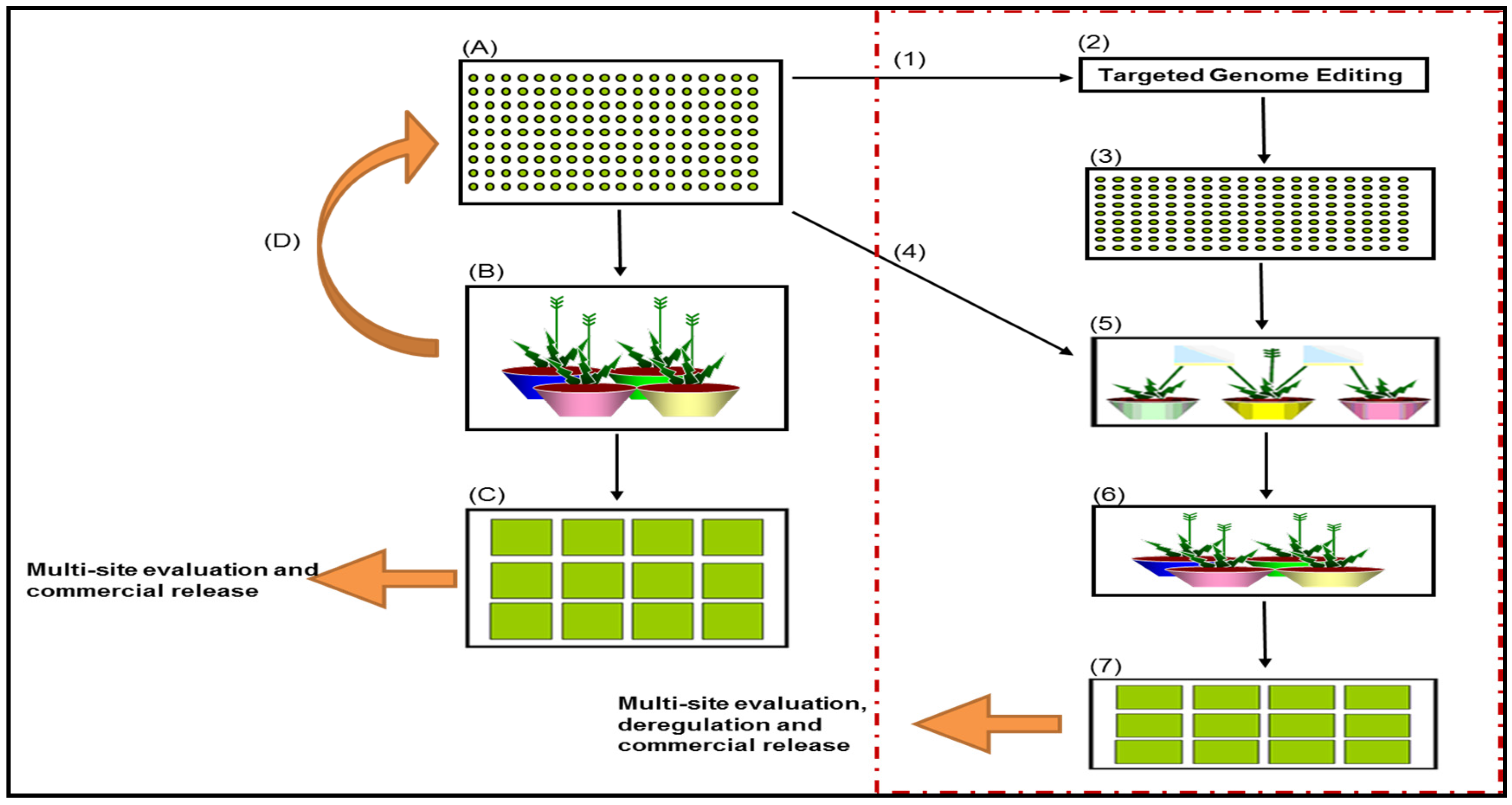 Figure 1
This is an open access article distributed under the
Creative Commons Attribution License
which permits unrestricted use, distribution, and reproduction in any medium, provided the original work is properly cited. (CC BY 4.0).
Share & Cite This Article
MDPI and ACS Style
Badenhorst, P.E.; Smith, K.F.; Spangenberg, G. Development of a Molecular Breeding Strategy for the Integration of Transgenic Traits in Outcrossing Perennial Grasses. Agronomy 2016, 6, 56.
Note that from the first issue of 2016, MDPI journals use article numbers instead of page numbers. See further details here.
Related Articles
Comments
[Return to top]