Thiol-Ene Photo-Click Collagen-PEG Hydrogels: Impact of Water-Soluble Photoinitiators on Cell Viability, Gelation Kinetics and Rheological Properties
1
Biomaterials and Tissue Engineering Research Group, School of Dentistry, University of Leeds, Wellcome Trust Brenner Building, St James' University Hospital, Leeds LS9 7TF, UK
2
Insight Centre for Data Analytics, National Centre for Sensor Research, School of Chemical Sciences, Dublin City University, Dublin 9, Glasnevin, Ireland
3
Textile Technology Research Group, School of Design, University of Leeds, Leeds LS2 9JT, UK
*
Author to whom correspondence should be addressed.
Academic Editor: Patrick van Rijn
Received: 4 May 2017 / Revised: 6 June 2017 / Accepted: 9 June 2017 / Published: 14 June 2017
Abstract
Thiol-ene photo-click hydrogels were prepared via step-growth polymerisation using thiol-functionalised type-I collagen and 8-arm poly(ethylene glycol) norbornene-terminated (PEG-NB), as a potential injectable regenerative device. Type-I collagen was thiol-functionalised by a ring opening reaction with 2-iminothiolane (2IT), whereby up to 80 Abs.% functionalisation and 90 RPN% triple helical preservation were recorded via 2,4,6-Trinitrobenzenesulfonic acid (TNBS) colorimetric assay and circular dichroism (CD). Type, i.e., either 2-Hydroxy-1-[4-(2-hydroxyethoxy) phenyl]-2-methyl-1-propanone (I2959) or lithium phenyl-2,4,6-trimethylbenzoylphosphinate (LAP), and concentration of photoinitiator were varied to ensure minimal photoinitiator-induced cytotoxicity and to enable thiol-ene network formation of collagen-PEG mixtures. The viability of G292 cells following 24 h culture in photoinitiator-supplemented media was largely affected by the photoinitiator concentration, with I2959-supplemented media observed to induce higher toxic response (0.1 → 0.5% (
w
/
v
) I2959, cell survival: 62 → 2 Abs.%) compared to LAP-supplemented media (cell survival: 86 → 8 Abs.%). In line with the in vitro study, selected photoinitiator concentrations were used to prepare thiol-ene photo-click hydrogels. Gelation kinetics proved to be largely affected by the specific photoinitiator, with LAP-containing thiol-ene mixtures leading to significantly reduced complete gelation time (
τ
: 187 s) with respect to I2959-containing mixtures (
τ
: 1683 s). Other than the specific photoinitiator, the photoinitiator concentration was key to adjusting the hydrogel storage modulus (
G
'), whereby 15-fold
G
' increase (232 → 3360 Pa) was observed in samples prepared with 0.5% (
w
/
v
) compared to 0.1% (
w
/
v
) LAP. Further thiol-ene formulations with 0.5% (
w
/
v
) LAP and varied content of PEG-NB were tested to prepare photo-click hydrogels with porous architecture, as well as tunable storage modulus (
G
': 540–4810 Pa), gelation time (
τ
: 73–300 s) and swelling ratio (
SR
: 1530–2840 wt %). The photoinitiator-gelation-cytotoxicity relationships established in this study will be instrumental to the design of orthogonal collagen-based niches for regenerative medicine.
View Full-Text
►

▼

Figures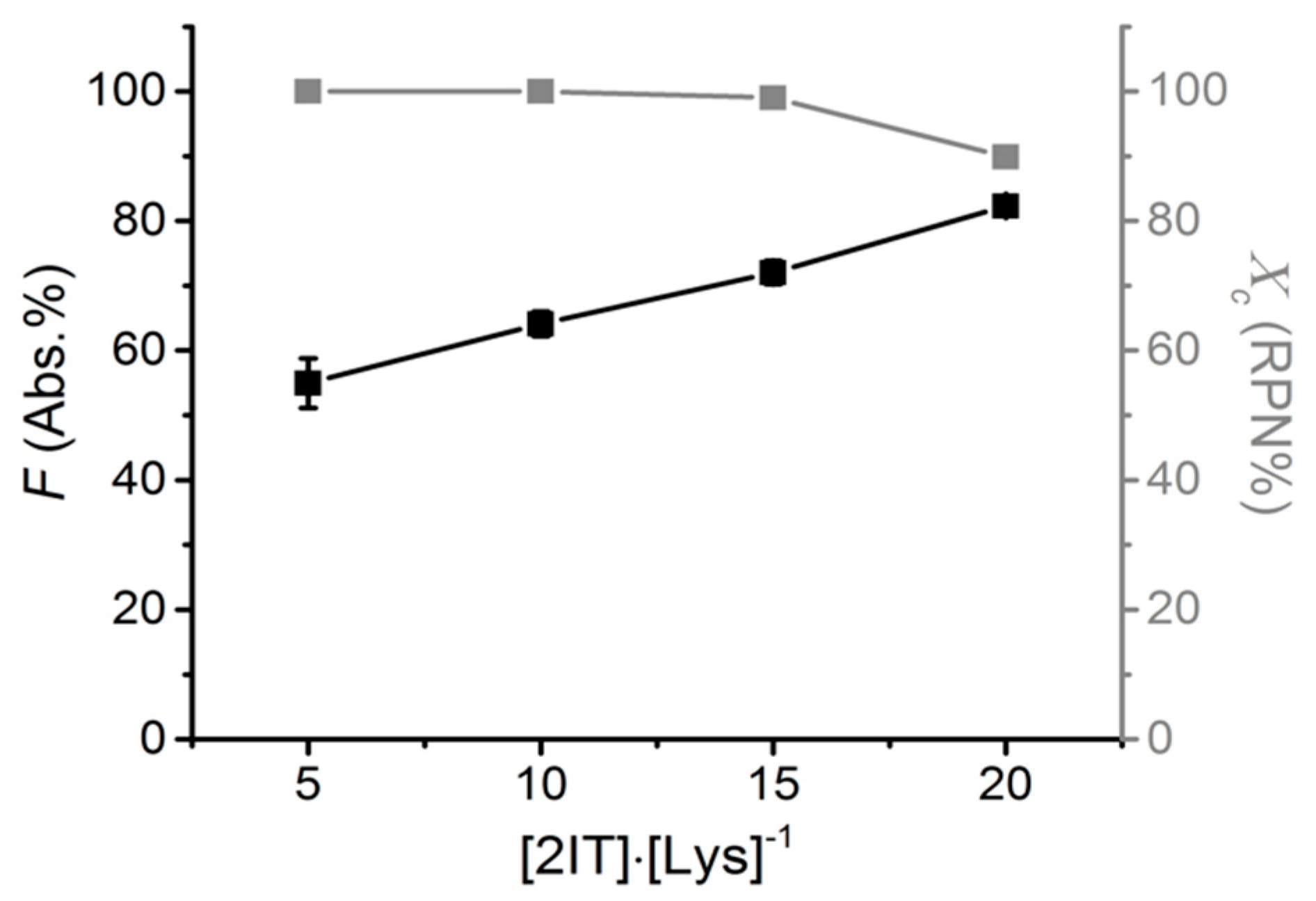 Figure 1
This is an open access article distributed under the
Creative Commons Attribution License
which permits unrestricted use, distribution, and reproduction in any medium, provided the original work is properly cited. (CC BY 4.0).
Share & Cite This Article
MDPI and ACS Style
Holmes, R.; Yang, X.-B.; Dunne, A.; Florea, L.; Wood, D.; Tronci, G. Thiol-Ene Photo-Click Collagen-PEG Hydrogels: Impact of Water-Soluble Photoinitiators on Cell Viability, Gelation Kinetics and Rheological Properties. Polymers 2017, 9, 226.
Note that from the first issue of 2016, MDPI journals use article numbers instead of page numbers. See further details here.
Related Articles
Comments
[Return to top]