Correlation of Microstructure, Rheological and Morphological Characteristics of Synthesized Polypropylene (PP) Reactor Blends Using Homogeneous Binary Metallocene Catalyst
1
Iran Polymer and Petrochemical Institute (IPPI), P.O. Box 14965/115 Tehran, Iran
2
National Petrochemical Company, Petrochemical Research and Technology Company (NPC-RT), P.O. Box 1435884711 Tehran, Iran
3
Leibniz Institute of Polymer Research, D-01067 Dresden, Germany
4
School of Chemical Engineering, College of Engineering, University of Tehran, P.O. Box 11155-4563 Tehran, Iran
5
Department of Chemical Engineering, Faculty of Engineering, Shiraz Branch, Islamic Azad University, P.O. Box 71993-3 Shiraz, Iran
*
Author to whom correspondence should be addressed.
Academic Editor: Changle Chen
Received: 14 January 2017 / Revised: 7 February 2017 / Accepted: 16 February 2017 / Published: 24 February 2017
Abstract
A novel binary homogeneous catalyst system based on (I):
rac
-Me
2
Si(2-Me-4-PhIn)
2
ZrCl
2
and (II): (2-PhIn)
2
ZrCl
2
catalysts at various molar ratios was utilized for the synthesis of polypropylene (PP) reactor blends with bimodal molecular weight distribution (MWD). The results of gel permeation chromatography analyses revealed that the catalyst (I) was responsible for the production of
i
-PP with high molecular weight (MW) while the individual use of catalyst (II) led to the production of an elastomeric PP with relatively low MW. However, application of the binary catalyst system led to high MW bimodal MWD products being highly dependent on the catalysts' molar ratios. Increasing the molar ratio of catalyst (II) to catalyst (I) resulted in a notable enhancement of the products' complex viscosity due to the increased MW, a higher level of chains' entanglements and formation of amorphous blocks along the polymer chains. All products exhibited a single relaxation that shifted towards longer times upon changing the catalysts' molar ratios. Scanning electron microscopy results revealed that the fracture surface of the blends, synthesized by the binary catalyst system, became more heterogeneous in comparison with the products obtained by the individual use of the catalyst (I). The observed heterogeneity was found to increase by increasing the amount of catalyst (II). Such morphological change was further corroborated by the dynamic rheological data, indicating a promising correlation between the linear rheological results and the morphological features of the synthesized PP reactor blends.
View Full-Text
►

▼

Figures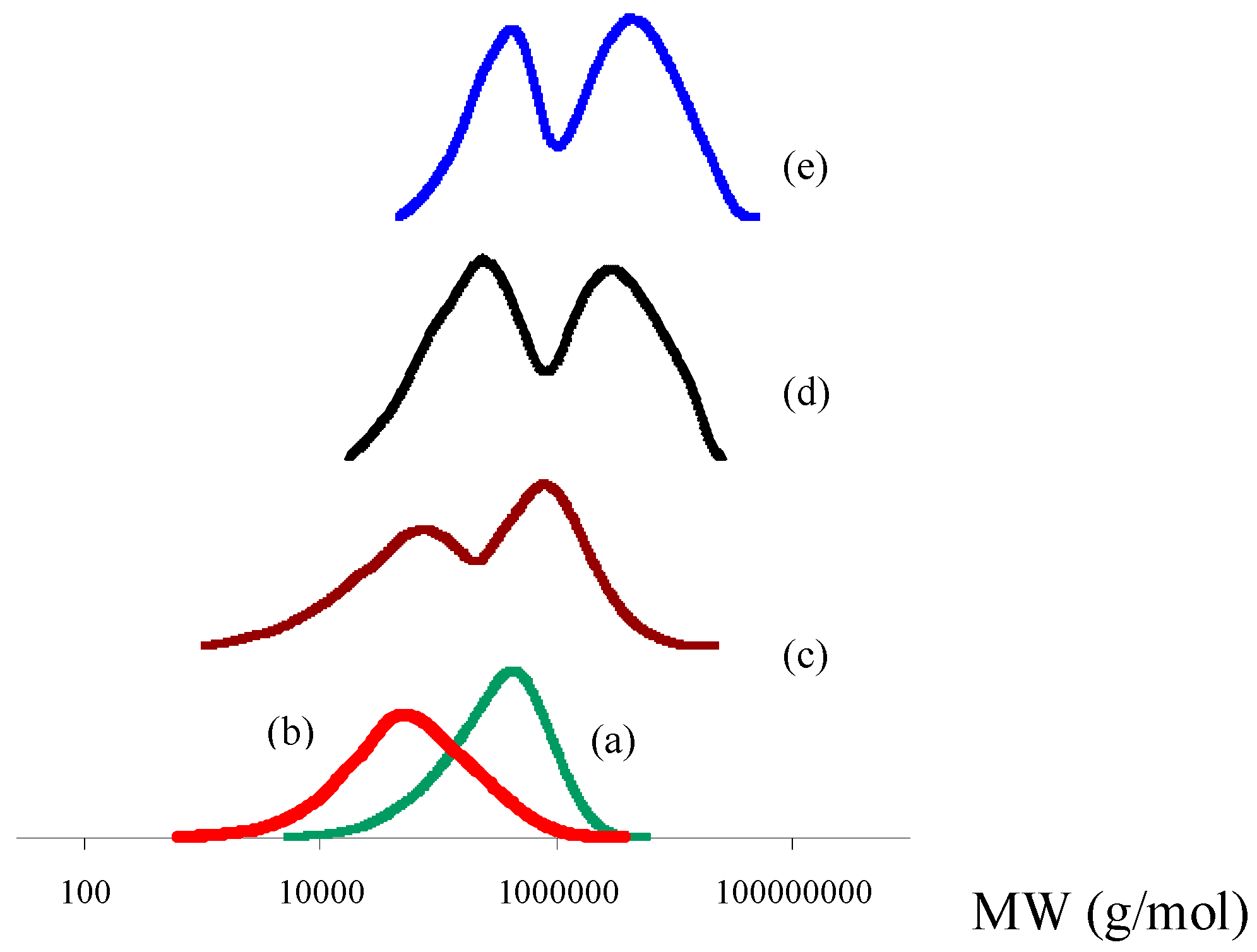 Figure 1
This is an open access article distributed under the
Creative Commons Attribution License
which permits unrestricted use, distribution, and reproduction in any medium, provided the original work is properly cited. (CC BY 4.0).
Share & Cite This Article
MDPI and ACS Style
Vaezi, J.; Nekoomanesh, M.; Khonakdar, H.A.; Jafari, S.H.; Mojarrad, A. Correlation of Microstructure, Rheological and Morphological Characteristics of Synthesized Polypropylene (PP) Reactor Blends Using Homogeneous Binary Metallocene Catalyst. Polymers 2017, 9, 75.
Note that from the first issue of 2016, MDPI journals use article numbers instead of page numbers. See further details here.
Related Articles
Comments
[Return to top]