Effect of Al Substitution on Structural, Magnetic, and Magnetocaloric Properties of Er6Fe23−xAlx (x = 0 and 3) Intermetallic Compounds
1
Laboratoire des Sciences des Matériaux et de l'Environnement, Faculté des Sciences de Sfax-Université de Sfax, BP 1171, 3018 Sfax, Tunisie
2
Chemistry Departement, College of Science and Arts at Ar-Rass, Qassim University, P.O. Box53, Buraydah 51452, Saudi Arabia
3
Laboratoire de Magnétisme et Spectroscopie des Solides, Département de Physique, Faculté des Sciences, Université Badji Mokhtar-Annaba, B.P. 12, Annaba 23000, Algeria
4
Laboratoire de Physique appliqué, Département de Physique, Faculté des Sciences de Sfax, 3018 Sfax, Tunisie
5
Université Paris Est, ICMPE (UMR 7182), CNRS, UPEC, THIAIS F-94320, France
*
Author to whom correspondence should be addressed.
Academic Editor: Alex V. Morozkin
Received: 16 April 2017 / Revised: 9 May 2017 / Accepted: 13 May 2017 / Published: 27 May 2017
Abstract
The structural, magnetic, and magnetocaloric properties of Er
6
Fe
23−x
Al
x
(x = 0 and 3) intermetallic compounds have been studied systematically. Samples were prepared using the arc furnace by annealing at 1073 K for one week. Rietveld analysis of XRD shows the formation of pure crystalline phase with cubic Fm-3m structure. Refinement results show that the unit cell volume decreases with increasing Al content. The Curie temperature Tc of the prepared samples was found to be strongly dependent on the aluminum content. This reduces magnetization and the ferrimagnetic phase transition temperature (Tc) from 481 K (for x = 0) to 380 K (for x = 3), is due to the substitution of magnetic element (Fe) by non-magnetic atoms (Al). With the increase of the Al content, a decrease in the values of magnetic entropy is observed. The magnitude of the isothermal magnetic entropy (|∆SM|) at the Tc decreases from 1.8 J/kg·K for x = 0 to 0.58 J/kg·K for x = 3 for a field change 14 kOe. Respectively, the relative cooling power (RCP) decreases with increasing Al content reaching 42 Jkg
−1
for x = 0 to 28 Jkg
−1
for x = 3.
View Full-Text
►

▼

Figures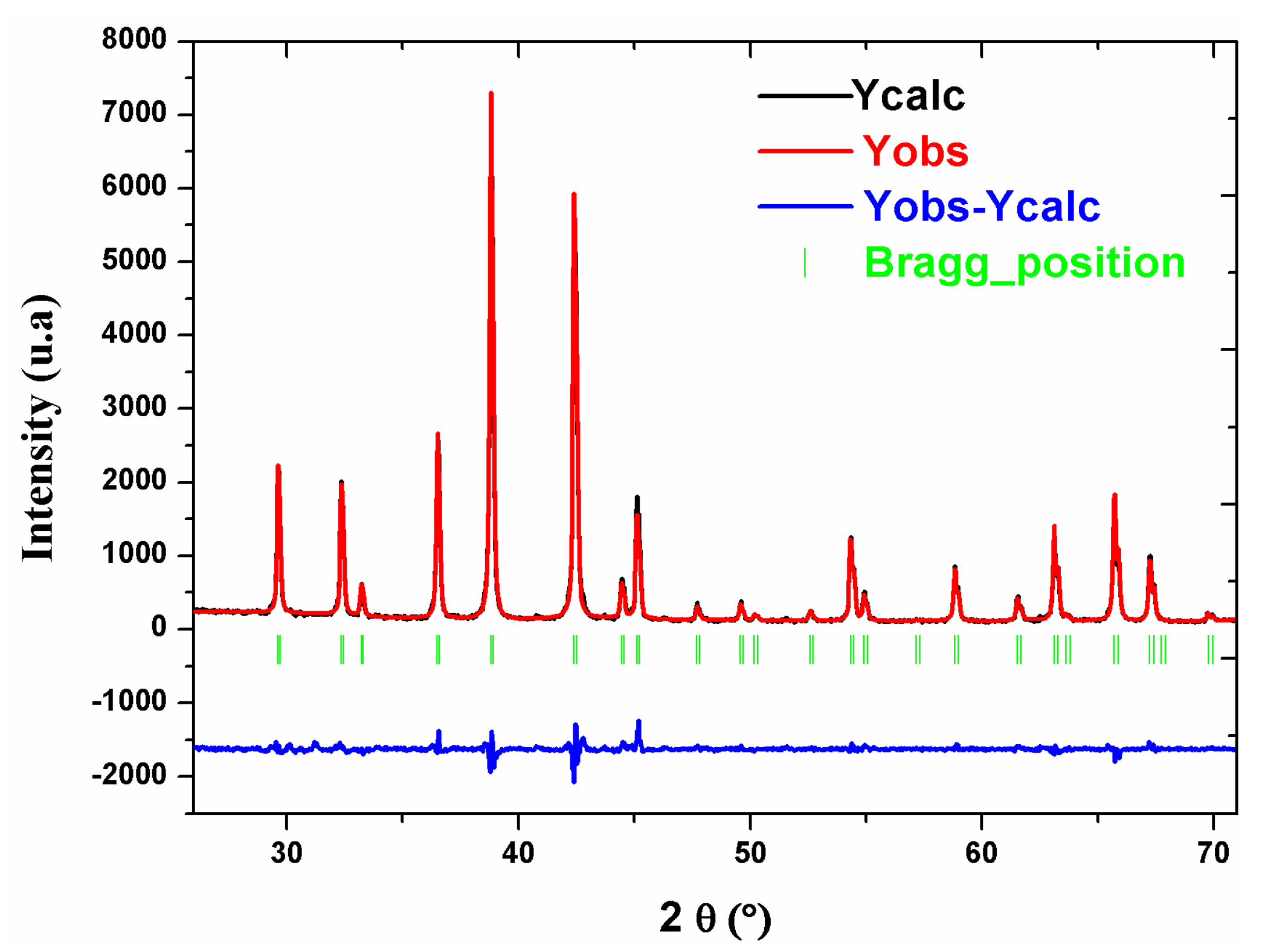 Figure 1
This is an open access article distributed under the
Creative Commons Attribution License
which permits unrestricted use, distribution, and reproduction in any medium, provided the original work is properly cited. (CC BY 4.0).
Share & Cite This Article
MDPI and ACS Style
Jemmali, M.; Alleg, S.; Dhahri, E.; Bessais, L. Effect of Al Substitution on Structural, Magnetic, and Magnetocaloric Properties of Er6Fe23−xAlx (x = 0 and 3) Intermetallic Compounds. Crystals 2017, 7, 156.
Note that from the first issue of 2016, MDPI journals use article numbers instead of page numbers. See further details here.
Related Articles
Comments
[Return to top]