Identification and Crystallization of Penicillin-Binding Protein/β-Lactamase Homolog (Rp46) from Ruegeria Pomeroyi
1
Department of Chemistry, College of Natural Science, Sookmyung Women's University, Seoul 04310, Korea
2
Department of Molecular Cell Biology, Samsung Biomedical Research Institute, Sungkyunkwan University School of Medicine, Suwon 16419, Korea
†
These authors contributed equally to this work.
*
Authors to whom correspondence should be addressed.
Academic Editor: Helmut Cölfen
Received: 23 November 2016 / Revised: 23 December 2016 / Accepted: 26 December 2016 / Published: 29 December 2016
Abstract
In spite of the enormous biological and clinical significance of penicillin-binding protein (PBP)/β-lactamase (βL), few of their many homologs (PBP)/βLs homologs) have been studied crystallographically, and have known functions. Herein, X-ray crystallographic study of a PBP/βL homolog (Rp46) from
Ruegeria pomeroyi
is described. Multiple sequence alignments indicate that Rp46 has a conserved serine residue within the S
70
-X-X-K
73
motif (Motif I), acting as the catalytic nucleophile. Moreover, an invariant tyrosine residue (Tyr
185
) and a Trp
365
-X-Gly motif (Motif III) were also identified. The recombinant Rp46 protein was expressed in
Escherichia coli
and purified to homogeneity judging from the SDS-PAGE analysis. Rp46 was crystallized using a solution consisting of 20% (
w
/
v
) PEG 3000, 0.1 M Tris-HCl, pH 7.0, 0.2 M calcium acetate, and the X-ray diffraction data were collected to a resolution of 1.90 Å with an
R
merge
of 7.4%. The crystals of Rp46 belong to the space group
I422
, with unit cell parameters
a = b =
141.26 Å, and
c =
119.75. The structure determination and biochemical characterization are in progress. (Synopsis: A penicillin-binding protein/β-lactamase homolog (Rp46) from
Ruegeria pomeroyi
was identified and crystallized in the space group
I4
, and the diffraction data were collected to a resolution of 1.90 Å.)
View Full-Text
►

▼

Figures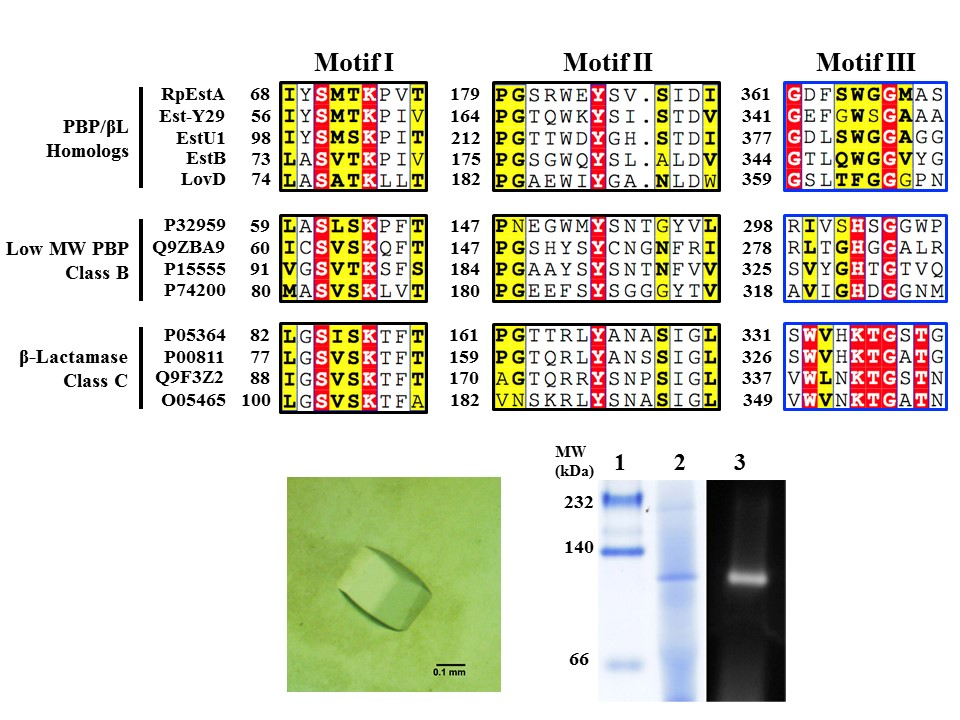 This is an open access article distributed under the
Creative Commons Attribution License
which permits unrestricted use, distribution, and reproduction in any medium, provided the original work is properly cited. (CC BY 4.0).
Share & Cite This Article
MDPI and ACS Style
Ryu, B.H.; Ngo, T.D.; Yoo, W.; Kim, K.K.; Kim, T.D. Identification and Crystallization of Penicillin-Binding Protein/β-Lactamase Homolog (Rp46) from Ruegeria Pomeroyi. Crystals 2017, 7, 6.
Note that from the first issue of 2016, MDPI journals use article numbers instead of page numbers. See further details here.
Related Articles
Comments
[Return to top]