Open Access This article is
freely available
re-usable
Short Note
A One-Dimensional Coordination Polymer Constructed from Cadmium(II) Cations and Sparfloxacinate Anions
1
School of Chemistry and Life Science, Guangdong University of Petrochemical Technology, Maoming 525000, China; Email:
anzhe6409@sina.com
2
Department of Pharmacy, Mudanjiang Medical University, Heilongjiang 157011, China; Email:
gaojing_mmu@163.com
3
Department of Chemistry, University of Aberdeen, Meston Walk, Aberdeen AB24 3UE, UK
*
Author to whom correspondence should be addressed; Email:
w.harrison@abdn.ac.uk
; Tel.: +44-1224-272897; Fax: +44-1224-272921.
Received: 28 June 2012; in revised form: 22 August 2012 / Accepted: 1 September 2012 /
Published: 28 September 2012
Abstract
: The synthesis and crystal structure of the one-dimensional coordination polymer, [Cd(spar)2]n·

n

(H2O), are described, where spar− is the sparfloxacinate anion, C19H21N4O3F2−. The Cd2+ ion is bonded to four spar− ligands: Two O,O-chelate with their β-keto carboxylate groupings and two are monodentate-bound through a carboxylate O atom, to result in a distorted CdO6 octahedral coordination geometry. The bridging ligands lead to [100] polymeric chains in the crystal and N–H···O hydrogen bonds and possible weak aromatic p–p stacking interactions help to consolidate the structure. Crystal data: C38H44CdF4N8O7,

M

r = 913.21, triclinic,

(No. 2),

Z

= 2,

a

= 9.2256(4) Å,

b

= 12.8767(5) Å,

c

= 17.4297(7) Å,

α

= 89.505(2)°,

β

= 85.062(2)°,

γ

= 70.757(2)°,

V

= 1947.20(14) Å3,

R

(

F

) = 0.036,

wR

(

F

2) = 0.082.
Keywords:
one-dimensional coordination polymer; sparfloxacin; cadmium
1. Introduction
Sparfloxacin (C19H22N4O3F2; Hspar; systematic name: 5-amino-1-cyclopropyl-7-[(3R*,5S*)(3,5-dimethylpiperazin-1-yl]-6,8-difluoro-4-oxo-quinoline-3-carboxylic acid), is a quinolone derivative (Figure 1) [1] with significant antibiotic properties [2,3], although ironically, the effectiveness of Hspar and related compounds in treating infections appear to promote the subsequent colonization by "super bugs" such as MRSA [4]. Our own interest in this class of compounds, along with that of others, is focused on their potential as multi-dentate and bridging ligands in the construction of new complexes [5] and coordination polymers [6,7].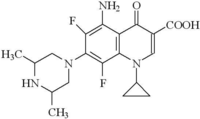 Figure 1. Chemical scheme for sparfloxacin (C19H22N4O3F2).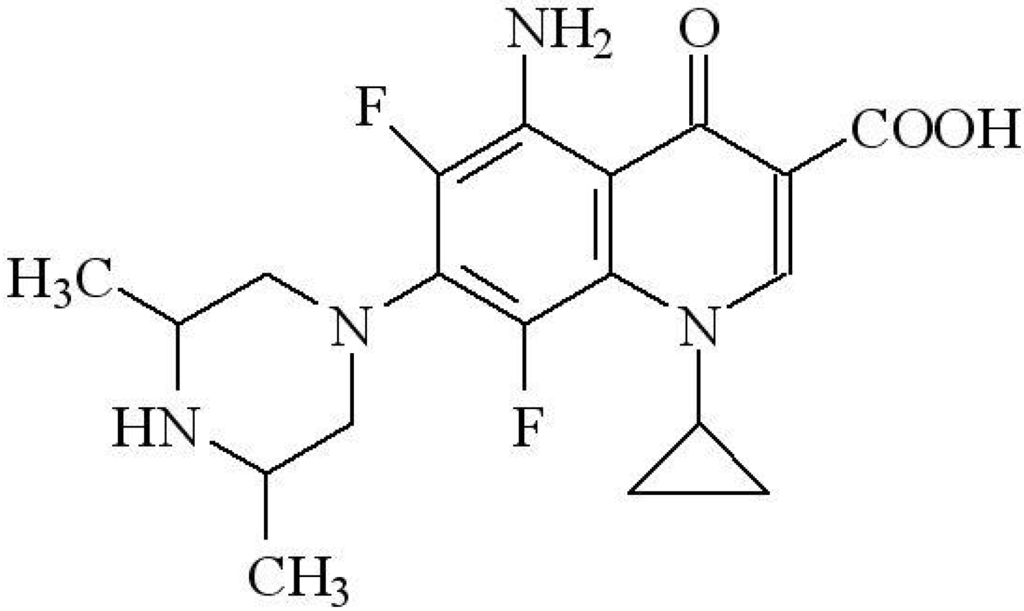 The crystal structure of the hydrated, zwitterionic molecule of Hspar has been reported [8] and its hydrate polymorphism demonstrated, which may have important pharmacological consequences [9]. A molecular salt of the H2spar+ cation with sulfate counter-ions is known [10]. The crystal structures of its anionic complexes with nickel [11], copper [12,13] and zinc [14] have been reported. As an extension of these studies, we now describe the hydrothermal synthesis and crystal structure of the polymeric title compound, [Cd(spar)2]n·n(H2O), (1).
2. Results and Discussion
2.1. Crystal Structure of [Cd(spar)2]n·nH2O (1)
Compound 1 is a one-dimensional coordination polymer: The asymmetric unit contains a Cd2+ cation, two mono-anionic spar− ligands and a disordered water molecule of crystallisation (Figure 2).
The metal ion in 1 is coordinated by two bidentate spar− anions, with the ketone O-atom and its syn-carboxylate O atom (O3 and O2, respectively, in the C1-containing ion and O6 and O5, respectively, in the C20-ion) serving as the donors, which generates a six-membered chelate ring in each case. The metal coordination sphere is completed by two monodentate-O bonded spar− species: In each case the carboxylate O-atom anti to the ketone O-atom is involved. Together, these lead to a moderately distorted octahedral geometry for the CdO6 polyhedron (Table 1, Figure 3), with the monodentate O-atoms is a cis disposition. The mean Cd–O separation is 2.293 Å, the angular variance [15] for the O–Cd–O bond angles is 105.2° and the bond-valence-sum (BVS) for the metal ion, calculated by the Brown–Altermatt formalism [16], is 2.11 (expected value = 2.00). The –O2–C1–C2–C3–O3–Cd1– six-membered chelate ring approximates to a distorted half-chair, with O2 and Cd1 displaced by 0.320(5) Å and −0.702(7) Å, respectively, from the plane of the other four atoms (r.m.s. deviation = 0.026 Å). The –O5–C20–C21–C22–O6–Cd1– ring can be described in the same way, with O5 and Cd1 displaced by 0.190(5) Å and −1.013(7) Å, respectively, from the other atoms (r.m.s. deviation = 0.008 Å). The dihedral angle between the near-planar segments of the chelate rings is 32.0(3)°.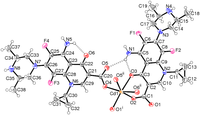 Figure 2.
The asymmetric unit of
1
(50% displacement ellipsoids), expanded to show the complete Cd
2+
coordination sphere. Hydrogen bonds are shown as double-dashed lines and the minor disorder components of the piperazine rings of the ligands and the disordered, uncoordinated water molecule are omitted for clarity. See
Table 1
for symmetry codes.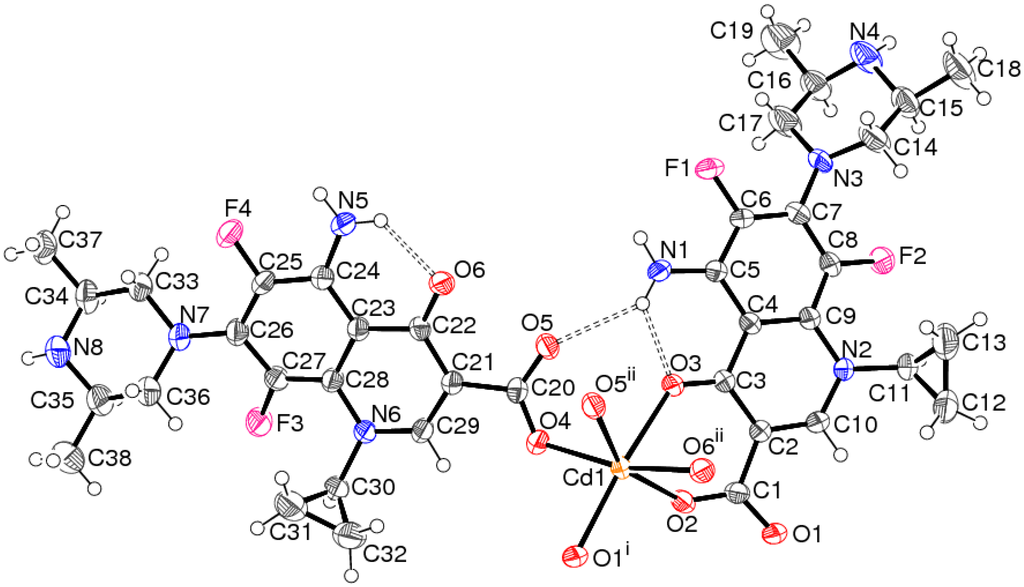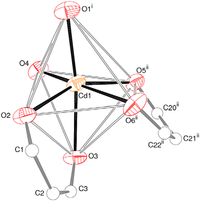 Figure 3.
Detail of
1
showing the coordination geometry of the Cd
2+
ion (50% displacement ellipsoids for Cd and O). The octahedral edges are shown as open lines and the C atoms of the chelate rings are shown as spheres. See
Table 1
for symmetry codes.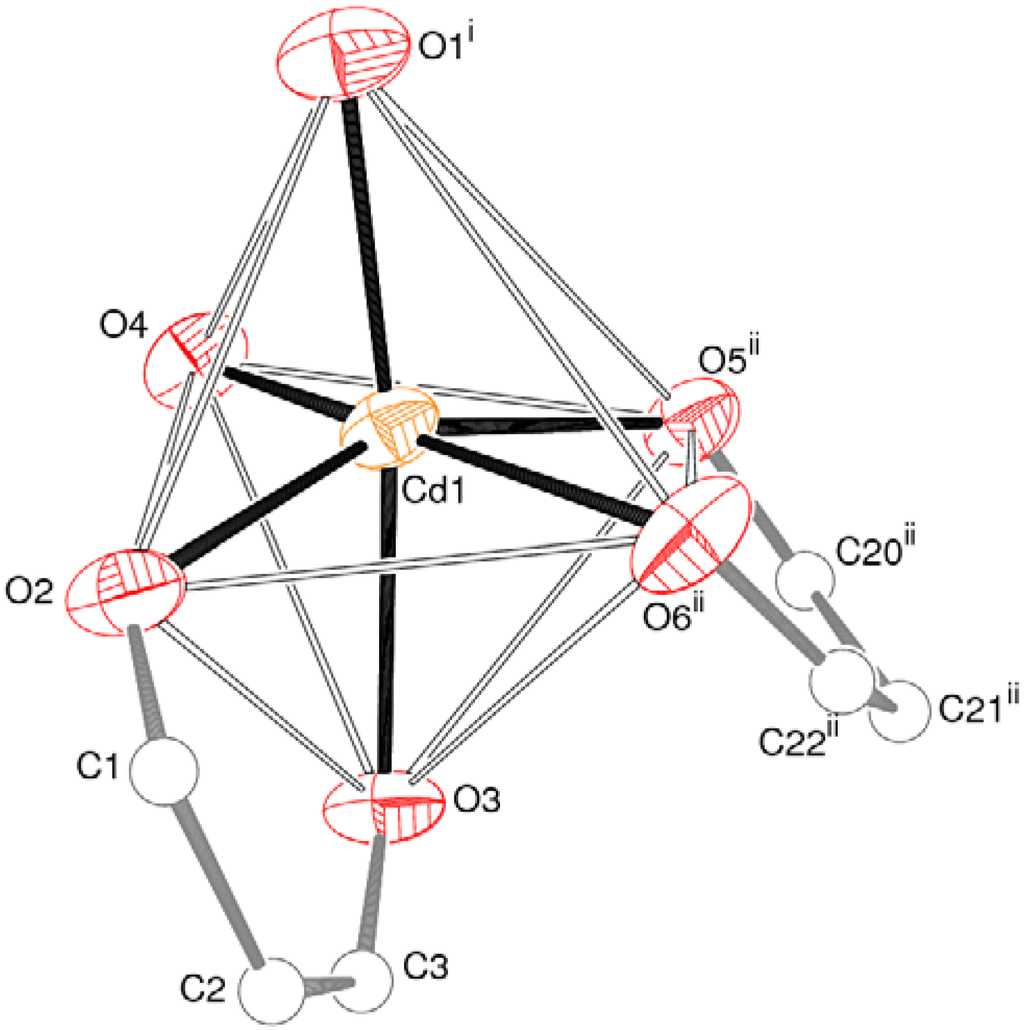 | | |
| --- | --- |
| | Table 1. Selected geometrical data (Å,°) for 1. |
Table 1. Selected geometrical data (Å,°) for 1.

| | | | |
| --- | --- | --- | --- |
| Cd1–O4 | 2.264(2) | Cd1–O1 i | 2.269(2) |
| Cd1–O5 ii | 2.280(2) | Cd1–O2 | 2.292(2) |
| Cd1–O6 ii | 2.304(2) | Cd1–O3 | 2.3466(19) |
| | | | |
| O4–Cd1–O1 i | 87.58(8) | O4–Cd1–O5 ii | 90.75(8) |
| O1 i–Cd1–O5 ii | 102.81(8) | O4–Cd1–O2 | 104.12(8) |
| O1 i–Cd1–O2 | 98.16(7) | O5 ii–Cd1–O2 | 154.76(7) |
| O4–Cd1–O6 ii | 164.30(7) | O1 i–Cd1–O6 ii | 100.15(8) |
| O5 ii–Cd1–O6 ii | 74.28(8) | O2–Cd1–O6 ii | 88.40(8) |
| O4–Cd1–O3 | 92.27(7) | O1 i–Cd1–O3 | 170.82(8) |
| O5 ii–Cd1–O3 | 86.37(7) | O2–Cd1–O3 | 72.97(7) |
| O6 ii–Cd1–O3 | 82.26(8) | | |
Symmetry codes: i 2 − x, 1 − y, 1 − z; ii 1 − x, 1 − y, 1 − z.
The important geometrical features of the first spar− anion (containing C1) are as follows: The C1–O1 and C1–O2 bond lengths of 1.266(4) Å and 1.250(3) Å, respectively, are typical for a delocalised carboxylate group and the dihedral angle between C1/O1/O2 and the adjacent N2-containing ring (r.m.s. deviation = 0.051 Å) is 11.5(5)°. The dihedral angle between the cyclopropane ring and the N2 ring is 66.4(2)°. The dihedral angle between the N2 ring and the C5 ring (r.m.s. deviation = 0.021 Å), which are fused at the C4–C9 bond, is 7.50(15)°, indicating a significant puckering to the quinolone system. The piperazine ring adopts a typical chair conformation with the N–Cq (q = quinolone) bond in an equatorial orientation. Its geometry is complicated by disorder of the C atoms bearing the terminal methyl groups over two orientations, in a 0.766(10):0.234(10) ratio, but both of these maintain the (3R*,5S*) relative configurations of these stereogenic atoms.
The second spar− anion (containing C20) has a broadly similar geometry: The C20–O4 and C20–O5 bond lengths are 1.273(3) Å and 1.250(3) Å, respectively, and the dihedral angle between C20/O4/O5 and the N6 ring (r.m.s. deviation = 0.037°) is 4.0(4)°. The dihedral angle between the N6 ring and the pendent three-membered ring is 73.5(2)°. The N6 and C24 rings (r.m.s. deviation for the latter = 0.041 Å), fused at the C23–C28 bond, are tilted by 4.38(16)°. The piperazine ring in the second anion shows the same type of positional disorder as the first, in a 0.908(8):0.092(8) ratio for the two orientations.
The extended structure of 1 features polymeric chains in the [100] direction (Figure 4), such that each spar− anion links two cadmium metal ions. Adjacent metal ions are fused via eight-membered loops, generated by crystallographic inversion symmetry.

Figure 4.
Fragment of a [100] polymeric chain in
1
showing only the O atoms and linking C atoms of the ligands (50% displacement ellipsoids; symmetry codes as in
Table 1
). The bonds of the C1 and C20 spar
−
anions are colored mint and plum, respectively.

To complete the structure of 1, several N–H···O hydrogen bonds occur of varying strengths, including a bifurcated N–H···(O,O) link (Table 2). All of these bonds are intra-chain interactions. It is notable that neither of the piperazine H atoms (attached to N4 and N8) participates in a hydrogen bond, perhaps due in part to the steric crowding of the two adjacent methyl groups. Weak aromatic p–p stacking (centroid–centroid separation = 3.7164(17) Å between the N6 and C24 rings) might also play some role in consolidating the structure of 1.
| | |
| --- | --- |
| | Table 2. Hydrogen-Bond geometries for 1. |
Table 2. Hydrogen-Bond geometries for 1.

| | | | | |
| --- | --- | --- | --- | --- |
| N1–H1A···O1 iii | 0.86 | 2.33 | 3.021(3) | 138 |
| N1–H1B···O3 | 0.86 | 1.96 | 2.598(3) | 130 |
| N1–H1B···O5 | 0.86 | 2.35 | 3.061(3) | 141 |
| N5–H5A···O4 iii | 0.86 | 2.59 | 3.221(3) | 131 |
| N5–H5B···O6 | 0.86 | 1.98 | 2.609(3) | 129 |
The four columns specify the D–H, H···A and D···A separations (Å) and the D–H···A angle (°), respectively. Symmetry code: iii x − 1, y, z.
2.2. Spectroscopy
By analogy with data from related compounds [9], the 1629 cm−1 band is assigned as a C=O(pyridone) stretch and the 1570 cm−1 and 1364 cm−1 signals correspond to the carboxylate –CO2 asymmetric and symmetric stretches, respectively.
3. Experimental Section
3.1. Synthesis and Characterization
A mixture of cadmium acetate trihydrate (0.25 mmol), sparfloxacin (0.5 mmol), 1,4-benzenedicarboxylic acid (0.25 mmol), sodium hydroxide (1 mmol), and water (15 mL) was stirred for 30 min at room temperature. The mixture was then transferred to a 25-mL Teflon-lined reactor and heated to 423 K for 72 h under autogenous pressure. Upon cooling, colorless prisms of 1 were recovered from the reaction mixture by vacuum filtration. The role of the 1,4-benzenedicarboxylic acid in the synthesis is unknown, but it has not proved possible to prepare 1 if it is not present.
Elemental analysis: calc (%) for C38H44CdF4N8O7: C 49.98, H 4.86, N 12.27; found (%): C 49.76, H 4.49, N 12.04. IR (cm−1, KBr): 3450 (br, m), 1629 (s), 1570 (s), 1449 (s), 1364 (w), 1290 (s).
3.2. Single-Crystal Data Collection and Analysis
The single-crystal data for 1 (colorless prism 0.20 × 0.20 × 0.18 mm) were collected using a Bruker APEX II CCD diffractometer (graphite monochromated MoKα radiation, λ = 0.71073 Å) at room temperature. Data reduction with SAINT [17] then proceeded and the structure was solved by direct methods with SHELXS-97 [18]. The resulting atomic model was developed and refined against |F|2 with SHELXL-97 [18] and the "observed data" threshold for calculating the R(F) residuals was set as I > 2σ(I). The C-bound H atoms were placed in idealised locations (C–H = 0.93–0.98 Å) and refined as riding atoms. The N-bound H atoms were located in difference maps: Those attached to N1 and N5 were relocated to idealised locations (N–H = 0.86 Å) and refined as riding and those attached to N4 and N8 were refined as riding in their as-found relative locations. Due to the disorder of the piperazine rings, the location of the N4 and N8 H atoms are perhaps less certain, although they appeared reasonably distinctly in difference maps. The constraint Uiso(H) = 1.2Ueq(carrier) or 1.5Ueq(methyl carrier) was applied as appropriate. The H atoms associated with the disordered water molecule could not be located; based on geometrical considerations, one of the water molecules may form a hydrogen bond to N4. The structural model was analysed and validated with PLATON [19] and full refinement details are given in the deposited cif.
Crystal data for 1: C38H44CdF4N8O7, Mr = 913.21, triclinic,

(No. 2), Z = 2, a = 9.2256(4) Å, b = 12.8767(5) Å, c = 17.4297(7) Å, α = 89.505(2)°, β = 85.062(2)°, γ = 70.757(2)°, V = 1947.20(14) Å3, F(000) = 936, T = 296(2) K, ρcalc = 1.558 g·cm−3, μ = 0.640 mm−1, 27884 reflections recorded (3.4° ≤ 2θ ≤ 50.0°; −10 ≤ h ≤ 10, −15 ≤ k ≤ 15, −20 ≤ l ≤ 20), RInt = 0.039, 6848 merged reflections, 6225 with I > 2σ(I), 541 variable parameters, R(F) = 0.036, wR(F2) = 0.082, min./max. ∆ρ = −0.58/0.46 e Å−3. Cambridge Structural Database deposition number: CCDC-888200.
4. Conclusions
The synthesis and crystal structure of the title one-dimensional coordination polymer have been described, in which the metal atom adopts a distorted octahedral geometry arising from its coordination by two O,O-bidentate and two O-monodentate spar− anions. The linkages in the polymeric chain are centrosymmetric eight-membered rings. The structure of 1 is completely different to that of Cd2(enro)4(H2O)2·4H2O (Henro = enroflaxacin; C19H22N3O3F), in which isolated binuclear complexes occur and the metal coordination geometry is a CdO6 trigonal prism [5]. In [Cd(cipro)2]n·2.5nH2O (Hcipro = ciprofloxacin; C17H18FN3O4) [6], the Cd2+ ion is coordinated by O,O-bidentate and Np-bonded (p = piperazine) cipro− ions to generate a coordination network containing trans-CdN2O4 octahedra. Conversely, Cd(Hcipro)2Cl2·4H2O is a mononuclear complex containing O,O-bidentate neutral, zwitterionic Hcipro molecules and two charge-balancing chloride ions to generate trans-CdCl2O4 octahedra [20].
References
Andersson, M.I.; MacGowan, A.P. Development of the quniolones.

J. Antimicrob. Chemother.

2003,

51

, 1–11, doi:10.1093/jac/dkg212.
Miyamoto, T.; Matsumoto, J.-I.; Chiba, K.; Egawa, H.; Shibamori, K.; Minamida, A.; Nishimura, Y.; Okada, H.; Kataoka, M.; Fujita, M.; Hirose, T.; Nakano, J. Pyridonecarboxylic acids as antibacterial agents. 14: Synthesis and structure-activity relationship of 5-substituted 6,8-difluoroquinolones, including sparfloxacin, a new quinoline antibacterial agent with improved potency.

J. Med. Chem.

1990,

33

, 1645–1656, doi:10.1021/jm00168a018.
Qadri, S.M.; Ueno, Y.; Burns, J.J.; Almodovar, E.; Rabea, N.

In vitro

activity of sparfloxacin (CI-978), a new broad-spectrum fluoroquinolone.

Chemotherapy

1992,

38

, 99–106, doi:10.1159/000238948.
Tacconelli, E.; De Angelis, G.; Cataldo, M.A.; Pozzi, E.; Cauda, R. Does antibiotic exposure increase the risk of methicillin-resistant

Staphylococcus aureus

(MRSA) isolation? A systematic review and meta-analysis.

J. Antimicrob. Chemother.

2007,

61

, 26–38, doi:10.1093/jac/dkm416.
An, Z.; Gao, J.; Harrison, W.T.A. Two binuclear complexes containing the enrofloxacinate anion: Cd2(C19H21N3O3F)4(H2O)2·4H2O and Pb2(C19H21N3O3F)4·4H2O.

J. Coord. Chem.

2010,

63

, 3871–3879, doi:10.1080/00958972.2010.524699.
Xiao, D.-R.; Wang, E.-B.; An, H.-Y.; Su, Z.-M.; Li, Y.-G.; Gao, L.; Sun, C.-Y.; Xu, L. Rationally designed, polymeric, extended metal-ciprofloxacin complexes.

Chem. Eur. J.

2005,

11

, 6673–6686, doi:10.1002/chem.200500548.
An, Z.; Liu, L.-R. Poly[bis[μ-1-cyclopropyl-6-fluoro-4-oxido-7-(1-piperazinyl)-1,4-dihydroquinoline-3-carboxylato]nickel(II)].

Acta Cryst.

2008,

E64

, m176.
Sivalakshmidevi, A.; Vyas, K.; Om Reddy, G. Sparfloxacin, an antibacterial drug.

Acta Cryst.

2000,

C56

, e115–e116.
Llinas, A.; Burley, J.C.; Prior, T.J.; Glen, R.C.; Goodman, J.M. Concomitant hydrate polymorphism in the precipitation of sparfloxacin from aqueous solution.

Cryst. Growth Des.

2008,

8

, 114–118, doi:10.1021/cg700908m.
Li, T.; Yang, L.; Wang, Y.C.; Lian, Q. Bis[(2

R

,6

S

)-4-(5-amino-3-carboxy-1-cyclopropyl-6,8-difluoro-4-oxo-1,4-dihydroquinolin-7-yl)-2,6-dimethylpiperazin-1-ium] sulfate pentahydrate.

Acta Cryst.

2011,

E67

, o3366.
Skyrianou, K.C.; Raptopoulou, C.P.; Psycharis, V.; Kessissoglou, D.P.; Psomas, G. Structure, cyclic voltammetry and DNA-binding properties of the bis(pyridine)bis(sparfloxacinato)nickel(II) complex.

Polyhedron

2009,

28

, 3265–3271, doi:10.1016/j.poly.2009.04.002.
Efthimiadou, E.K.; Sanakis, Y.; Raptopoulou, C.P.; Karaliota, K.; Katsaros, N.; Psomas, G. Crystal structure, spectroscopic, and biological study of the copper(II) complex with third-generation quinolone antibiotic sparfloxacin.

Bioorg. Med. Chem. Lett.

2006,

16

, 3864–3867, doi:10.1016/j.bmcl.2006.04.034.
Shingnapurkar, D.; Butcher, R.; Afrasiabi, Z.; Sinn, E.; Ahmed, F.; Sarkar, F.; Padhye, S. Neutral dimeric copper-sparfloxacin conjugate having butterfly motif with antiproliferative effects against hormone independent BT20 breast cancer cell line.

Inorg. Chem. Commun.

2007,

10

, 459–462, doi:10.1016/j.inoche.2006.12.016.
Tarushi, A.; Polatoglou, E.; Kljun, J.; Turel, I.; Psomas, G.; Kessissoglou, D.P. Interaction of Zn(II) with quinolone drugs: Structure and biological evaluation.

Dalton Trans.

2011,

40

, 9461–9473, doi:10.1039/c1dt10870k.
Robinson, K.; Gibbs, G.V.; Ribbe, P.H. Quadratic elongation–quantitative measure of distortion in coordination polyhedra.

Science

1971,

172

, 567–570.
Brown, I.D.; Altermatt, D. Bond-Valence parameters obtained from a systematic analysis of the Inorganic Crystal Structure Database.

Acta Cryst.

1985,

B41

, 244–247.

APEX2 and SAINT Diffractometer Control Software

; Bruker AXS Inc.: Madison, WI, USA, 2009.
Sheldrick, G.M. A short history of SHELX.

Acta Cryst.

2008,

A64

, 112–122.
Spek, A.L. Structure validation in chemical crystallography.

Acta Cryst.

2009,

D65

, 148–155.
Lopez-Gresa, M.P.; Ortiz, R.; Perello, L.; Latorre, J.; Liu-Gonzalez, M.; Garcia-Granda, S.; Perez-Priede, M.; Canton, E. Interactions of metal ions with two quinolone antimicrobial agents (cinoxacin and ciprofloxacin)—Spectroscopic and X-ray structural characterization. Antibacterial studies.

J. Inorg. Biochem.

2002,

92

, 65–74, doi:10.1016/S0162-0134(02)00487-7.
© 2012 by the authors; licensee MDPI, Basel, Switzerland. This article is an open-access article distributed under the terms and conditions of the Creative Commons Attribution license (http://creativecommons.org/licenses/by/3.0/).