Theory of Photoinduced Phase Transitions in Molecular Conductors: Interplay Between Correlated Electrons, Lattice Phonons and Molecular Vibrations
1
Institute for Molecular Science, Okazaki, Aichi 444-8585, Japan
2
Department of Functional Molecular Science, Graduate University for Advanced Studies, Okazaki, Aichi 444-8585, Japan
3
JST, CREST, Tokyo 102-0076, Japan
Received: 1 December 2011 / Revised: 26 December 2011 / Accepted: 31 December 2011 / Published: 6 January 2012
Abstract
Dynamics of photoinduced phase transitions in molecular conductors are reviewed from the perspective of interplay between correlated electrons and phonons. (1) The charge-transfer complex TTF-CA shows a transition from a neutral paraelectric phase to an ionic ferroelectric phase. Lattice phonons promote this photoinduced transition by preparing short-range lattice dimerization as a precursor. Molecular vibrations stabilize the neutral phase so that the ionic phase, when realized, possesses a large ionicity and the Mott character; (2) The organic salts θ-(BEDT-TTF)
2
RbZn(SCN)
4
and α-(BEDT-TTF)2I3 show transitions from a charge-ordered insulator to a metal. Lattice phonons make this photoinduced transition hard for the former salt only. Molecular vibrations interfere with intermolecular transfers of correlated electrons at an early stage; (3) The organic salt κ-(d-BEDT-TTF)
2
Cu[N(CN)
2
]Br shows a transition from a Mott insulator to a metal. Lattice phonons modulating intradimer transfer integrals enable photoexcitation-energy-dependent transition pathways through weakening of effective interaction and through introduction of carriers.
View Full-Text
►

▼

Figures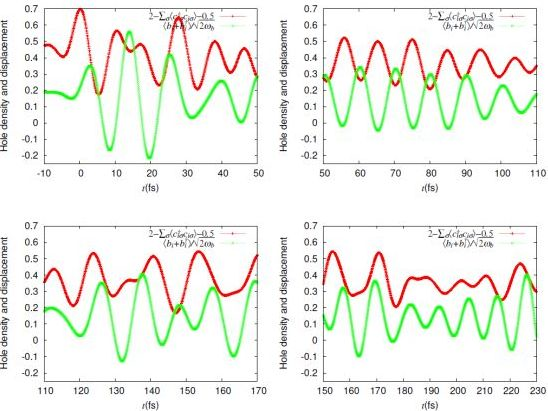 Share & Cite This Article
MDPI and ACS Style
Yonemitsu, K. Theory of Photoinduced Phase Transitions in Molecular Conductors: Interplay Between Correlated Electrons, Lattice Phonons and Molecular Vibrations. Crystals 2012, 2, 56-77.
Related Articles
Comments
[Return to top]