Differential Scanning Calorimetry (DSC) and Synchrotron X-ray Diffraction Study of Unmilled and Milled LiBH4: A Partial Release of Hydrogen at Moderate Temperatures
1
Hydrogen Research Institute, Université du Québec à Trois-Rivières, 3351 Boul. des Forges, Trois-Rivières, Québec, G9A 5H7, Canada
2
Institute of Materials Technology, Helmut-Schmidt-University, Holstenhofweg 85, D-22043 Hamburg, Germany
3
Swiss-Norwegian Beam Lines at ESRF, BP-220, 38043 Grenoble, France
4
Institute of Condensed Matter and Nanosciences, Université Catholique de Louvain, B-1348 Louvain-la-Neuve, Belgium
*
Authors to whom correspondence should be addressed.
Received: 30 September 2011 / Revised: 9 December 2011 / Accepted: 14 December 2011 / Published: 27 December 2011
Abstract
A systematic investigation of phase transitions in unmilled and milled LiBH
4
has been performed by Pressurized Differential Scanning Calorimetry (PDSC). It was found that a large exotherm is present below the low temperature (LT) → high temperature (HT) phase transition. This exotherm is not caused by air contamination but seems to originate from hydrogen release from a solid solution in the matrix of LiBH
4
low temperature phase. The exotherm activation energy has been measured to be 100 kJ mol
–1
. Calorimetric measurements under argon and hydrogen have shown that for the milled sample, the endothermic peak of the LT → HT transition is split in two when the PDSC scan is performed under hydrogen atmosphere. Synchrotron X-ray powder diffraction on the milled LiBH
4
sample revealed only a single-step transition from the LT to HT phase, both under vacuum and under 2 and 40 bar of hydrogen pressure. The axial ratios for the LT LiBH
4
below 300 K are significantly altered by milling; they are also considerably different under 40 bar of hydrogen, indicating an interaction between the hydrogen gas and the LT LiBH
4
solid phase.
View Full-Text
►

▼

Figures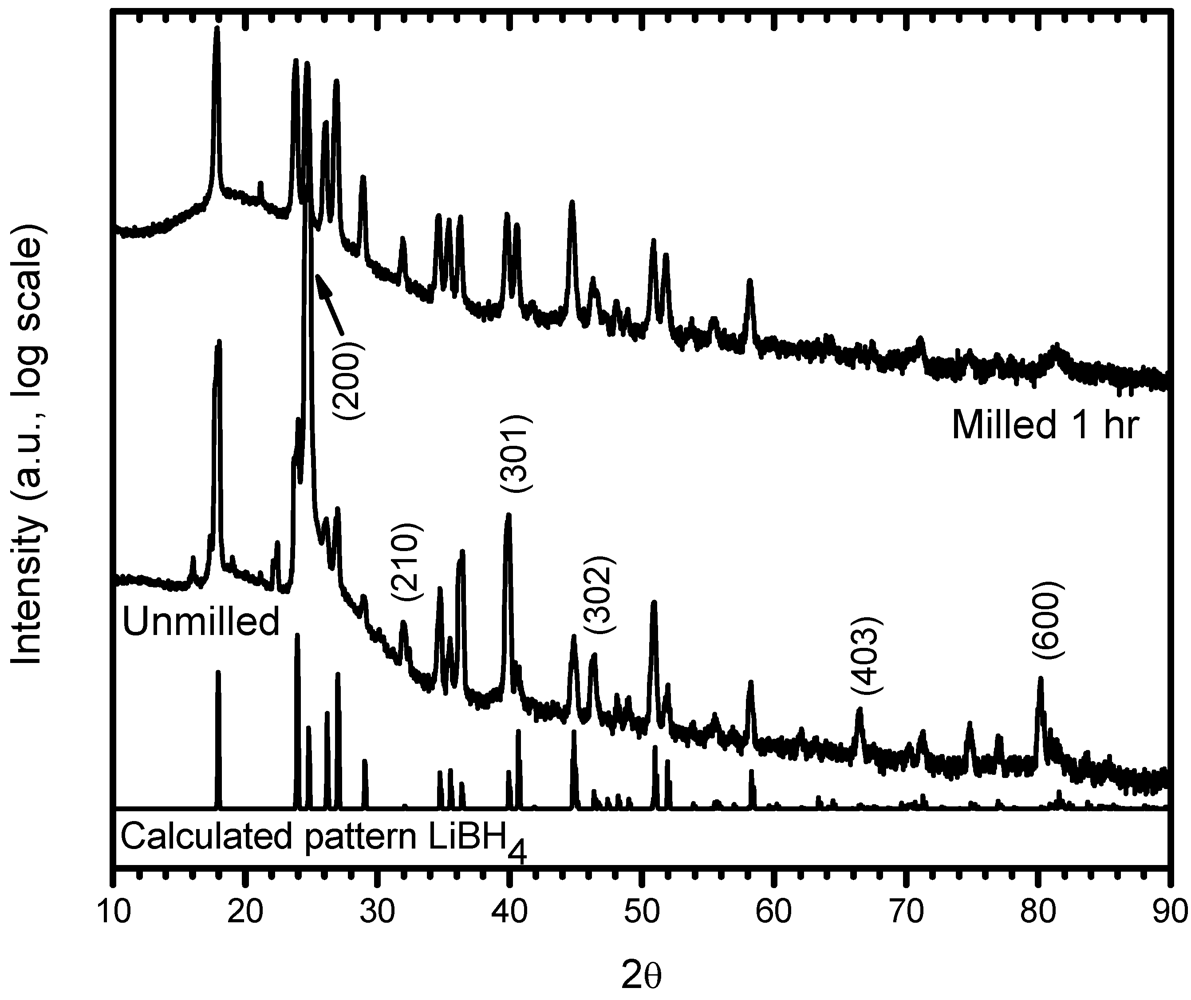 Figure 1
Share & Cite This Article
MDPI and ACS Style
Lang, J.; Gerhauser, A.; Filinchuk, Y.; Klassen, T.; Huot, J. Differential Scanning Calorimetry (DSC) and Synchrotron X-ray Diffraction Study of Unmilled and Milled LiBH4: A Partial Release of Hydrogen at Moderate Temperatures. Crystals 2012, 2, 1-21.
Related Articles
Comments
[Return to top]