The First Lanthanide Telluride-Bromide: La3Te4Br, a Valence Compound
1
Department für Chemie, Universität zu Köln, Greinstraße 6, D-50939 Köln, Germany
2
Fakultät für Chemie, Ruhr-Universität Bochum, D-44780 Bochum, Germany
*
Author to whom correspondence should be addressed.
Received: 21 February 2011 / Revised: 10 March 2011 / Accepted: 18 March 2011 / Published: 21 March 2011
Abstract
The first ternary lanthanide telluride-bromide La3Te4Br was obtained from a mixture of LaTe and LaBr3 (in the presence of iridium) in a sealed tantalum container at elevated temperatures. The crystal structure (orthorhombic, Pnma, a = 1634.3(2), b = 435.0(1), c = 1426.6(2) pm, Z = 4, R1 (I0 > 2s(I0)) = 0.0349) is built from dicapped trigonal prisms of tellurium and bromine atoms surrounding lanthanum in two different ways. The dicapped trigonal prisms are connected via common edges to a threedimensional structure, in the same fashion as is known for the binary U3Te5. La3Te4Br is a valence compound according to (La3+)3(Te2-)4(Br-) and one out of three lanthanide telluride-halides known to date.
View Full-Text
►

▼

Figures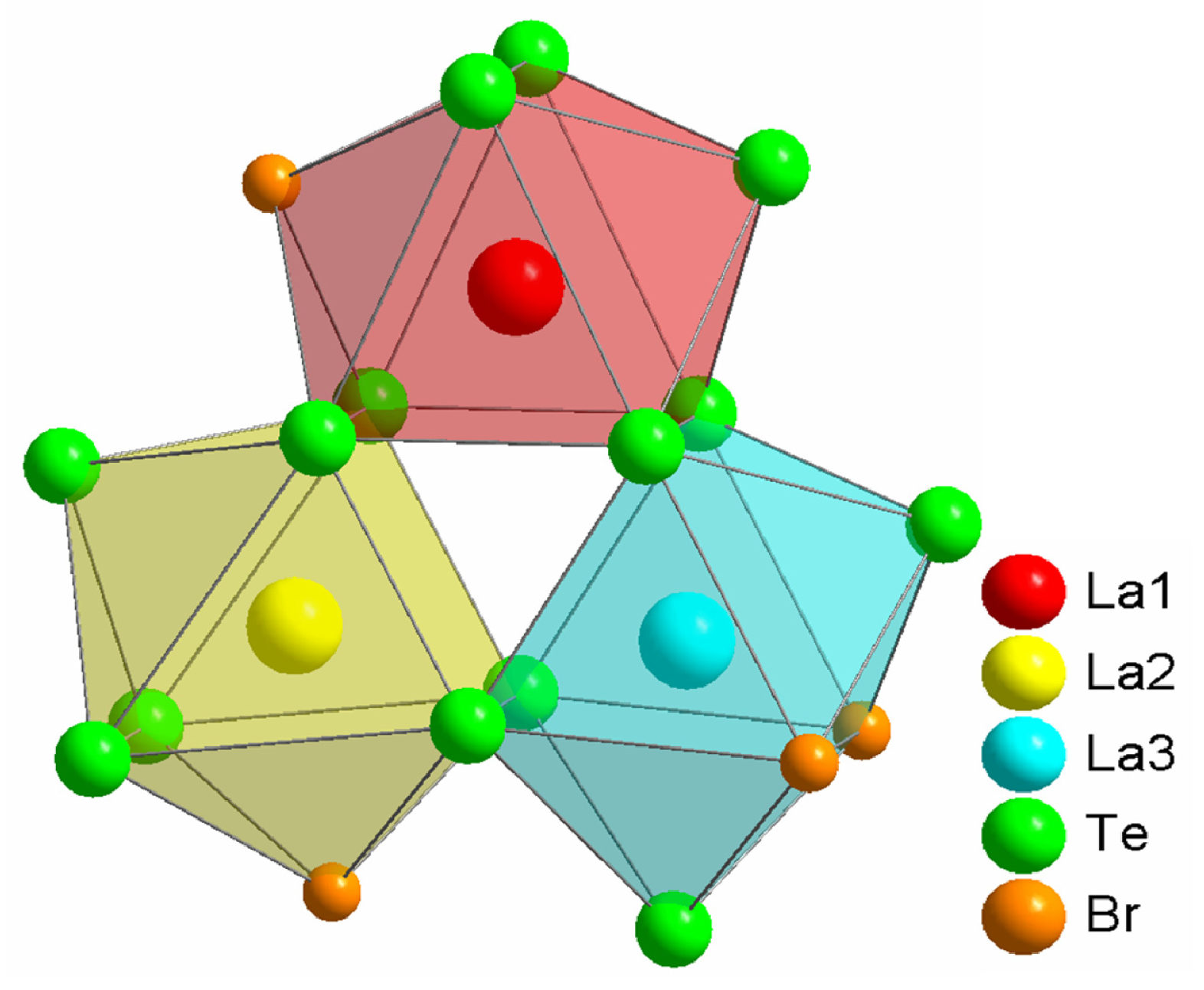 Share & Cite This Article
MDPI and ACS Style
Larres, M.; Mudring, A.-V.; Meyer, G. The First Lanthanide Telluride-Bromide: La3Te4Br, a Valence Compound. Crystals 2011, 1, 15-21.
Related Articles
Comments
[Return to top]