Open Access This article is
freely available
re-usable
Review
Monometallic Supported Gold Catalysts in Organic Transformations: Ring Making and Ring Breaking
1
Department of Organic Chemistry, University of Szeged, Dóm tér 8, Szeged H-6720, Hungary
2
Department of Inorganic and Analytical Chemistry, University of Szeged, Dóm tér 7, Szeged H-6720, Hungary
*
Author to whom correspondence should be addressed.
Received: 10 October 2011; in revised form: 19 December 2011 / Accepted: 9 January 2012 / Published: 1 February 2012
Abstract
: Supported gold catalysts are highly active in oxidation reactions. Beside the most frequently studied CO oxidation, they are readily applied in the epoxidation of more or less complex olefinic compounds using air or oxygen directly or other oxidants like peroxides of various kinds. Less frequently though, the reverse reaction, ring opening with single or double C–O scission is also investigated. These and other ring making and breaking reactions are reviewed, and the catalytic roles of gold species are described.
Keywords:
supported gold catalysts; oxygen-containing rings; ring synthesis; ring transformations
1. Introduction
Aerobic partial oxidations of alkanes and alkenes are important processes of the petrochemical industry. Selective oxidation is of huge importance in the synthesis of chemical intermediates and the epoxidation of alkenes by the electrophilic addition of oxygen to a carbon-carbon double bond remains one of the most significant challenges in oxidation catalysis. Although molecular oxygen is the most environmentally benign oxidant, in many cases far more reactive forms of oxygen are required to achieve reaction, and this can lead to by-products with a heavy environmental burden with respect to their disposal.
Following the success of ethylene epoxidation by silver-based catalysts [1,2,3], direct gas-phase propylene epoxidation using molecular oxygen has also been extensively studied. The propylene oxide (PO) selectivities were found to be very poor for silver due to the higher reactivity of propylene compared to ethylene. However, they are significantly better over gold-based catalysts; thus, it has been a promising research direction in recent years.
The topic of this review is this area widened in two respects. One is to include the epoxidation of other alkenes beside propylene and the other is to discuss the reverse reaction, the gold-catalyzed cleavage of the epoxide ring that is. We have done a literature search looking for aziridine or thiirane and higher N- or S-containing ring making and ring breaking reactions over supported gold catalysts, but papers like these could not be located. Neither could we find heterogeneous gold-catalyzed ring expansion or contraction reactions. These reactions either do not proceed or just have not reached the interest of catalytic chemists yet. Thus, the remaining area, i.e., epoxide ring making and breaking by heterogeneous gold-based catalysts, is the main topic of this review, but some ring making and ring transformation reactions other than the epoxide ring are also included. In every case, however, we restrict ourselves to monometallic gold, but attempting to cover all the support types used.
2. The Preparation of the Epoxide Ring
3. Ring-Opening Reactions of Propylene Oxide
3.1. Single and Double C–O Scissions
An Au/MgO catalysts with 3% Au loading was found to be active in the ring-opening reaction of PO as low as 363 K, irrespective to the method of pretreatment, although the level of activity was largely dependent on pretreatment conditions [40] (Scheme 8).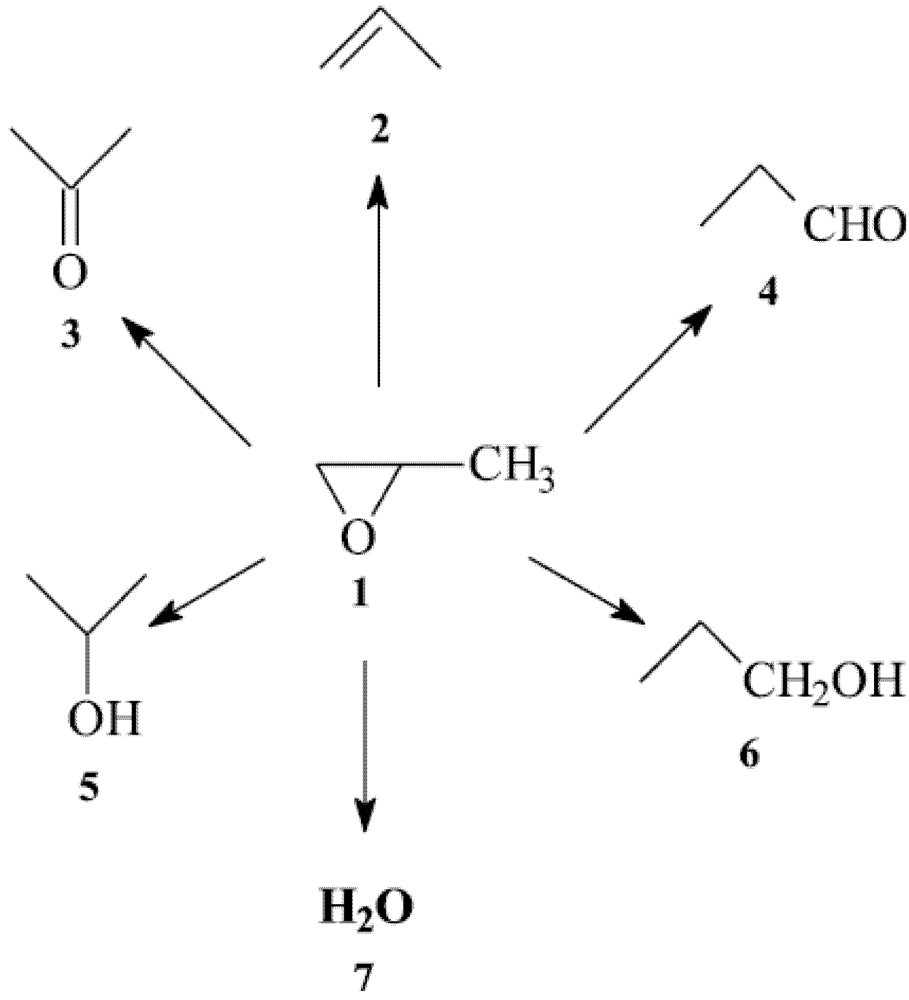 Scheme 8.
Ring-opening reactions of propylene oxide in the presence of H
2
. Reproduced with permission from Reference [
41
]. Copyright (2002) Elsevier.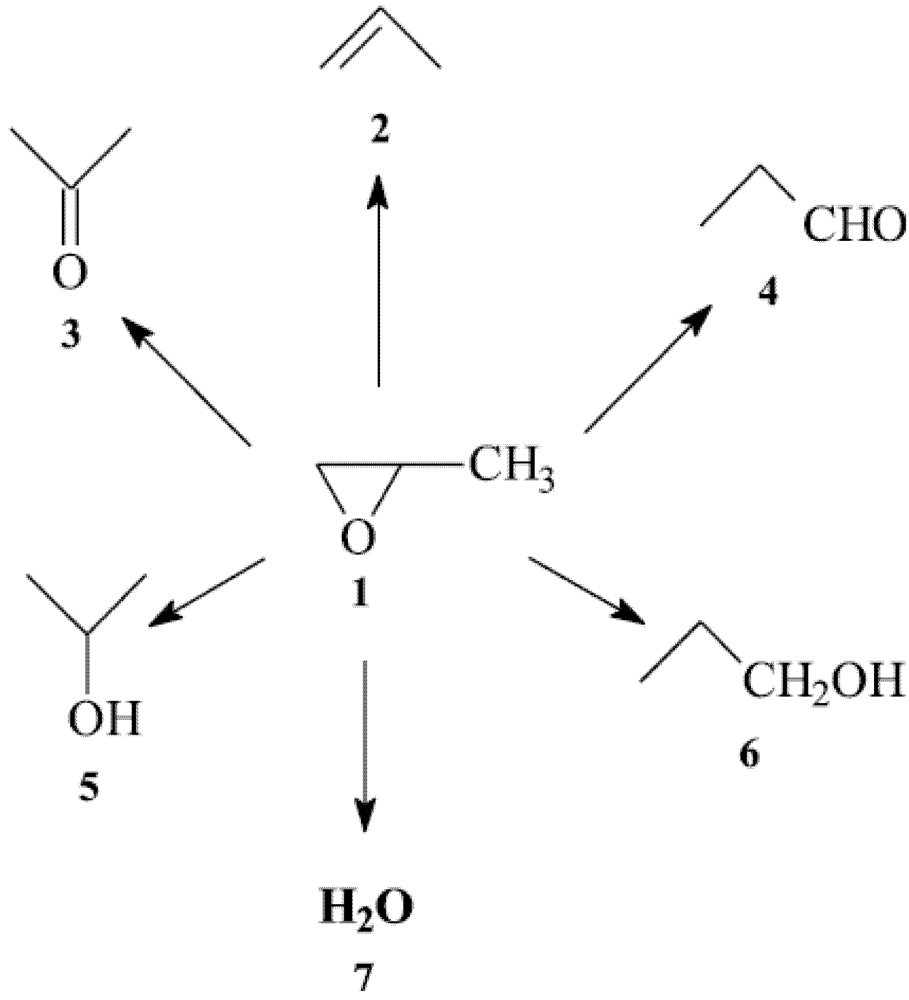 The main reaction at 363 K and 393 K was deoxygenation (scission of both C–O bonds) producing propylene (2). At 423 K the sum of acetone (3) and 2-propanol (5) concentrations (the products of isomerization and hydrogenative ring opening, respectively) nearly reached that of propylene, and at 473 K the single C–O scission reaction became the major transformation pathway.
Desorbed water (7) appeared in most cases at 393 K, although in small quantities. Its concentration increased with the increase in temperature. As it has been indicated, the activity of the catalysts was dramatically influenced by the method of pretreatment. When it was finished with hydrogen the conversion values were always above 70%, but often they were in the 90+% range.
A 3 wt.% Au/multiwall carbon nanotube (MWNT) composite prepared by sonication-assisted deposition, followed by reduction in H2 flow, was active in transforming PO in a H2 atmosphere [41]. Deoxygenation was the major transformation pathway in the 363–473 K temperature range. Let us note, however, that isomerization (already at 363 K) and from 393 K hydrogenation (products of single C–O scission) also took place. Hydrogenation became important at higher temperatures. Similar behavior was observed over a 3 wt.% Au/activated carbon catalyst albeit the transformation started at 423 K and became appreciable only at 473 K. The 3 wt.% Au/graphite catalyst became active at a temperature as high as 473 K and double C–O scission only took place producing propylene [42].
Unsupported gold was only slightly active even at 473 K and deoxygenation was inferior to isomerization. The transformation spectrum was also much narrower. It was clear that the supports played important role not only by dispersing the metal, but also allowing traffic of certain species, probably oxygen from the metal. Possibly, the metal–support interface played crucial role in this reaction. Crystal defects might have been formed even on the seemingly perfect graphite sheet (Figure 5)—let alone the MgO support—during sonication, hydrogen reduction, and upon methyloxirane transformations.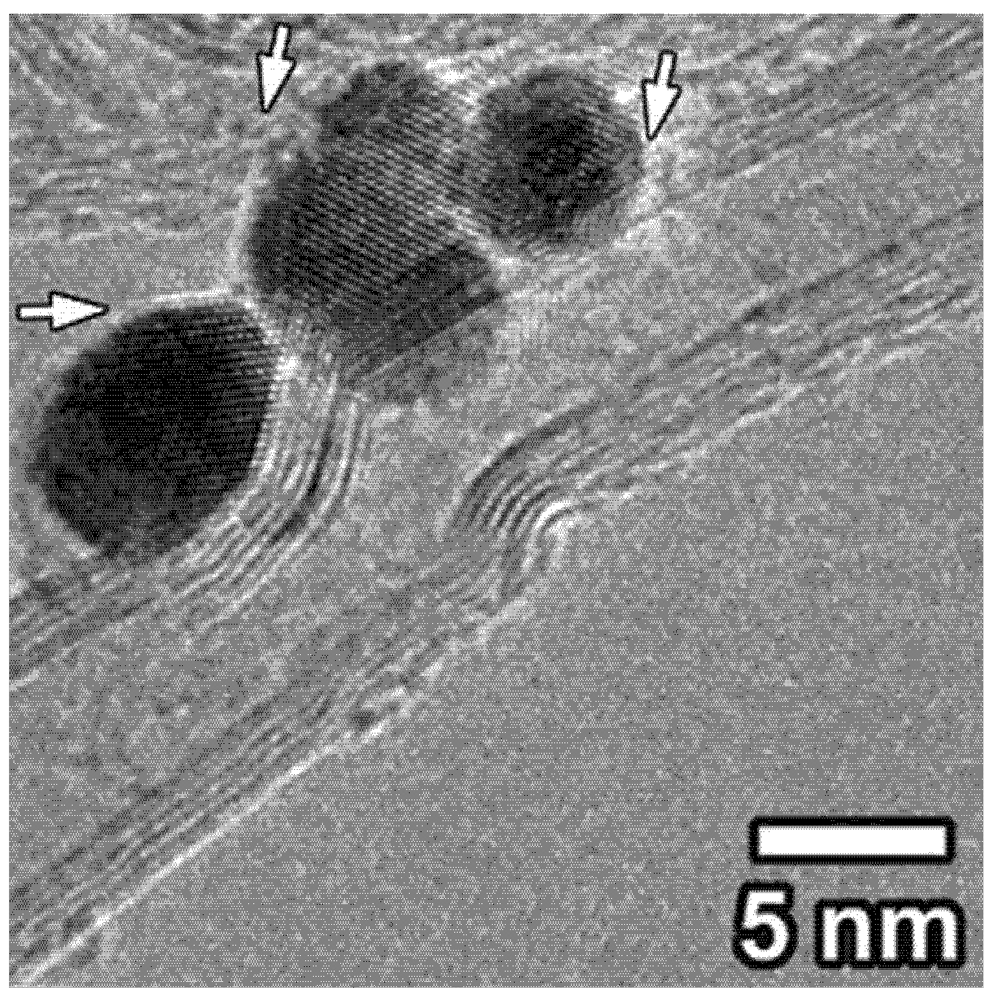 Figure 5.
High-resolution TEM image of carbon nanotube supported gold with 10 wt.% gold loading prepared 60 min sonication. Small arrows indicate the different facets of gold particles. Reproduced with permission from Reference [
41
]. Copyright (2003) Elsevier.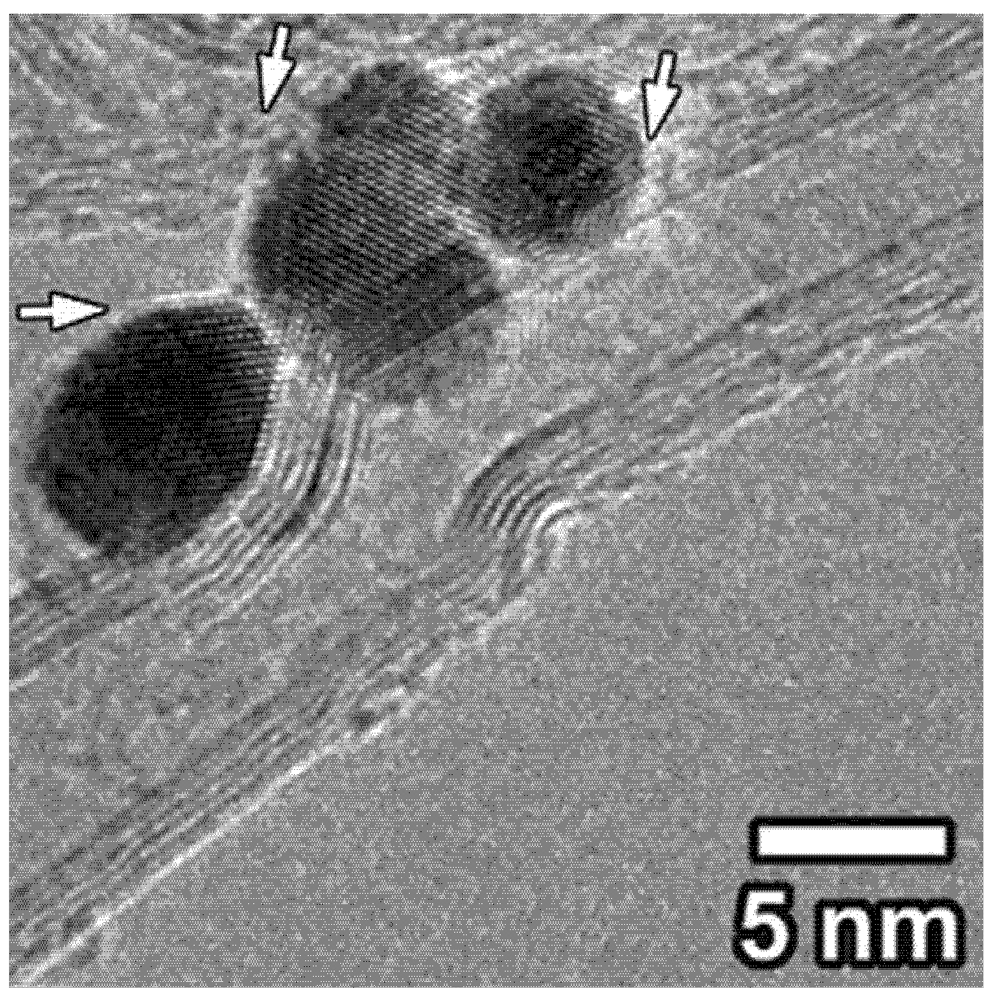 3.2. Selective Deoxygenation: Double C–O Scission
Selective transformation of epoxides into the corresponding alkenes is an important reaction because it allows the use of oxirane rings as protecting groups for carbon–carbon double bonds. However, if this reaction is performed using stoichiometric amounts of reagents, it will produce large amounts of undesirable waste. The development of recyclable, appreciably active and very selective heterogeneous catalyst would be an environmentally benign and highly desirable alternative. Ideally, molecular hydrogen (H2) should be used as a reducing reagent because, theoretically, water is the only by-product. Unfortunately, the use of H2 often results in nonselective reduction of epoxides yielding alcohols and alkanes as by-products.
Recently, it was shown that hydrotalcite-supported [HT (hydrotalcite): Mg6Al2(OH)16CO3·nH2O] gold and silver nanoparticle catalysts have high activities for the deoxygenation of many different epoxides to alkenes (Table 1) with >99% selectivity, using 2-propanol as an environmentally friendly reductant [43].
Furthermore, CO/H2O was found to work as an alternative reductant for the selective deoxygenation of epoxides to alkenes in water under mild reaction conditions [44]. The same group also demonstrated that the Au/HT could act as a highly efficient heterogeneous catalyst for the deoxygenation of a large variety of epoxides to alkenes with H2 used as an ideal reducing agent.
The selectivities for alkenes were over 99% at high conversions. After the reaction, solid Au/HT could be easily recovered from the reaction mixture and reused with no decrease in its catalytic efficiency [45]. The possible transformation mechanism is depicted in Figure 6.
Very recently, the preparation of Au/TiO2 catalysts with very small gold nanoparticles (mean particle size: 1.9 nm) has been described, and were used for catalyzing the deoxygenation reaction even under sub-ambient temperatures mediated by CO and H2O [46]. The CO-mediated deoxygenation system had the following advantages: (i) unprecedented high activity under very mild conditions; (ii) high selectivity and functional group tolerance; (iii) the use of safe and easy-to-handle catalysts and reducing reagents; and (iv) a simple workup procedure, namely catalyst/product separation by filtration.
Table 1.
Deoxygenation reactions of various epoxides over Au/HT (or Ag/HT) catalyst
[a]
. Reproduced with permission from Reference [
43
]. Copyright (2010) Wiley-VCH Verlag GmbH & Co. KGaA.
Table 1. Deoxygenation reactions of various epoxides over Au/HT (or Ag/HT) catalyst [a]. Reproduced with permission from Reference [43]. Copyright (2010) Wiley-VCH Verlag GmbH & Co. KGaA.
Entry
Substrate
Product
Catalyst
t (h)
Yield (%) [b]
Sel. (%) [b]
1
Au/HT
4
99
>99
2 [c]
Au/HT
4
99
>99
3 [d]
Au/HT
4
97
>99
4 [e]
Au/HT
72
95
>99
5
Ag/HT
8
95
>99
6 [c]
Ag/HT
8
93
>99
7 [d]
Ag/HT
8
93
>99
8
Au/HT
4
99
>99(

E/Z

= 2:3)
9
Ag/HT
4
84
>99(

E/Z

= 4:1)
10
Au/HT
4
98
>99
11
Ag/HT
8
99
>99
12 [f]
Au/HT
6
>99
>99
13 [g]
Au/HT
24
95
>99
14 [f]
Ag/HT
6
95
>99
15
Au/HT
6
96
>99
16
Ag/HT
6
94
>99
17
Au/HT
6
94
>99
18
Ag/HT
6
92
>99
19
Au/HT
6
93
>99
20
Ag/HT
6
13
>99
21
Au/HT
24
89
>99
22
Ag/HT
24
trace
−
23 [h]
Au/HT
24
87
>99
24 [h]
Ag/HT
24
trace
−
25 [f]
Au/HT
4
97
>99
26 [g]
Au/HT
48
93
>99
27 [f]
Ag/HT
24
trace
−
28 [h]
Au/HT
12
81
>99(

E/Z

= 1:1)
29 [h]
Ag/HT
24
trace
−
30 [h]
Au/HT
24
88
>99
31 [h]
Ag/HT
24
trace
−
32 [h]
Au/HT
24
95
>99
33 [h]
Ag/HT
24
trace
−
34 [h]
Au/HT
6
93
>99
35 [h]
Ag/HT
24
trace
−
36
Au/HT
24
72
>99
37
Ag/HT
24
trace
>99
[a] Reaction conditions: Catalyst (0.1 g), substrate (1 mmol) toluene (5 mL), 2-propanol (0.6 mL); [b] Determined by GC and LC methods using an internal standard technique; [c] Cycle 1; [d] Cycle 2; [e] Conditions: catalyst (0.02 g), substrate (20 mmol), 2-propanol (20 mL), 150oC; [f] 80 °C; [g] Conditions: catalyst (0.02 g), substrate (10 mmol), 2-propanol (20 mL); [h] Substrate (0.3 mmol), catalyst (0.2 g).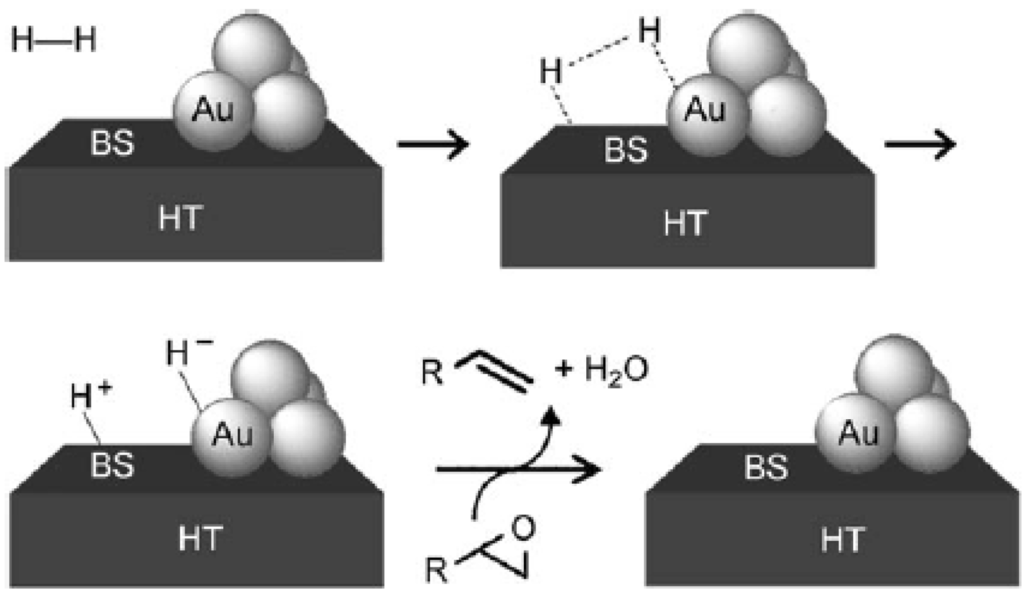 Figure 6.
Heterolytic dissociation of H
2
over basic sites (BS) and deoxygenation of the epoxide over the gold nanoparticles. Reproduced with permission from Reference [
45
]. Copyright (2011) Wiley-VCH Verlag GmbH & Co. KGaA.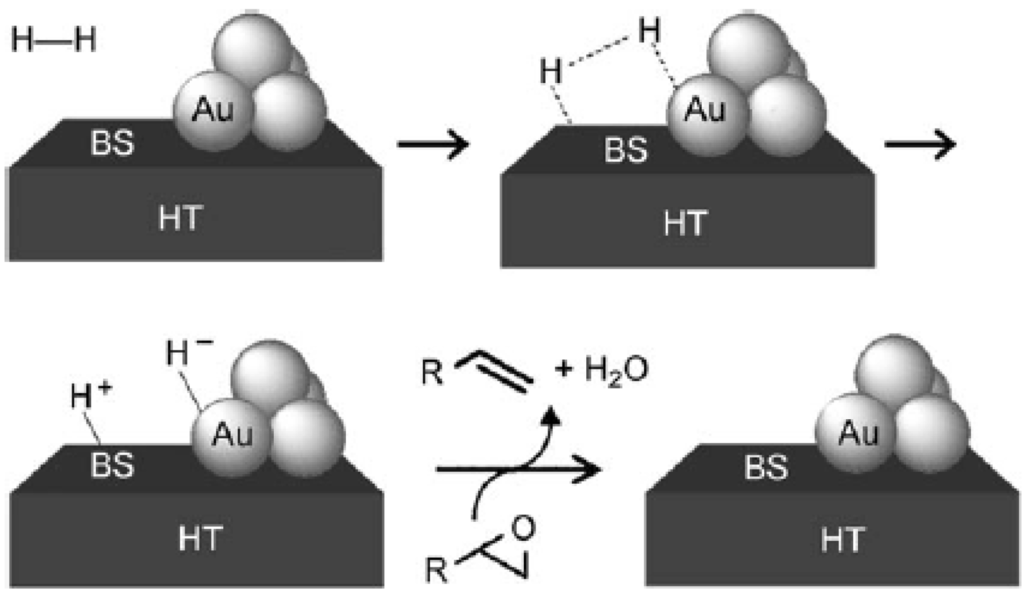 4. Preparation and Transformation of Rings Other than the Epoxide Ring
Several heterogenized catalytic systems based on Au have been prepared and analyzed and their efficiencies were evaluated in the cycloisomerization of γ-acetylenic carboxylic acids to valuable γ-alkylidene γ-butyrolactones (Scheme 9). Among the heterogeneous catalysts (Au/CeO2, Au/MgO, Au/TiO2, Au/β) prepared, the first two were not active at all, Au/TiO2 displayed fair, and Au/β outstanding activities [47].

α-Pinene was isomerized to camphene over a 2.2 wt.% Au/γ-Al2O3 catalyst in the 463–483 K range using a solution of the reagent in n-octane as the initial reaction mixture and H2 or N2 as a carrier gas. This reaction representing alkyl group migration from one carbon to a neighboring carbon (Wagner-Meerwein rearrangement) has high practical significance as a first step in the industrial synthesis of camphor from α-pinene (Scheme 10).

Under these conditions, the selectivity to camphene reaches 60–80% at 99.9% conversion of α-pinene. Prominent catalyst deactivation has been observed at increased α-pinene concentrations in the inlet reaction mixture due to carbonaceous deposits that blocked the catalyst surface. The catalysts could be regenerated completely applying O2 flow at 923 K [48].
5. Conclusions and Outlook
Supported gold catalysts are active in ring making and breaking reactions when the ring contains oxygen. Gold deposited on various Ti-containing supports are excellent propylene epoxidation catalysts in the laboratory, and they are very promising as industrial catalysts as well. Ring opening as well as deoxygenation reactions are useful tools in the hands of the preparative chemists. The extensive studies revealed that for every kind of reaction, the supports were crucial parts of the catalysts; unsupported gold was hardly active or not active at all.
Current activities in this area are concentrated on making and breaking oxygen-containing rings, however, it would be nice to see if the preparation and transformation of ring systems containing heteroatom(s) other than oxygen were available through heterogeneous gold catalysis.
Acknowledgment
The work leading to this contribution was financed by the National Research Fund of Hungary through grant OTKA 83889. The support is highly appreciated.
© 2012 by the authors; licensee MDPI, Basel, Switzerland. This article is an open-access article distributed under the terms and conditions of the Creative Commons Attribution license (http://creativecommons.org/licenses/by/3.0/).