Secondary Intracranial Tumors Following Radiotherapy for Pituitary Adenomas: A Systematic Review
1
Laboratory of Molecular Target Therapy for Cancer, Graduate School for Medical Science, Kyoto Prefectural University of Medicine, Kyoto 602-8566, Japan
2
Division of Radiation Oncology, Niigata University Graduate School of Medical and Dental Sciences, Niigata 951-8122, Japan
3
Department of Radiology, Nagaoka Chuo General Hospital, Nagaoka 940-8653, Japan
*
Author to whom correspondence should be addressed.
Academic Editor: Alexandros G. Georgakilas
Received: 4 June 2017 / Revised: 2 August 2017 / Accepted: 4 August 2017 / Published: 8 August 2017
Abstract
Pituitary adenomas are often treated with radiotherapy for the management of tumor progression or recurrence. Despite the improvement in cure rates, patients treated by radiotherapy are at risk of development of secondary malignancies. We conducted a comprehensive literature review of the secondary intracranial tumors that occurred following radiotherapy to pituitary adenomas to obtain clinicopathological characteristics. The analysis included 48 neuroepithelial tumors, 37 meningiomas, and 52 sarcomas which were published between 1959–2017, although data is missing regarding overall survival and type of irradiation in a significant proportion of the reports. The average onset age for the pituitary adenoma was 37.2 ± 14.4 years and the average latency period before the diagnosis of the secondary tumor was 15.2 ± 8.7 years. Radiotherapy was administered in pituitary adenomas at an average dose of 52.0 ± 19.5 Gy. The distribution of pituitary adenomas according to their function was prolactinoma in 10 (7.2%) cases, acromegaly in 37 (27.0%) cases, Cushing disease in 4 (2.9%) cases, PRL+GH in 1 (0.7%) case, non-functioning adenoma in 57 (41.6%) cases. Irradiation technique delivered was lateral opposing field in 23 (16.7%) cases, 3 or 4 field technique in 27 (19.6%) cases, rotation technique in 10 (7.2%) cases, radio surgery in 6 (4.3%) cases. Most of the glioma or sarcoma had been generated after lateral opposing field or 3/4 field technique. Fibrosarcomas were predominant before 1979 (p < 0.0001). The median overall survival time for all neuroepithelial tumors was 11 months (95% confidence intervals (CI), 3–14). Patients with gliomas treated with radiotherapy exhibited a non-significant positive trend with longer overall survival. The median overall survival time for sarcoma cases was 6 months (95% CI, 1.5–9). The median survival time in patients with radiation and/or chemotherapy for sarcomas exhibited a non-significant positive trend with longer overall survival. In patients treated with radiotherapy for pituitary adenomas, the risk of secondary tumor incidence warrants a longer follow up period. Moreover, radiation and/or chemotherapy should be considered in cases of secondary glioma or sarcoma following radiotherapy to the pituitary adenomas.
View Full-Text
►

▼

Figures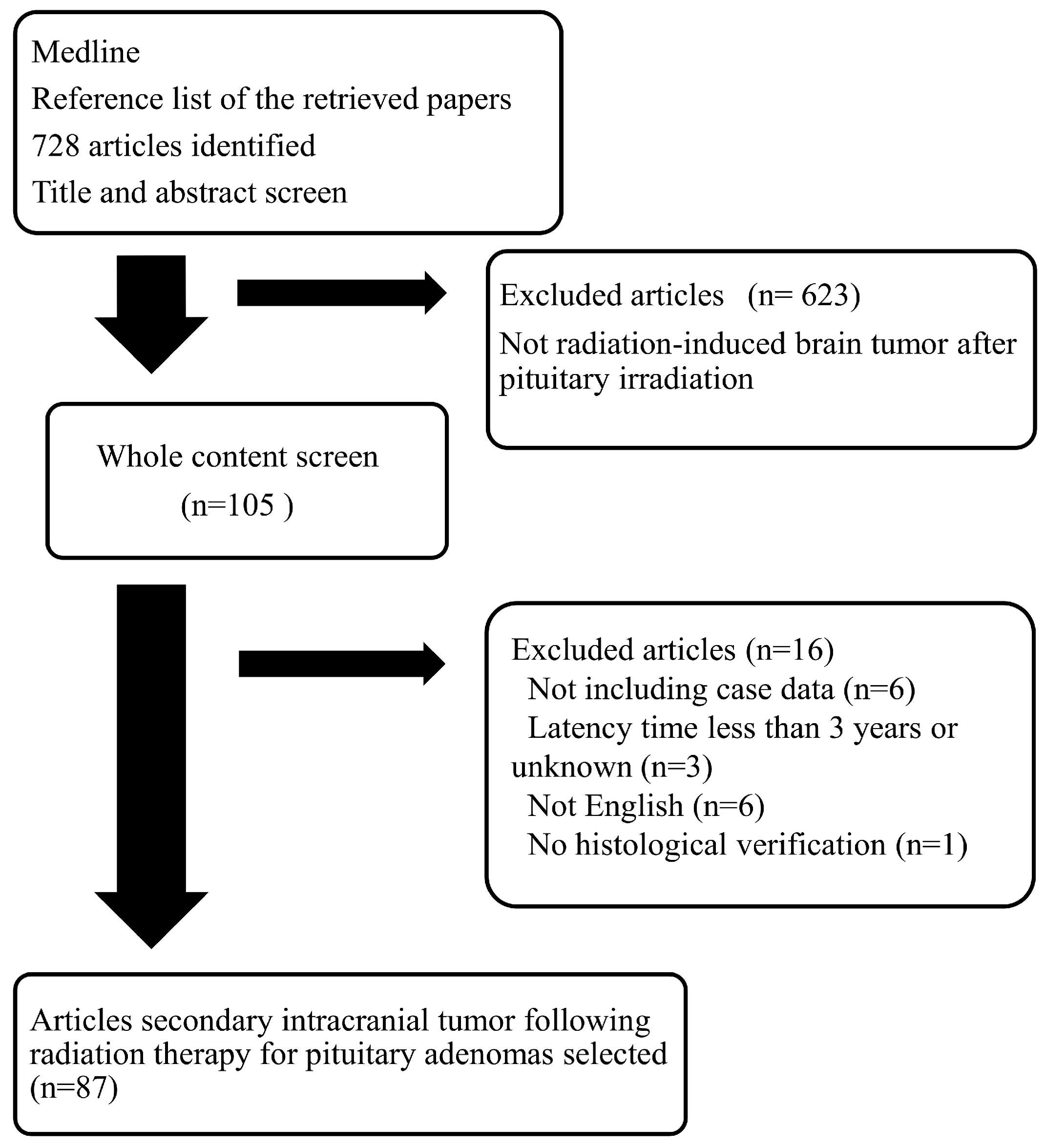 Figure 1
This is an open access article distributed under the
Creative Commons Attribution License
which permits unrestricted use, distribution, and reproduction in any medium, provided the original work is properly cited. (CC BY 4.0).
Share & Cite This Article
MDPI and ACS Style
Yamanaka, R.; Abe, E.; Sato, T.; Hayano, A.; Takashima, Y. Secondary Intracranial Tumors Following Radiotherapy for Pituitary Adenomas: A Systematic Review. Cancers 2017, 9, 103.
Note that from the first issue of 2016, MDPI journals use article numbers instead of page numbers. See further details here.
Related Articles
Comments
[Return to top]