Wnt Lipidation and Modifiers in Intestinal Carcinogenesis and Cancer
1
Institute of Pathology, RWTH Aachen University, Aachen 52074, Germany
2
Department of Pediatrics, RWTH Aachen University, Aachen 52074, Germany
3
Institute of Pathology, Klinikum Braunschweig, Braunschweig 38114, Germany
*
Author to whom correspondence should be addressed.
Academic Editors: Renée van Amerongen and Walter Birchmeier
Received: 1 June 2016 / Revised: 14 July 2016 / Accepted: 14 July 2016 / Published: 18 July 2016
Abstract
The wingless (Wnt) signaling is suggested as a fundamental hierarchical pathway in regulation of proliferation and differentiation of cells. The Wnt ligands are small proteins of about 40 kDa essentially for regulation and initiation of the Wnt activity. They are secreted proteins requiring acylation for activity in the Wnt signaling cascade and for functional interactivity with transmembrane proteins. Dual lipidation is important for posttranslational activation of the overwhelming number of Wnt proteins and is probably involved in their spatial distribution. The intestinal mucosa, where Wnt signaling is essential in configuration and maintenance, is an established model to study Wnt proteins and their role in carcinogenesis and cancer. The intestinal crypt-villus/crypt-plateau axis, a cellular system with self-renewal, proliferation, and differentiation, is tightly coordinated by a Wnt gradient. In the review, some attention is given to Wnt3, Wnt3A, and Wnt2B as important members of the Wnt family to address the role of lipidation and modifiers of Wnt proteins in intestinal carcinogenesis. Wnt3 is an important player in establishing the Wnt gradient in intestinal crypts and is mainly produced by Paneth cells. Wnt2B is characterized as a mitochondrial protein and shuttles between mitochondria and the nucleus. Porcupine and ACSL5, a long-chain fatty acid activating enzyme, are introduced as modifiers of Wnts and as interesting strategy to targeting Wnt-driven carcinogenesis.
View Full-Text
►

▼

Figures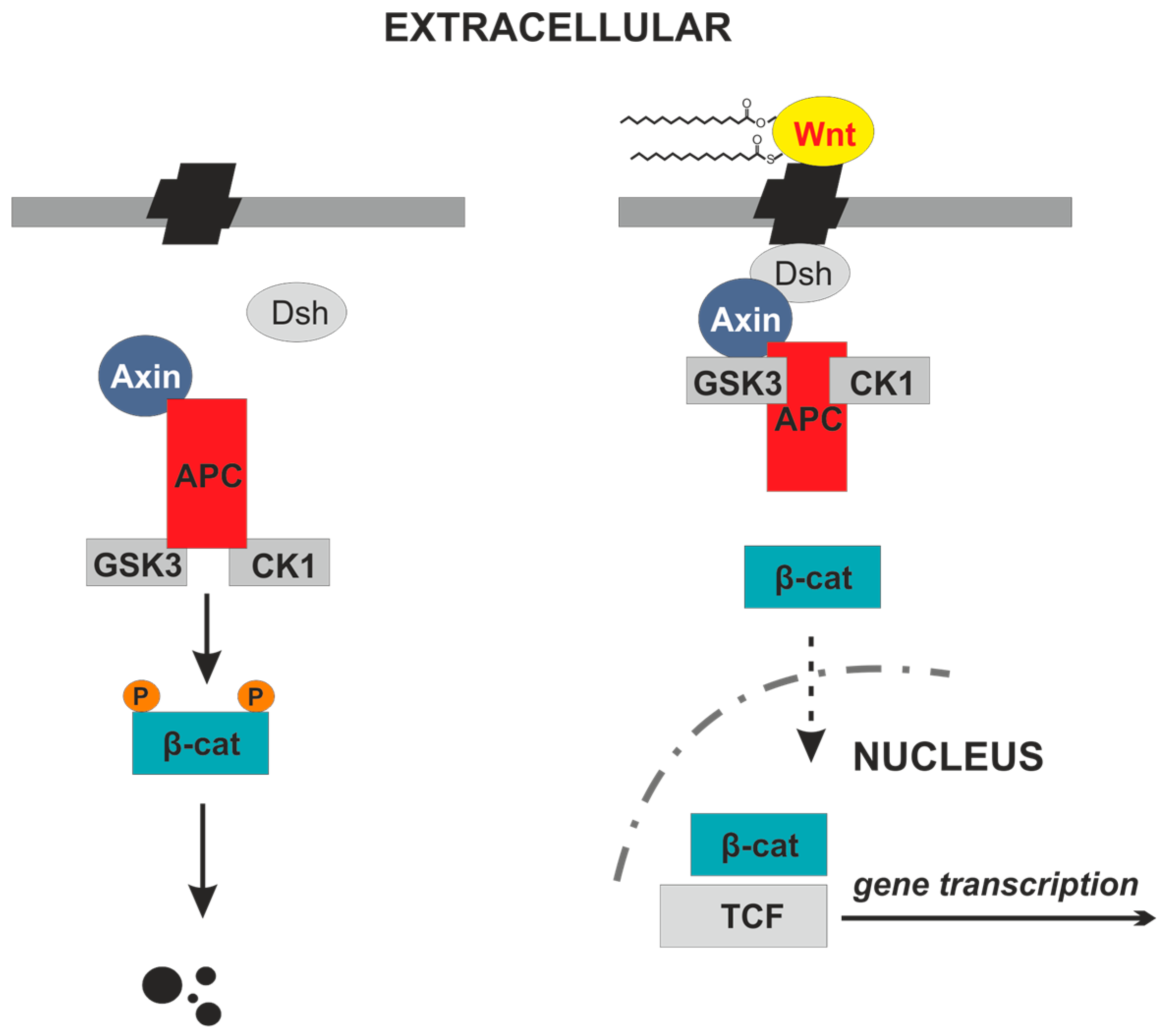 Figure 1
This is an open access article distributed under the
Creative Commons Attribution License
which permits unrestricted use, distribution, and reproduction in any medium, provided the original work is properly cited. (CC BY 4.0).
Share & Cite This Article
MDPI and ACS Style
Kaemmerer, E.; Gassler, N. Wnt Lipidation and Modifiers in Intestinal Carcinogenesis and Cancer. Cancers 2016, 8, 69.
Note that from the first issue of 2016, MDPI journals use article numbers instead of page numbers. See further details here.
Related Articles
Comments
[Return to top]