The Double-Edged Sword: Conserved Functions of Extracellular Hsp90 in Wound Healing and Cancer
Department of Cell and Molecular Pharmacology, Medical University of South Carolina, Hollings Cancer Center, Charleston, SC 29412, USA
*
Author to whom correspondence should be addressed.
Received: 13 March 2014 / Revised: 16 April 2014 / Accepted: 24 April 2014 / Published: 6 May 2014
Abstract
Heat shock proteins (Hsps) represent a diverse group of chaperones that play a vital role in the protection of cells against numerous environmental stresses. Although our understanding of chaperone biology has deepened over the last decade, the "atypical" extracellular functions of Hsps have remained somewhat enigmatic and comparatively understudied. The heat shock protein 90 (Hsp90) chaperone is a prototypic model for an Hsp family member exhibiting a duality of intracellular and extracellular functions. Intracellular Hsp90 is best known as a master regulator of protein folding. Cancers are particularly adept at exploiting this function of Hsp90, providing the impetus for the robust clinical development of small molecule Hsp90 inhibitors. However, in addition to its maintenance of protein homeostasis, Hsp90 has also been identified as an extracellular protein. Although early reports ascribed immunoregulatory functions to extracellular Hsp90 (eHsp90), recent studies have illuminated expanded functions for eHsp90 in wound healing and cancer. While the intended physiological role of eHsp90 remains enigmatic, its evolutionarily conserved functions in wound healing are easily co-opted during malignancy, a pathology sharing many properties of wounded tissue. This review will highlight the emerging functions of eHsp90 and shed light on its seemingly dichotomous roles as a benevolent facilitator of wound healing and as a sinister effector of tumor progression.
View Full-Text
►

▼

Figures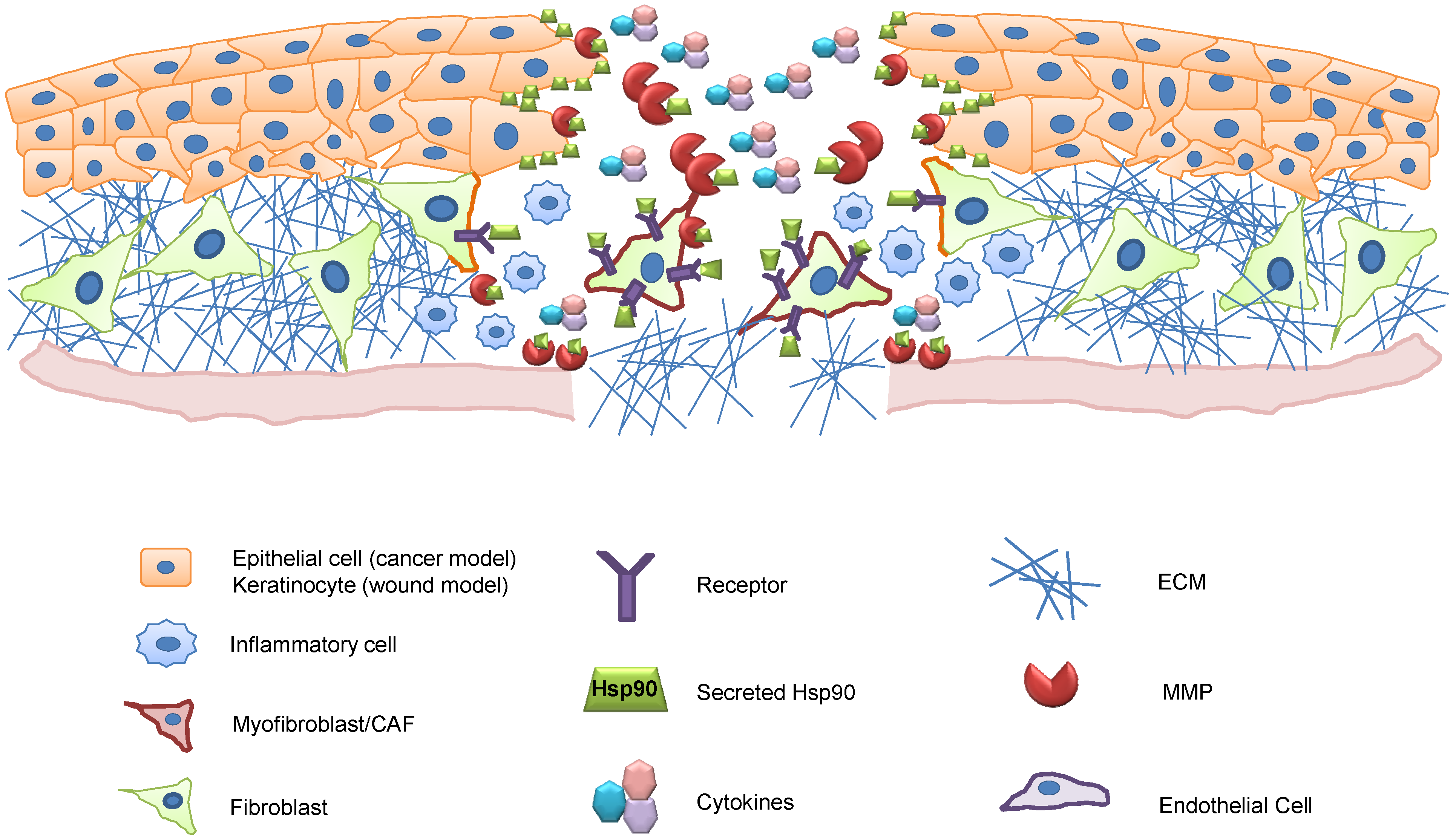 Figure 1
Share & Cite This Article
MDPI and ACS Style
Hance, M.W.; Nolan, K.D.; Isaacs, J.S. The Double-Edged Sword: Conserved Functions of Extracellular Hsp90 in Wound Healing and Cancer. Cancers 2014, 6, 1065-1097.
Related Articles
Comments
[Return to top]