Characterization of a Dual CDC7/CDK9 Inhibitor in Multiple Myeloma Cellular Models
1
Centre for Chromosome Biology, School of Natural Sciences National University of Ireland Galway, Galway, Ireland
2
Department of Medicine, National University of Ireland Galway, Galway, Ireland
3
Department of Haematology, Galway University Hospital, Galway, Ireland
4
Nerviano Medical Sciences S.r.l., Via Pasteur 10, Nerviano 20014, Italy
†
Present address: Boehringer Ingelheim RCV GmbH & Co KG, Vienna 1120, Austria
*
Authors to whom correspondence should be addressed.
Received: 5 June 2013 / Revised: 4 July 2013 / Accepted: 4 July 2013 / Published: 24 July 2013
Abstract
Two key features of myeloma cells are the deregulation of the cell cycle and the dependency on the expression of the BCL2 family of anti-apoptotic proteins. The cell division cycle 7 (CDC7) is an essential S-phase kinase and emerging CDC7 inhibitors are effective in a variety of preclinical cancer models. These compounds also inhibit CDK9 which is relevant for MCL-1 expression. The activity and mechanism of action of the dual CDC7/CDK9 inhibitor PHA-767491 was assessed in a panel of multiple myeloma cell lines, in primary samples from patients, in the presence of stromal cells and in combination with drugs used in current chemotherapeutic regimens. We report that in all conditions myeloma cells undergo cell death upon PHA-767491 treatment and we report an overall additive effect with melphalan, bortezomib and doxorubicin, thus supporting further assessment of targeting CDC7 and CDK9 in multiple myeloma.
View Full-Text
►

▼

Figures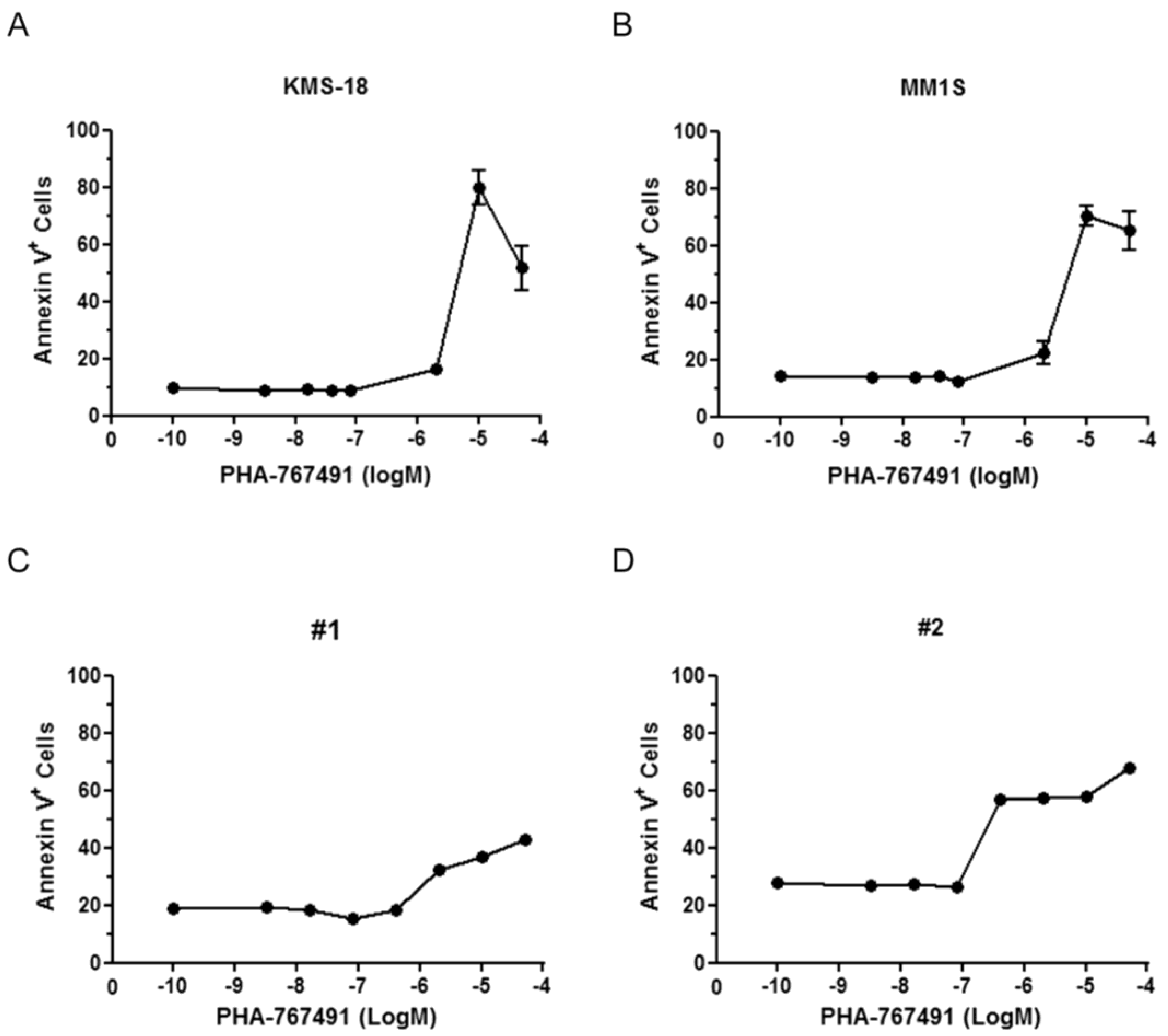 Figure 1
Share & Cite This Article
MDPI and ACS Style
Natoni, A.; Coyne, M.R.E.; Jacobsen, A.; Rainey, M.D.; O'Brien, G.; Healy, S.; Montagnoli, A.; Moll, J.; O'Dwyer, M.; Santocanale, C. Characterization of a Dual CDC7/CDK9 Inhibitor in Multiple Myeloma Cellular Models. Cancers 2013, 5, 901-918.
Related Articles
Comments
[Return to top]