HEXIM1, a New Player in the p53 Pathway
1
Expression Engineering Group, Bioprocessing Technology Institute, A*STAR (Agency for Science, Technology and Research), 20 Biopolis Way, #06-01, Singapore 138668, Singapore
2
Department of Microbiology, National University of Singapore, Singapore 117597, Singapore
*
Author to whom correspondence should be addressed.
Received: 27 May 2013 / Revised: 24 June 2013 / Accepted: 24 June 2013 / Published: 4 July 2013
Abstract
Hexamethylene bisacetamide-inducible protein 1 (HEXIM1) is best known as the inhibitor of positive transcription elongation factor b (P-TEFb), which controls transcription elongation of RNA polymerase II and Tat transactivation of human immunodeficiency virus. Besides P-TEFb, several proteins have been identified as HEXIM1 binding proteins. It is noteworthy that more than half of the HEXIM1 binding partners are involved in cancers. P53 and two key regulators of the p53 pathway, nucleophosmin (NPM) and human double minute-2 protein (HDM2), are among the factors identified. This review will focus on the functional importance of the interactions between HEXIM1 and p53/NPM/HDM2. NPM and the cytoplasmic mutant of NPM, NPMc+, were found to regulate P-TEFb activity and RNA polymerase II transcription through the interaction with HEXIM1. Importantly, more than one-third of acute myeloid leukemia (AML) patients carry NPMc+, suggesting the involvement of HEXIM1 in tumorigenesis of AML. HDM2 was found to ubiquitinate HEXIM1. The HDM2-mediated ubiquitination of HEXIM1 did not lead to protein degradation of HEXIM1 but enhanced its inhibitory activity on P-TEFb. Recently, HEXIM1 was identified as a novel positive regulator of p53. HEXIM1 prevented p53 ubiquitination by competing with HDM2 in binding to p53. Taken together, the new evidence suggests a role of HEXIM1 in regulating the p53 pathway and tumorigenesis.
View Full-Text
►

▼

Figures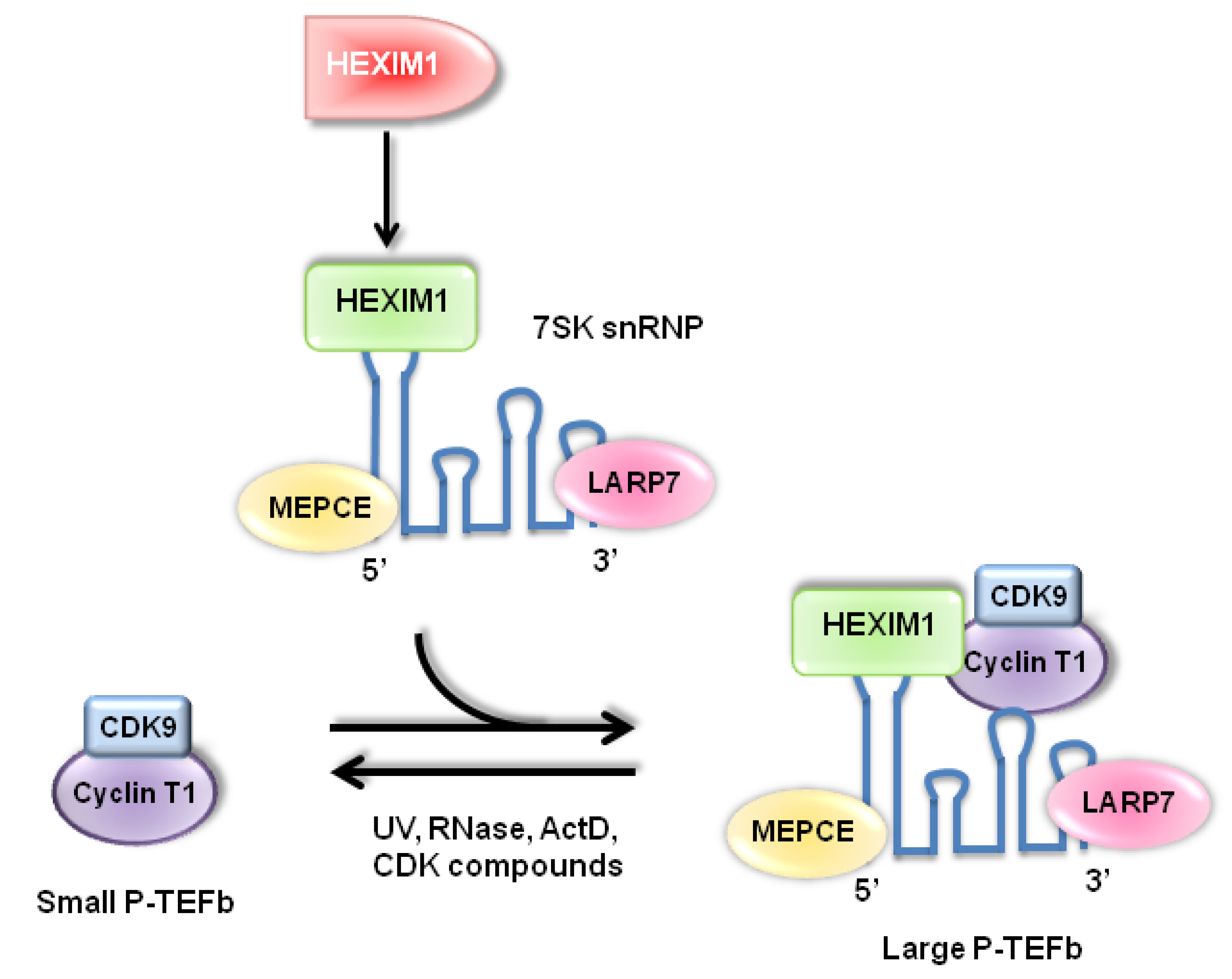 Figure 1
Share & Cite This Article
MDPI and ACS Style
Lew, Q.J.; Chu, K.L.; Chia, Y.L.; Cheong, N.; Chao, S.-H. HEXIM1, a New Player in the p53 Pathway. Cancers 2013, 5, 838-856.
Related Articles
Comments
[Return to top]