Neuropilins: A New Target for Cancer Therapy
1
INSERM UMR 645, F-25020 Besançon, France
2
University of Franche-Comté, IFR133, F-25020 Besançon, France
3
EFS Bourgogne Franche-Comté, F-25020 Besançon, France
4
Department of Medical Oncology, CHU Besançon, F-25000 Besançon, France
*
Author to whom correspondence should be addressed.
Received: 23 February 2011 / Revised: 23 March 2011 / Accepted: 1 April 2011 / Published: 8 April 2011
Abstract
Recent investigations highlighted strong similarities between neural crest migration during embryogenesis and metastatic processes. Indeed, some families of axon guidance molecules were also reported to participate in cancer invasion: plexins/semaphorins/neuropilins, ephrins/Eph receptors, netrin/DCC/UNC5. Neuropilins (NRPs) are transmembrane non tyrosine-kinase glycoproteins first identified as receptors for class-3 semaphorins. They are particularly involved in neural crest migration and axonal growth during development of the nervous system. Since many types of tumor and endothelial cells express NRP receptors, various soluble molecules were also found to interact with these receptors to modulate cancer progression. Among them, angiogenic factors belonging to the Vascular Endothelial Growth Factor (VEGF) family seem to be responsible for NRP-related angiogenesis. Because NRPs expression is often upregulated in cancer tissues and correlated with poor prognosis, NRPs expression might be considered as a prognostic factor. While NRP1 was intensively studied for many years and identified as an attractive angiogenesis target for cancer therapy, the NRP2 signaling pathway has just recently been studied. Although NRP genes share 44% homology, differences in their expression patterns, ligands specificities and signaling pathways were observed. Indeed, NRP2 may regulate tumor progression by several concurrent mechanisms, not only angiogenesis but lymphangiogenesis, epithelial-mesenchymal transition and metastasis. In view of their multiples functions in cancer promotion, NRPs fulfill all the criteria of a therapeutic target for innovative anti-tumor therapies. This review focuses on NRP-specific roles in tumor progression.
View Full-Text
►

▼

Figures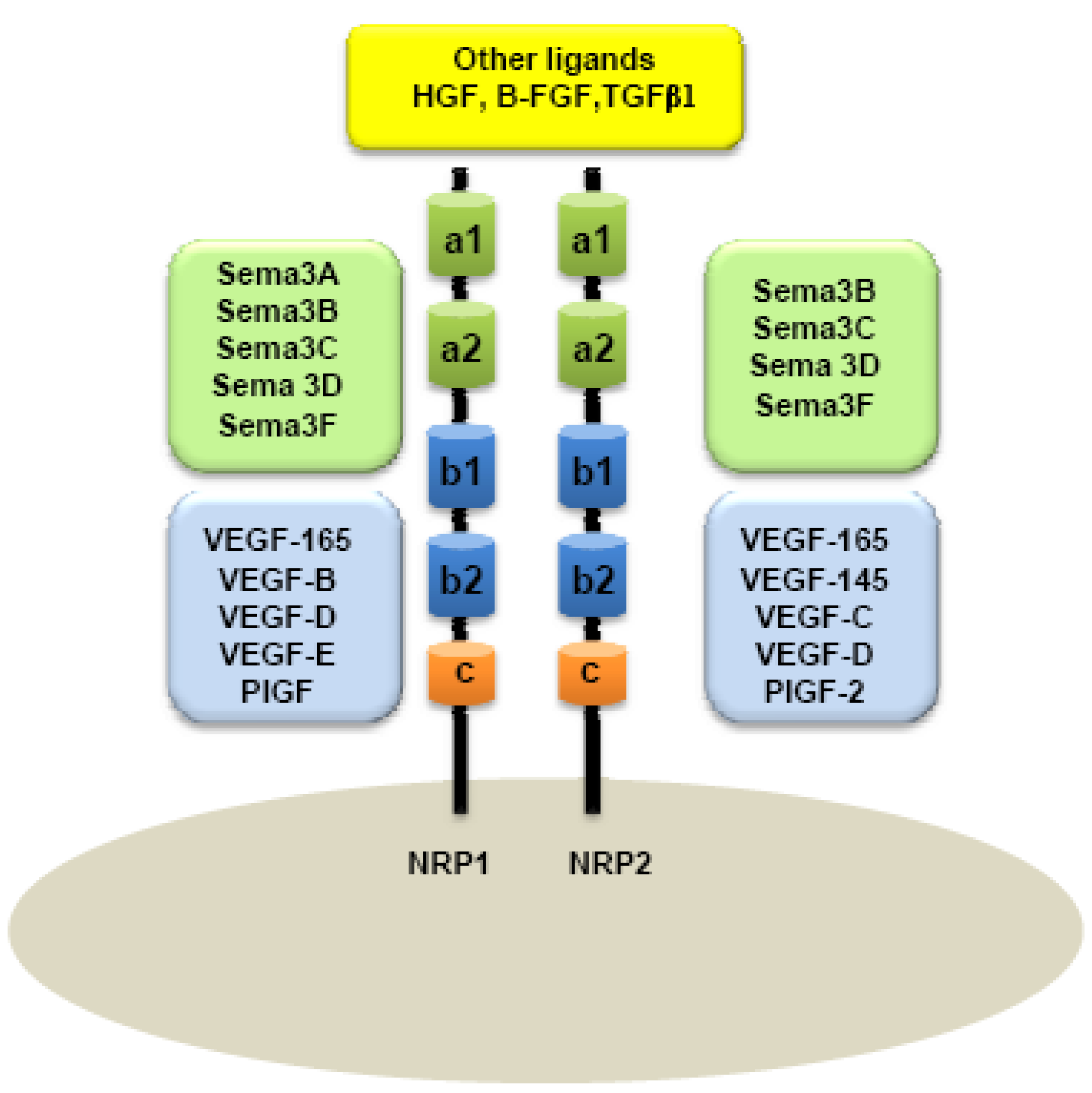 Share & Cite This Article
MDPI and ACS Style
Grandclement, C.; Borg, C. Neuropilins: A New Target for Cancer Therapy. Cancers 2011, 3, 1899-1928.
Related Articles
Comments
[Return to top]