Epigenetic Regulation of Glucose Transporters in Non-Small Cell Lung Cancer
Department of Clinical Medicine, Thoracic Oncology Research Group, Institute of Molecular Medicine, Trinity Centre for Health Sciences, St James´s Hospital, Dublin 8, Ireland
*
Author to whom correspondence should be addressed.
Received: 25 January 2011 / Revised: 9 February 2011 / Accepted: 9 February 2011 / Published: 25 March 2011
Abstract
Due to their inherently hypoxic environment, cancer cells often resort to glycolysis, or the anaerobic breakdown of glucose to form ATP to provide for their energy needs, known as the Warburg effect. At the same time, overexpression of the insulin receptor in non-small cell lung cancer (NSCLC) is associated with an increased risk of metastasis and decreased survival. The uptake of glucose into cells is carried out via glucose transporters or GLUTs. Of these, GLUT-4 is essential for insulin-stimulated glucose uptake. Following treatment with the epigenetic targeting agents histone deacetylase inhibitors (HDACi), GLUT-3 and GLUT-4 expression were found to be induced in NSCLC cell lines, with minimal responses in transformed normal human bronchial epithelial cells (HBECs). Similar results for GLUT-4 were observed in cells derived from liver, muscle, kidney and pre-adipocytes. Bioinformatic analysis of the promoter for GLUT-4 indicates that it may also be regulated by several chromatin binding factors or complexes including CTCF, SP1 and SMYD3. Chromatin immunoprecipitation studies demonstrate that the promoter for GLUT-4 is dynamically remodeled in response to HDACi. Overall, these results may have value within the clinical setting as (a) it may be possible to use this to enhance fluorodeoxyglucose (18F) positron emission tomography (FDG-PET) imaging sensitivity; (b) it may be possible to target NSCLC through the use of HDACi and insulin mediated uptake of the metabolic targeting drugs such as 2-deoxyglucose (2-DG); or (c) enhance or sensitize NSCLC to chemotherapy.
View Full-Text
►

▼

Figures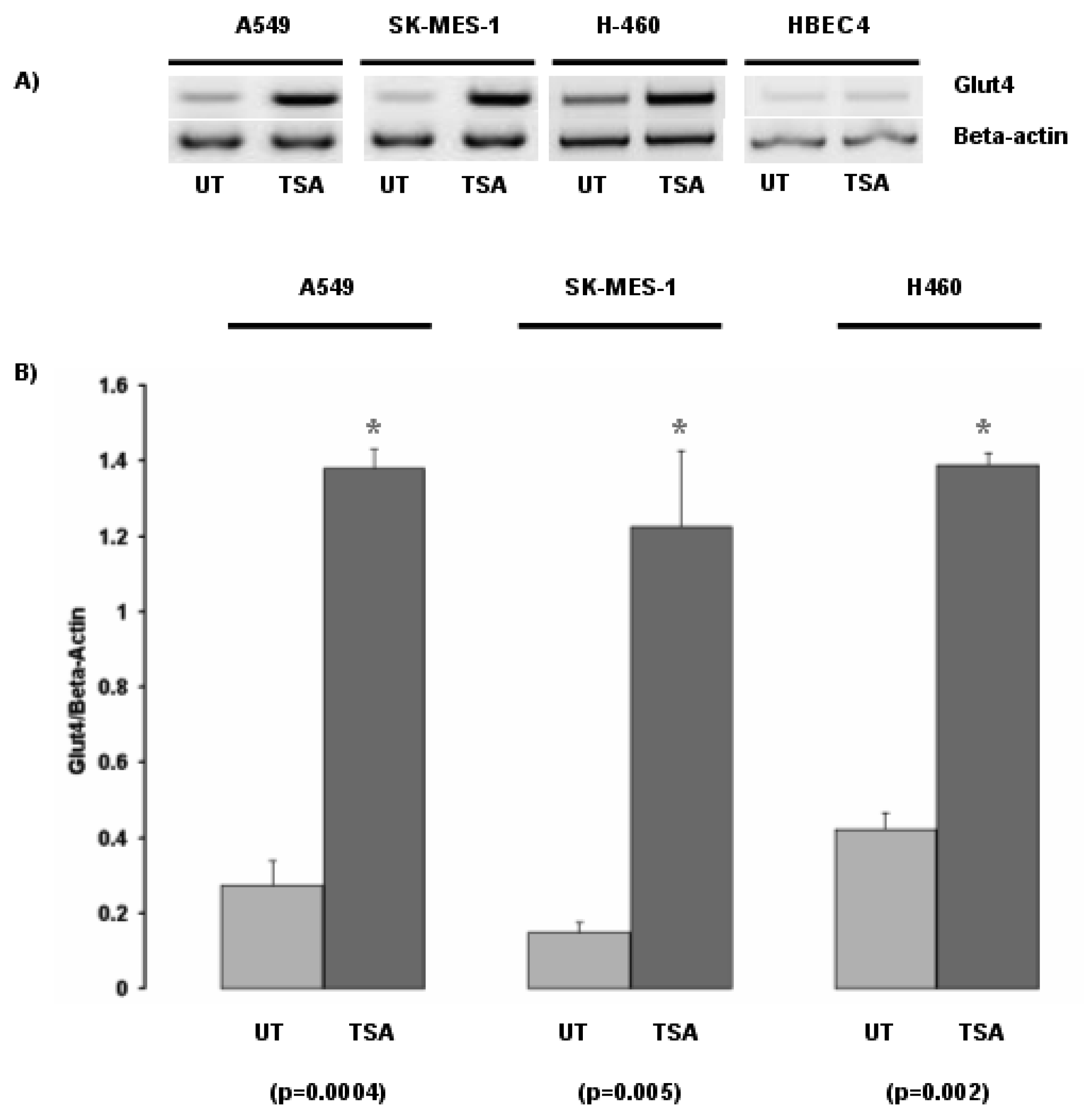 Share & Cite This Article
MDPI and ACS Style
O'Byrne, K.J.; Baird, A.-M.; Kilmartin, L.; Leonard, J.; Sacevich, C.; Gray, S.G. Epigenetic Regulation of Glucose Transporters in Non-Small Cell Lung Cancer. Cancers 2011, 3, 1550-1565.
Related Articles
Comments
[Return to top]