Ras Isoprenylation and pAkt Inhibition by Zoledronic Acid and Fluvastatin Enhances Paclitaxel Activity in T24 Bladder Cancer Cells
1
Cancer Pharmacology and Therapeutics Laboratory, St George Hospital, Kogarah, NSW, Australia
2
St George Hospital Clinical School, University of New South Wales, New South Wales, Australia
†
Current address: University of Western Sydney Medical School, Narellan Road, Campbelltown, NSW, 2560, Australia.
*
Author to whom correspondence should be addressed.
Received: 29 December 2010 / Revised: 30 January 2011 / Accepted: 9 February 2011 / Published: 14 February 2011
Abstract
Background
: Bisphosphonates interfere with the mevalonate pathway and inhibit the prenylation of small GTP-binding proteins such as ras and rap. We hypothesized that zoledronic acid would synergistically inhibit T24 bladder cancer cell growth in combination with fluvastatin and paclitaxel.
Methods
: Increasing doses of fluvastatin, zoledronic acid, and paclitaxel were investigated as single agents and in combination, and synergistic interactions were evaluated by the Chou-Talalay method. Western blots were used to assess effects on signal transduction pathways.
Results
: Growth of T24 was significantly inhibited with IC
50
values of 2.67 ± 0.61 mM for fluvastatin and 5.35 ± 1.35 mM for zoledronic acid after 72 hours treatment. Geranylgeranyl pyrophosphate and farnesyl pyrophosphate was able to block, in part, this inhibitory activity. The combinations of zoledronic acid and paclitaxel, zoledronic acid and fluvastatin, and fluvastatin and paclitaxel were all synergistic. Both fluvastatin and zoledronic acid inhibited Ras and Rap prenylation, and the phosphorylation of ERK1/2 and AKT. The degree of inhibition of phosphorylation of these key signaling transduction pathways appears to closely correlate with their synergistic interactions.
Conclusions
: Zoledronic acid enhances fluvastatin and paclitaxel activity against T24 in a synergistic manner and this is mediated largely by inhibition of both the Ras/Raf/MEK/ERK and PI3K/AKT signaling pathways via isoprenylation inhibition.
View Full-Text
►

▼

Figures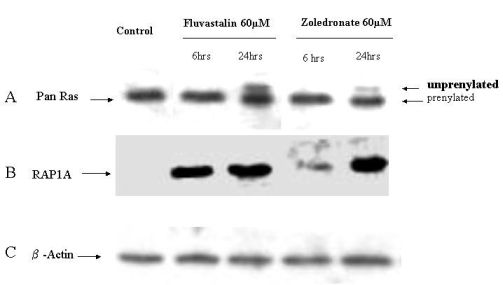 Share & Cite This Article
MDPI and ACS Style
Li, S.; De Souza, P. Ras Isoprenylation and pAkt Inhibition by Zoledronic Acid and Fluvastatin Enhances Paclitaxel Activity in T24 Bladder Cancer Cells. Cancers 2011, 3, 662-674.
Related Articles
Comments
[Return to top]