Overexpression of CYP3A4 in a COLO 205 Colon Cancer Stem Cell Model in vitro
1
Ludwig Boltzmann Cluster of Translational Oncology, c/o Balderichgasse 26/13, A-1170 Vienna, Austria
2
Department of Pathophysiology, Medical University of Vienna, Währinger Gürtel 18-20, A-1090, Vienna, Austria
3
Department of Surgery, Danube Hospital, A-1220 Vienna, Austria
*
Author to whom correspondence should be addressed.
Received: 30 January 2011 / Revised: 9 February 2011 / Accepted: 9 February 2011 / Published: 22 March 2011
Abstract
Cancer stem cells (CSCs) seem to constitute a subpopulation of tumor cells that escape from chemotherapy and cause recurrent disease. Low proliferation rates, protection in a stem cell niche and overexpression of drug resistance proteins are considered to confer chemoresistance. We established an
in vitro
colon CSC-like model using the COLO 205 cell line, which revealed transiently increased expression of CD133 when transferred to serum-free stem cell culture medium. Assessment of global gene expression of COLO 205 cells under these conditions identified a set of upregulated genes including cytochrome P450 3A4 (CYP3A4) and aldehyde dehydrogenase 1A1 (ALDH1A1), as confirmed by real-time qPCR. ALDH1A1 is a CSC marker for certain tumor entities and confers resistance to cyclophosphamide. CYP3A4 is expressed in liver and colon and its overexpression seems particularly relevant in colon cancer, since it inactivates irinotecan and other xenobiotics, such as taxols and vinca alkaloids. In conclusion, this COLO 205 model provides evidence for CD133 induction concomitant with overexpression of CYP3A4, which, together with ATP-binding cassette, subfamily G, member 2 (ABCG2) and others, may have a role in chemoresistant colon CSCs and a negative impact on disease-free survival in colon cancer patients.
View Full-Text
►

▼

Figures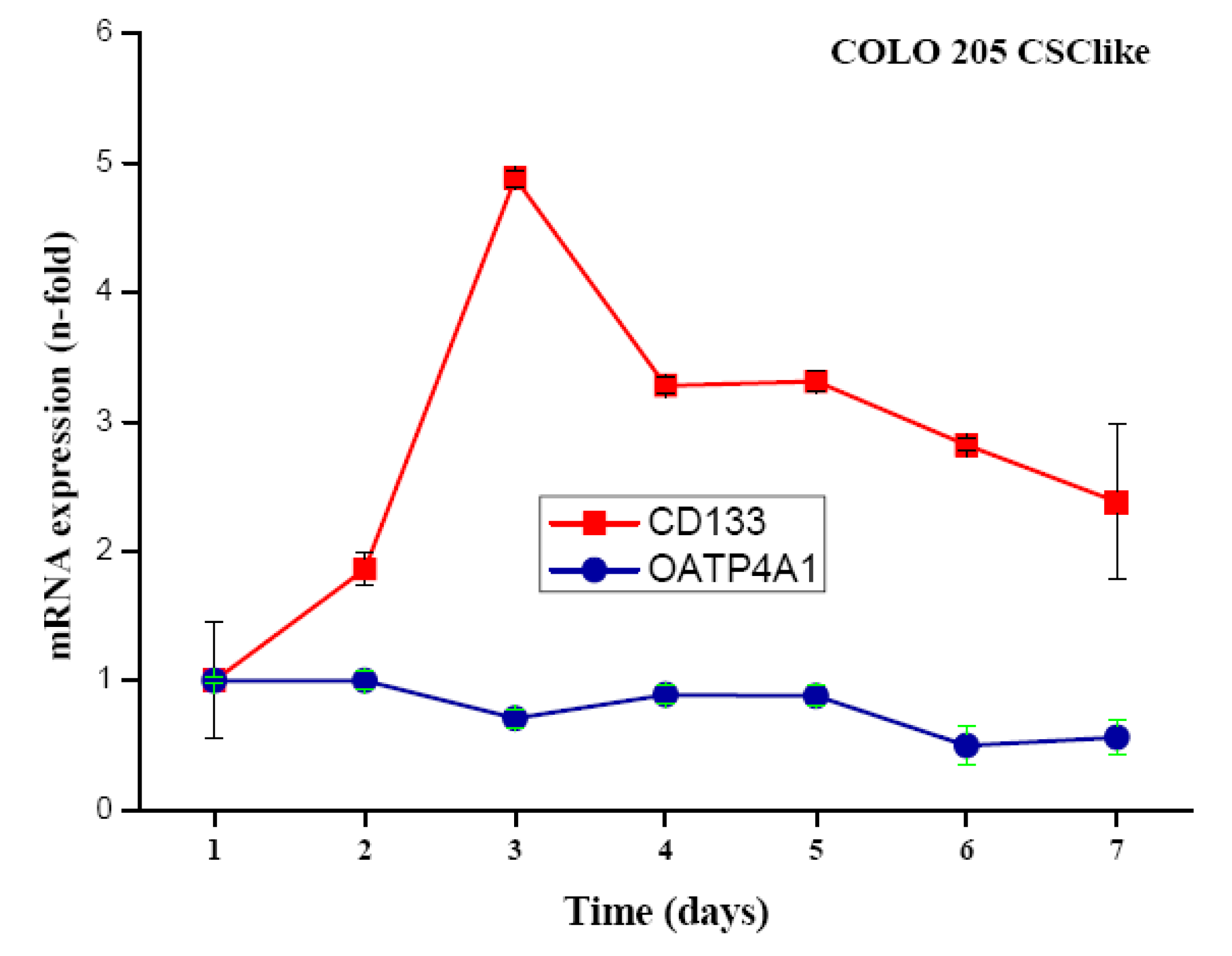 Share & Cite This Article
MDPI and ACS Style
Olszewski, U.; Liedauer, R.; Ausch, C.; Thalhammer, T.; Hamilton, G. Overexpression of CYP3A4 in a COLO 205 Colon Cancer Stem Cell Model in vitro. Cancers 2011, 3, 1467-1479.
Related Articles
Comments
[Return to top]