The Proteasome Inhibitor Bortezomib Sensitizes AML with Myelomonocytic Differentiation to TRAIL Mediated Apoptosis
1
Apoptosis Research Center, National University of Ireland, University Road, Galway, Ireland
2
School of Natural Sciences, National University of Ireland, University Road, Galway, Ireland
3
School of Medicine, National University of Ireland, University Road, Galway, Ireland
4
Department of Haematology, School of Medicine, Cardiff University, Heath Park, CF14 4XN Cardiff, UK
*
Author to whom correspondence should be addressed.
Received: 5 February 2011 / Revised: 15 February 2011 / Accepted: 10 March 2011 / Published: 15 March 2011
Abstract
Acute myeloid leukemia (AML) is an aggressive stem cell malignancy that is difficult to treat. There are limitations to the current treatment regimes especially after disease relapse, and therefore new therapeutic agents are urgently required which can overcome drug resistance whilst avoiding unnecessary toxicity. Among newer targeted agents, both tumor necrosis factor (TNF)-related apoptosis-inducing ligand (TRAIL) and proteasome inhibitors show particular promise. In this report we show that a combination of the proteasome inhibitor bortezomib and TRAIL is effective against AML cell lines, in particular, AML cell lines displaying myelomonocytic/monocytic phenotype (M4/M5 AML based on FAB classification), which account for 20-30% of AML cases. We show that the underlying mechanism of sensitization is at least in part due to bortezomib mediated downregulation of c-FLIP and XIAP, which is likely to be regulated by NF-κB. Blockage of NF-κB activation with BMS-345541 equally sensitized myelomonocytic AML cell lines and primary AML blasts to TRAIL.
View Full-Text
►

▼

Figures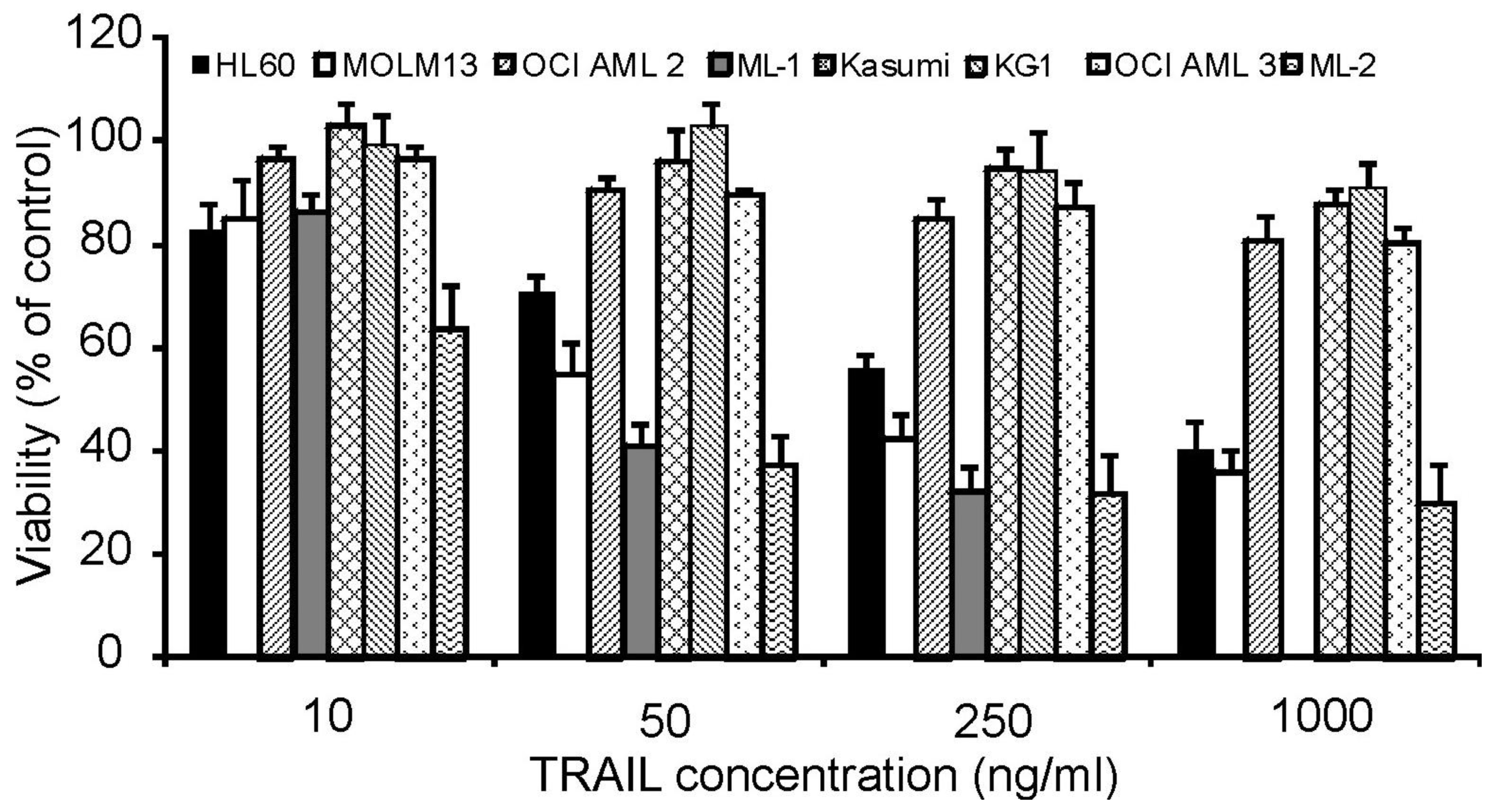 Share & Cite This Article
MDPI and ACS Style
Dijk, M.; Murphy, E.; Morrell, R.; Knapper, S.; O'Dwyer, M.; Samali, A.; Szegezdi, E. The Proteasome Inhibitor Bortezomib Sensitizes AML with Myelomonocytic Differentiation to TRAIL Mediated Apoptosis. Cancers 2011, 3, 1329-1350.
Related Articles
Comments
[Return to top]