The Emerging Role of the Phosphatidylinositol 3-Kinase/ Akt/Mammalian Target of Rapamycin Signaling Network in Cancer Stem Cell Biology
1
Department of Human Anatomy, University of Bologna, via Irnerio 48, 40126 Bologna, Italy
2
Department of Microbiology & Immunology, Brody School of Medicine, East Carolina University, 600 Moye Boulevard, NC 27834, USA
*
Author to whom correspondence should be addressed.
Received: 23 July 2010 / Accepted: 16 August 2010 / Published: 18 August 2010
Abstract
The cancer stem cell theory entails the existence of a hierarchically organized, rare population of cells which are responsible for tumor initiation, self-renewal/maintenance, and mutation accumulation. The cancer stem cell proposition could explain the high frequency of cancer relapse and resistance to currently available therapies. The phosphatidylinositol 3-kinase (PI3K)/Akt/mammalian target of rapamycin (mTOR) signaling pathway regulates a wide array of physiological cell functions which include differentiation, proliferation, survival, metabolism, autophagy, and motility. Dysregulated PI3K/Akt/mTOR signaling has been documented in many types of neoplasias. It is now emerging that this signaling network plays a key role in cancer stem cell biology. Interestingly, cancer stem cells displayed preferential sensitivity to pathway inhibition when compared to healthy stem cells. This observation provides the proof-of-principle that functional differences in signaling pathways between neoplastic stem cells and healthy stem cells could be identified. In this review, we present the evidence which links the signals emanating from the PI3K/Akt/mTOR cascade with the functions of cancer stem cells, both in solid and hematological tumors. We then highlight how targeting PI3K/Akt/mTOR signaling with small molecules could improve cancer patient outcome.
View Full-Text
►

▼

Figures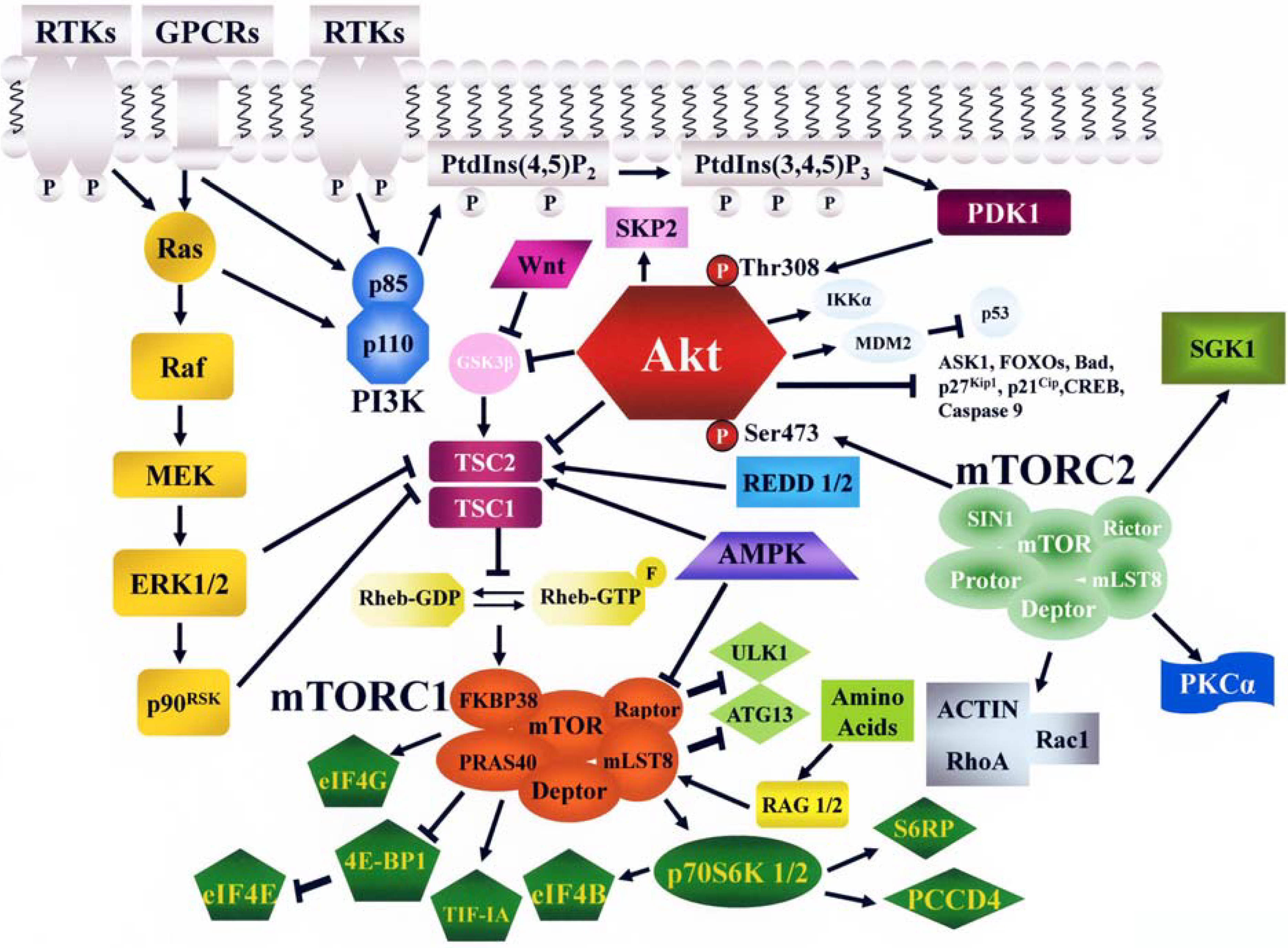 Figure 1
Share & Cite This Article
MDPI and ACS Style
Martelli, A.M.; Evangelisti, C.; Chiarini, F.; Grimaldi, C.; McCubrey, J.A. The Emerging Role of the Phosphatidylinositol 3-Kinase/ Akt/Mammalian Target of Rapamycin Signaling Network in Cancer Stem Cell Biology. Cancers 2010, 2, 1576-1596.
Related Articles
Comments
[Return to top]