Role of Oxidative Stress in Stem, Cancer, and Cancer Stem Cells
Department of Animal Biotechnology (BK21), RCTCP, and Animal Resources Research Center, Konkuk University, Seoul 143-701, Korea
*
Author to whom correspondence should be addressed.
Received: 4 March 2010 / Revised: 12 April 2010 / Accepted: 6 May 2010 / Published: 17 May 2010
Abstract
The term ''oxidative stress" refers to a cell's state characterized by excessive production of reactive oxygen species (ROS) and oxidative stress is one of the most important regulatory mechanisms for stem, cancer, and cancer stem cells. The concept of cancer stem cells arose from observations of similarities between the self-renewal mechanism of stem cells and that of cancer stem cells, but compared to normal stem cells, they are believed to have no control over the cell number. ROS have been implicated in diverse processes in various cancers, and generally the increase of ROS in cancer cells is known to play an important role in the initiation and progression of cancer. Additionally, ROS have been considered as the most significant mutagens in stem cells; when elevated, blocking self-renewal and at the same time, serving as a signal stimulating stem cell differentiation. Several signaling pathways enhanced by oxidative stress are suggested to have important roles in tumorigenesis of cancer or cancer stem cells and the self-renewal ability of stem or cancer stem cells. It is now well established that mitochondria play a prominent role in apoptosis and increasing evidence supports that apoptosis and autophagy are physiological phenomena closely linked with oxidative stress. This review elucidates the effect and the mechanism of the oxidative stress on the regulation of stem, cancer, and cancer stem cells and focuses on the cell signaling cascades stimulated by oxidative stress and their mechanism in cancer stem cell formation, as very little is known about the redox status in cancer stem cells. Moreover, we explain the link between ROS and both of apoptosis and autophagy and the impact on cancer development and treatment. Better understanding of this intricate link may shed light on mechanisms that lead to better modes of cancer treatment.
View Full-Text
►

▼

Figures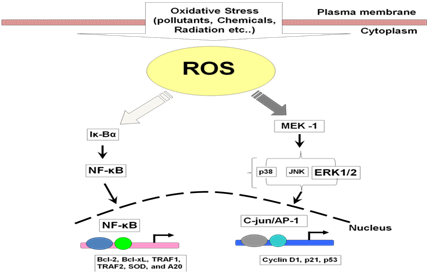 Share & Cite This Article
MDPI and ACS Style
Dayem, A.A.; Choi, H.-Y.; Kim, J.-H.; Cho, S.-G. Role of Oxidative Stress in Stem, Cancer, and Cancer Stem Cells. Cancers 2010, 2, 859-884.
Related Articles
Comments
[Return to top]