In Situ Conversion of Melanoma Lesions into Autologous Vaccine by Intratumoral Injections of α-gal Glycolipids
1
Department of Surgery, University of Massachusetts Medical School, 55 Lake Avenue North, Worcester, MA 01655, USA
2
University of Wisconsin Carbone Cancer Center, Madison, WI. 53792, USA
*
Author to whom correspondence should be addressed.
Received: 2 March 2010 / Revised: 14 April 2010 / Accepted: 30 April 2010 / Published: 4 May 2010
Abstract
Autologous melanoma associated antigens (MAA) on murine melanoma cells can elicit a protective anti-tumor immune response following a variety of vaccine strategies. Most require effective uptake by antigen presenting cells (APC). APC transport and process internalized MAA for activation of anti-tumor T cells. One potential problem with clinical melanoma vaccines against autologous tumors may be that often tumor cells do not express surface markers that label them for uptake by APC. Effective uptake of melanoma cells by APC might be achieved by exploiting the natural anti-Gal antibody which constitutes ~1% of immunoglobulins in humans. This approach has been developed in a syngeneic mouse model using mice capable of producing anti-Gal. Anti-Gal binds specifically to α-gal epitopes (Galα1-3Galα1-4GlcNAc-R). Injection of glycolipids carrying α-gal epitopes (α-gal glycolipids) into melanoma lesions results in glycolipid insertion into melanoma cell membranes, expression of α-gal epitopes on the tumor cells and binding of anti-Gal to these epitopes. Interaction between the Fc portions of bound anti-Gal and Fcγ receptors on APC induces effective uptake of tumor cells by APC. The resulting anti-MAA immune response can be potent enough to destroy distant micrometastases. A clinical trial is now open testing effects of intratumoral α-gal glycolipid injections in melanoma patients.
View Full-Text
►

▼

Figures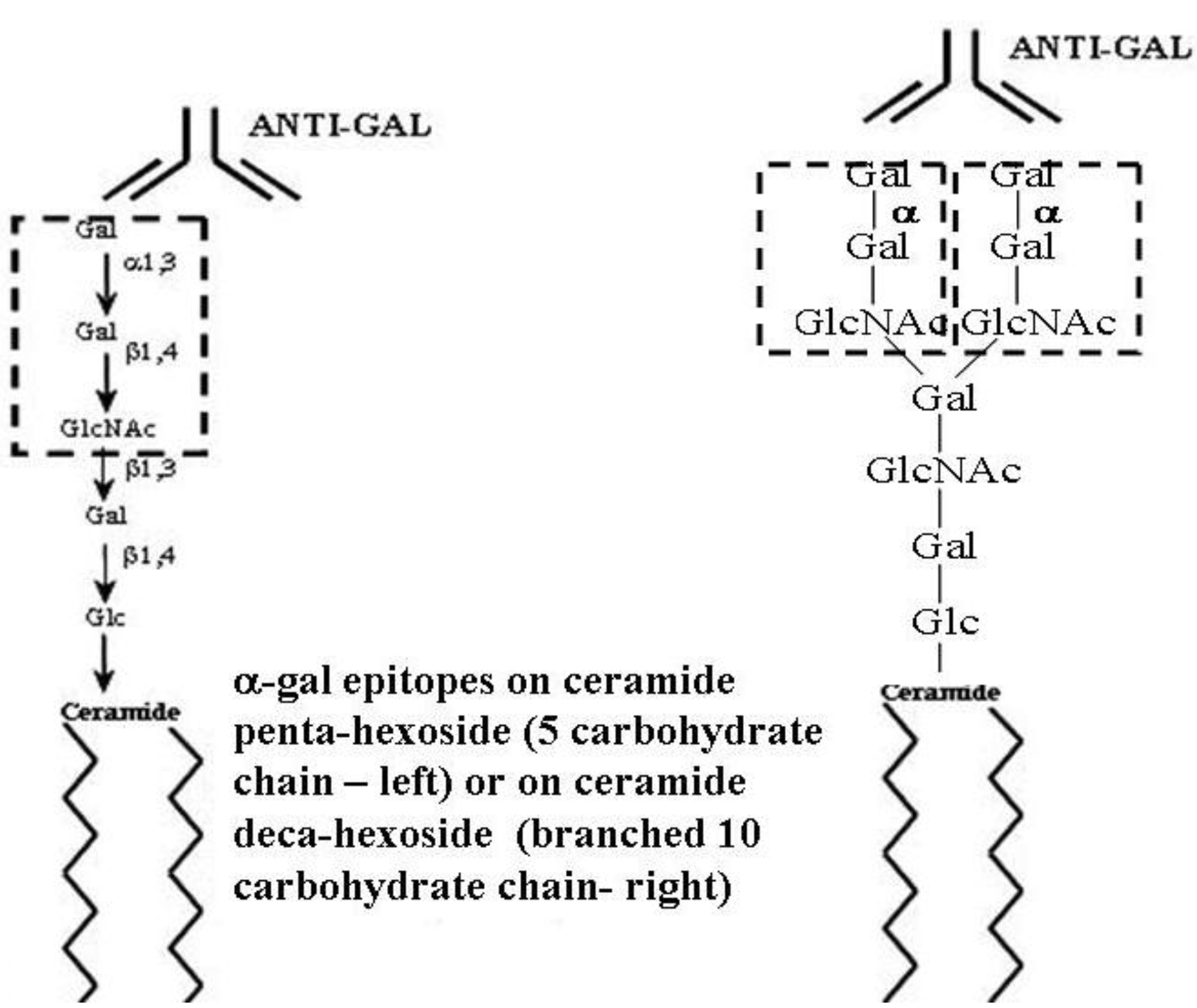 Figure 1
Share & Cite This Article
MDPI and ACS Style
Galili, U.; Albertini, M.R.; Sondel, P.M.; Wigglesworth, K.; Sullivan, M.; Whalen, G.F. In Situ Conversion of Melanoma Lesions into Autologous Vaccine by Intratumoral Injections of α-gal Glycolipids. Cancers 2010, 2, 773-793.
Related Articles
Comments
[Return to top]