Open Access This article is
freely available
re-usable
Review
The "Two-Faced" Effects of Reactive Oxygen Species and the Lipid Peroxidation Product 4-Hydroxynonenal in the Hallmarks of Cancer
Department of Medicine and Experimental Oncology, Section of General Pathology, University of Turin, Corso Raffaello 30, 10153 Turin, Italy
*
Author to whom correspondence should be addressed: Tel.: +39-011-6707795; Fax: +39-011-6707753.
Received: 23 February 2010; in revised form: 18 March 2010 / Accepted: 25 March 2010 / Published: 30 March 2010
Abstract
:
Reacytive Oxygen Species (ROS) have long been considered to be involved in the initiation, progression and metastasis of cancer. However, accumulating evidence points to the benefical role of ROS. Moreover, ROS production, leading to apoptosis, is the mechanism by which many chemotherapeutic agents can act. Beside direct actions, ROS elicit lipid peroxidation, leading to the production of 4-hydroxynoneal (HNE). Interestingly, HNE also seems to have a dual behaviour with respect to cancer. In this review we present recent literature data which outline the "two-faced" character of oxidative stress and lipid peroxidation in carcinogenesis and in the hallmarks of cancer.
Keywords:
oxidative stress; lipid peroxidation; ROS; 4-hydroxynonenal; carcinogenesis; hallmarks of cancer
1. Oxidative Stress and Lipid Peroxidation, an Introduction
Oxidative stress arises from an imbalanced redox status between the production of Reactive Oxygen Species (ROS) and the biological system able to remove them. ROS, including superoxide (O
2
−
), hydroxyl radical (·OH) and H
2
O
2
, are constantly generated in aerobic organisms. The endogenous sources usually are oxidative phosphorylation, P450 metabolism, peroxisomes and inflammatory cell activation [
1
,
2
]. Classically, ROS were regarded as host defending molecules released by the neutrophils for destroying exogenous pathogens such as bacteria. ROS can be also produced as a consequence of ionizing radiation (IR), chemotherapeutic drugs and environmental exposure to transition metals and chemical oxidants [
1
,
3
,
4
]. Cellular antioxidant defense enzymes, against oxidative stress, comprise the superoxide dismutases, glutathione peroxidase and catalase [
1
]. Superoxide dismutases and glutathione peroxidases, which are present in cytosol and mitochondria, reduce the superoxide anion to hydrogen peroxide and water, and removes the majority of hydrogen peroxide, respectively. Meanwhile, catalase, located in peroxisomes, also removes high levels of hydrogen peroxide. Nonenzymatic antioxidants, like vitamin E, vitamin C, β-carotene, glutathione, and coenzyme Q function to quench ROS [
5
].
ROS can randomly react with lipids, proteins and nucleic acids causing oxidative stress and damage in these macromolecules, leading to pathogenesis of age-related and chronic diseases, which include cancer, cardiovascular disease, diabetes, chronic inflammation, and neurodegenerative disorders [
6
,
7
,
8
,
9
,
10
,
11
]. Recently, a lot of evidence indicates that ROS play a central role in the key intracellular signal transduction pathway for a variety of cellular process [
12
].
When ROS target lipids, they can initiate the lipid peroxidation process, a chain reaction that produces multiple breakdown molecules, such as malonaldehyde (MDA) and 4-hydroxyalkenals [
13
] (
Scheme 1
). 4-Hydroxynonenal (HNE), a 4-hydroxyalkenal, is the most intensively studied aldehyde [
14
]. HNE has three main functional groups: the aldehyde group, the C=C double bond and the hydroxyl group, which can participate, alone or in sequence, in chemical reactions with other molecules [
13
]. HNE is a highly electrophilic molecule that easily reacts with low molecular weight compounds, such as glutathione, with proteins and, at higher concentration, with DNA and acts as mediator of oxidative stress [
13
,
15
]. Once formed, HNE is rapidly degraded by three major reactions: reduction to 1,4-dihydroxy-2-nonene by alcohol dehydrogenases, oxidation to 4-hydroxy-2-nonenoic acid by aldehyde dehydrogenase, or formation of the glutathione-conjugate (GS-HNE) catalyzed by glutathione-S-transferases. The majority of HNE is metabolized through forming GS-HNE [
16
]. The half-life of HNE has been studied in several cell types, in subcellular organelles, and even in whole organisms [reviewed in 17]. Liver tissue generally has the highest capacity to metabolize HNE. Rat hepatocytes (10
6
cells/mL) were able to metabolize about 90% of 100 µM HNE within 3 min [
18
]. In other cells, the HNE metabolism is not so fast, but still very efficient. For instance when 10 µM HNE was added to 10
6
K562 or HL-60 leukemic cells, the aldehyde disappeared within 1 hour [
19
]. On the basis of such experimental evidence, one can conclude that HNE, even at very high lipid peroxidation rates, cannot accumulate in an unlimited manner.
HNE has been detected
in vivo
in several pathological conditions, which entail increased lipid peroxidation, including inflammation, atherosclerosis, chronic degenerative diseases of the nervous system, and chronic liver diseases, reaching a concentration up to about 10 µM [
20
]. However, under physiological conditions, HNE can be found at low concentrations in human tissues and plasma(0.07–2.8 µM) [
13
,
17
] where it participates in the control of biological processes, such as signal transduction, cell proliferation and differentiation. Indeed, HNE, similarly to ROS, plays an important role in controlling the intracellular signal transduction pathways involved in a number of cell responses [
17
,
21
,
22
,
23
].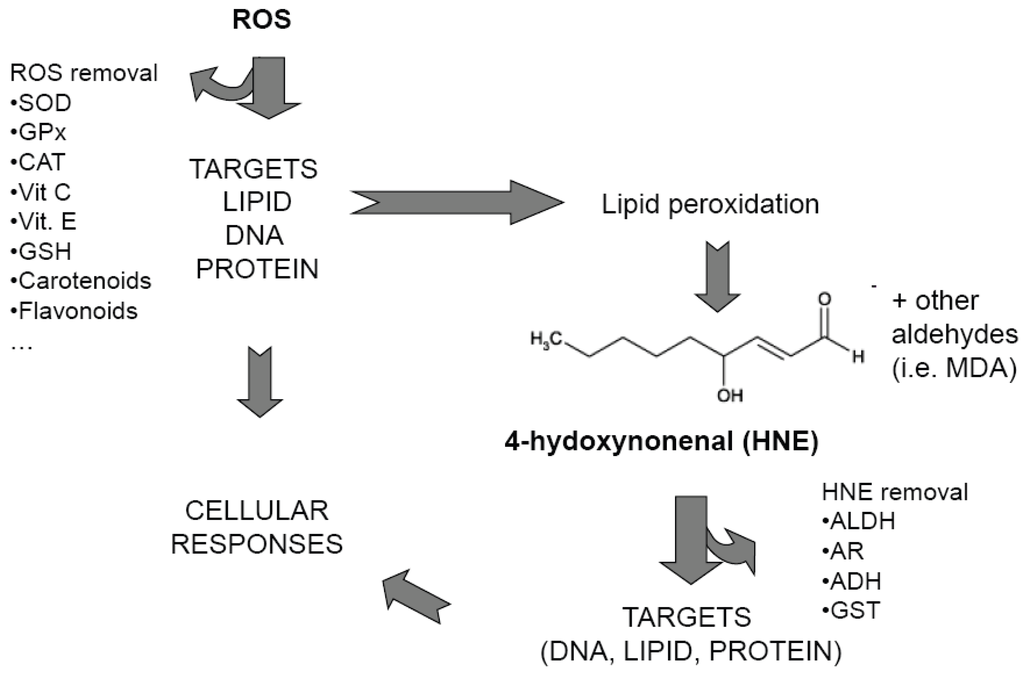 Scheme 1. Simplified scheme showing ROS and HNE pathways. SOD: superoxide dismutase; GPx glutathione peroxidase; CAT: catalase; Vit C: Vitamin C; Vit. E: Vitamin E: GSH: Glutathione; MDA: malonildialdehyde; ALDH: aldehyde dehydrogenase; AR, aldose reductase; ADH, alcohol dehydrogenase; GST: glutathione S-transferase.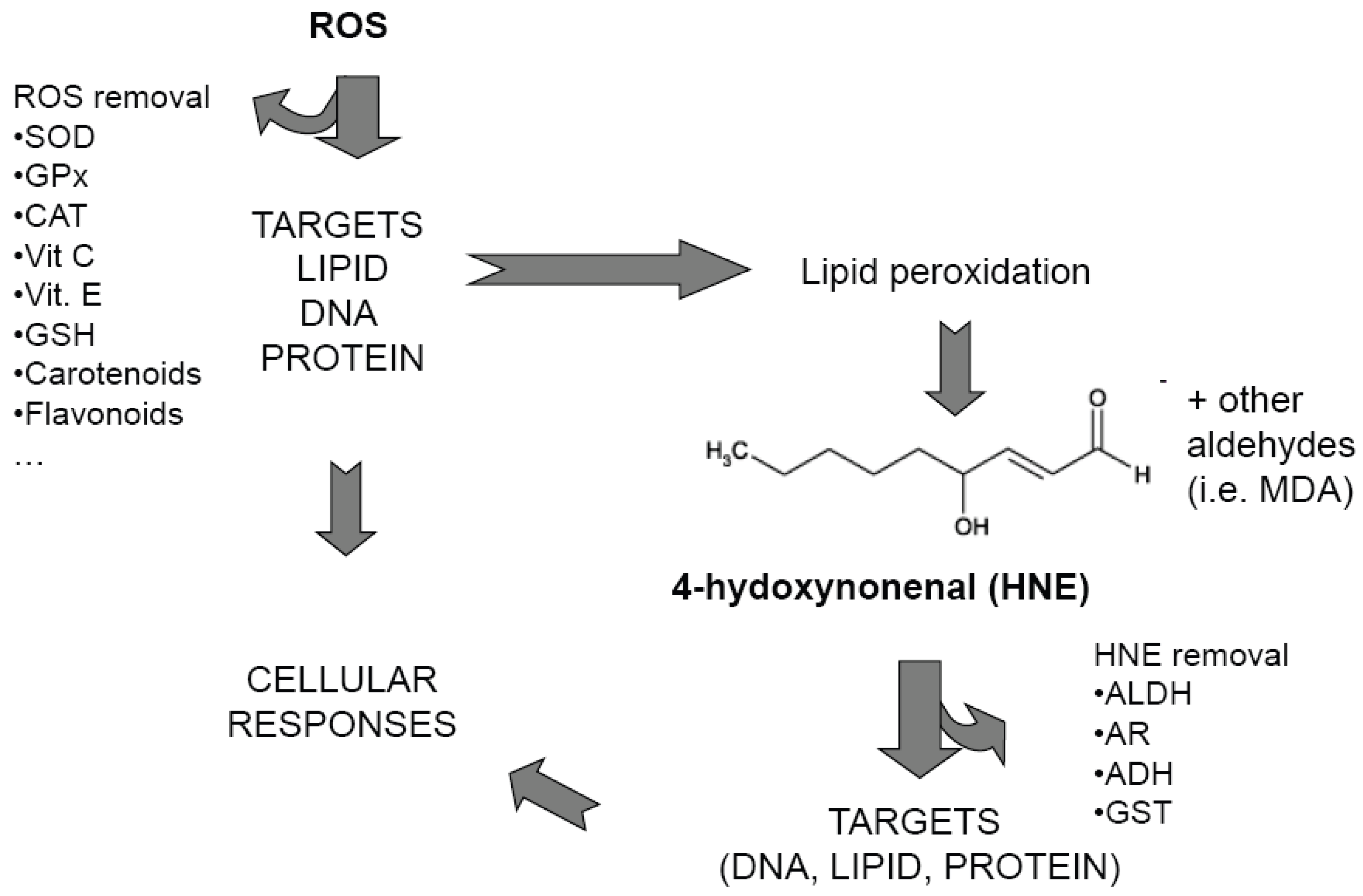 2. ROS and HNE in Carcinogenesis
3. Role of ROS and HNE in the Hallmarks of Cancer
3.1. Regulation of Cell Proliferation
The role of ROS in cell proliferation control has been long studied by several research groups. Usually, ROS can elicit a broad spectrum of responses depending on the magnitude of the level and the duration of exposure. In general, low levels of ROS are mitogenic and promote cell proliferation, while intermediate levels cause transient or permanent cell cycle arrest and induce cell differentiation. High levels of ROS are detrimental and induce cell apoptosis or necrosis [
42
,
43
]. These actions have been ruled out by ROS action, acting as a primary messengers in the intracellular signalling cascades, such as the mitogen-activated protein kinases (MAPKs), phosphatidylinositol-3-kinase (PI3K)/Akt pathway, phospholipase C-g1 (PLCg1) signalling, protein kinase C, p53 signaling, ataxia-telangiectasia-mutated (ATM) kinase, nuclear factor-kappaB (NF-κB) signalling, and Jak/Stat pathway [
2
,
43
,
44
,
45
]. The cell response depends on the pathway activated by ROS, and that can tend to enhance survival or promote cell death. Hence, the battle for survival from cell death is determined by the relative balance among the activities regulated, the molecular background of cells and tissues, the location of ROS production, the concentration of individual ROS species and the antioxidant concentration in the cells [
46
]. Through distinct signal transduction cascades, ROS can induce the expression of families of heat shock proteins, immediate early genes of the bZip family members like c-Jun and c-Fos, hypoxia inducible factor, and antioxidative enzymes which help to regulate redox homeostasis, the expression of transforming oncoproteins and growth factors [
46
].
As far as it regards the effect of HNE in controlling cell proliferation, the majority of research reports indicate that HNE elicits a reduction of cell proliferation. The first experiments were done by using cultivated human leukemic cells, which do not contain endogenous HNE, as lipid peroxidation in such cells is practically null. When added to such cells, however, HNE disappears within 15–20 min, partially due to its binding to cell structures, partially to metabolism. So, it is sometimes necessary to continuously repeat the treatment in order to stabilize the effects [
47
]. With K562 cells, originally derived from a human erythroleukemia, HNE was found not only to strongly decrease cell proliferation, but also to block the expression of the oncogene c-myc which is highly expressed in untreated cells [
48
]. Similarly, in human HL-60 leukemia cells, 1 µM HNE strongly decreases cell proliferation, and, at the same time, blocks the expression of the oncogenes c-myc [
47
,
49
]. The inhibition of c-myc expression by HNE has also been observed in U937 and ML1 human leukemic cells, and in MEL murine erythroleukemic cells [
50
,
51
].
These actions of HNE were transient, but could be stabilized by a continuous supply of 1 µM HNE, repeated 10–12 times. Deeper investigations in HL-60 cells showed that the proliferation blockage occurred at the level of the G0/G1 stage of the cell cycle. In fact, after HNE treatment, there was a big accumulation of cells in this phase and a decrease of S-phase cells. This means that the progression to the S phase of the cycle is prevented [
52
]. Further experiments showed that most of the HNE activity on the cell cycle is affected through the inhibition of the cyclin expression, especially of cyclins D2, D1, and A [
53
]. As a consequence, pRB was found hypophosphorylated and the E2F transcription factor remained bound to the pRB protein [
54
]. Moreover, HNE reduced the expression of E2F4 transcription factor [
54
].
In tumor cells which express wild type p53, such as ML-1 human leukemic cells [
50
] and SK-N-BE human neuroblastoma cells [
55
], HNE is able to induce p53 expression which, in turn, can regulate cell cycle arrest or apoptosis induction.
In solid tumor cells, such as 7777 and J42 hepatomas, inhibitory effects of HNE on cell proliferation are lower, probably due to the presence of a more efficient system removing the aldehydes. Indeed, these cells display a very high expression of aldehyde dehydrogenase 3, that is able to destroy a large amount of the added aldehyde [
56
,
57
]. Its inhibition by antisense oligonucleotide has strong inhibitory effects on cell proliferation, suggesting that this aldehyde plays an important role in this inhibition [
58
].
In other tumor cell lines, such as human neuroblastoma cells SK-N-BE cells, HNE was also able to block proliferation and induce apoptosis [
55
]. Moreover, HNE increased the expression of the p53 family members (p53, p63, p73) as well as the expression of the cyclin/CDK inhibitor p21 and the proapoptotic Bax. An increase in p53 expression also has been found in germ cells where HNE treatment inhibited proliferation [
59
]. Different research groups demonstrated that HNE inhibited proliferation of human colon tumor cells through regulation of the MAPs kinase pathway [
60
,
61
] or through the PPAR gamma pathway [
62
]. Moreover, a strong inhibition of cell proliferation was reported also in breast cancer cells (MCF7) treated with conjugated linoleic acid (CLA), which increases the endogenous levels of HNE [
63
] and in human osteosarcoma cells treated with HNE [
64
]. Interestingly, the effect of HNE on normal cells proliferation is more variable if not opposite to that observed in tumor cells. Concerning the atherogenic role of oxidized low-density lipoprotein and the lipid oxidatation products, it has been reported that HNE induced vascular smooth muscle cell proliferation [
65
,
66
]. More recently, other authors have shown that the proliferation rate of smooth muscle cells (SMCs) depends on HNE incubation time and concentration: a prolonged treatment with 0.1 µM HNE resulted in an increase of cell growth in young SMC but displayed cytotoxicity in aged SMCs [
67
]. In the same cell model Vindis and collaborators [
68
] demonstrated that short-term incubation of SMCs with oxLDLs and HNE induced platelet-derived growth factor receptor (PDGFR) β activation, while long-term incubation triggered a desensitization of PDGFR to its own agonist, with a progressive inhibition of PDGFR β phosphorylation. These authors concluded that PDGFR-β is a target for HNE and its progressive inhibition may contribute to defective SMC proliferation.
A direct comparison between the HNE effect on the growth of human lymphatic leukemia cells and normal human peripheral blood lymphocytes has been done by Semlitsch and collaborators [
69
], which demonstrated that HNE showed a cytotoxic effect and reduced DNA synthesis in lymphatic leukemia cells, whereas it did not shown any significant toxicity on normal lymphocytes.
These data indicate that HNE strongly reduces the proliferation of tumor cells but it increases or does not affect proliferation of normal cells in relation to the dose of HNE and the time of exposure. This dual effect may be due to the presence of aldehyde metabolizing enzymes or the high antioxidant concentration in normal cells.
3.2. .Regulation of Apoptosis
It is well known that ROS induce cell death, including apoptosis. Many antitumor agents, such as vinblastine, cisplatin, mitomycin C, doxorubicin, camptothecin, inostamycin, neocarzinostatin and many others exhibit antitumor activity
via
ROS-dependent activation of apoptotic cell death, suggesting potential use of ROS as an antitumor agent [
70
]. Thus, a unique anticancer strategy named "oxidation therapy" has been developed by inducing cytotoxic oxystress for cancer treatment. Both death receptor- and mitochondria-mediated apoptosis depend a lot on ROS [
71
]. Fas ligand (FasL) triggers a rapid formation of ROS that mainly derive from NADPH oxidase as an upstream event of apoptosis induction. Moreover, FasL-induced ROS mediate the ubiquitination and subsequent degradation by proteasome of FLICE inhibitory protein (FLIP) to further enhance Fas activation [
72
].
Several researchers have shown that ROS related apoptosis is processed by the mitochondrial pathway, through the activation of p38 [
73
,
74
,
75
]. It has been demonstrated that ROS-dependent activation of MAPKs is crucial for mitochondria-mediated apoptosis [
76
]. In particular, c-Jun NH2-teminal kinase is the major signaling molecule mediating the ROS-induced opening of the PT pore complex [
44
].
In addition to direct activation of signalling pathways, ROS can promote apoptosis
via
generation of lipid peroxidation products, among them HNE plays an important role. For example, it has been demonstrated that polyunsaturated fatty acids (PUFAs) such as arachidonic, linolenic and linoleic acids markedly enhance the DNA fragmentation induced by glutamate. Thus the DNA fragmentation seems to be mediated by ROS or ROS-mediated lipid peroxidation [
76
]. Moreover, it has also been suggested that lipid peroxidation might proceed not only in plasma membranes but also in the nuclear membranes close to chromosomes, due to the loss of membrane integrity in cell membranes consisting of phospholipids and thereby may make circumstances suitable for oxygen radicals to attack chromatin and DNA [
76
]. However, more convincing data are provided from the studies about the effects of the lipid peroxidation product, HNE, in inducing apoptosis in several cell models. Awasthi and collaborators [
77
] demonstrated that the overexpression of the α class of glutathione-S-transferases leads to a lower steady-state level of HNE, and induces resistance to apoptosis initiated by lipid peroxidation causing agents such as H
2
O
2
, UVA, superoxide anion and pro-oxidant xenobiotics. The proapoptotic action of HNE has been directly demonstrated in neuronal cells [
78
], in vascular smooth muscle cells [
67
] and in lens epithelial cells [
79
]. Furthermore, the proapoptotic effect of HNE, accompanied by an increase in Bax protein, has been demonstrated in SK-N-BE human neuroblastoma cells [
55
] and in CaCo-2 human colon cancer cells [
62
].
The mechanisms of HNE-induced apoptosis have been studied also by de Villiers and collaborators [
80
]. These authors found that HNE caused dose-dependent apoptosis in two rat hepatic stellate cell lines, HSC-T6 and CFSC-2G cells. Apoptosis in HSC-T6 cells was associated with increased mRNA and protein expression of the pro-apoptotic adaptors/regulators FasR, FasL, Bax, and caspases-2 and -3. In contrast, CFSC-2G cells showed no changes in FasR, Bax and caspase-3 mRNA levels. Other authors studied the mechanisms of the apoptotic response to HNE by analysing MAP kinase and caspase activation pathways in 3T3 fibroblasts [
81
]. HNE induced early activation of JNK and p38 proteins but down-regulated the basal activity of ERK-1/2. Moreover, HNE induced the release of cytochrome c from mitochondria as well as caspase-9 and caspase-3 activation. Overexpression of dominant negative c-Jun and JNK1 in 3T3 fibroblasts prevented HNE-induced apoptosis, which indicated a role for the JNK-c-Jun/AP-1 pathway. These data confirm previous observations from Biasi and collaborators [
82
] who found that c-Jun N-terminal kinase upregulation was a key event in the proapoptotic interaction between transforming growth factor-β1 and 4-hydroxynonenal in colon mucosa [
82
]. Exposure of vascular smooth muscle cells to HNE showed augmented apoptotic changes in a concentration-dependent manner and was associated with an increased production of ROS. These authors conclude that mitochondrial dysfunction plays a key role in mediating HNE-induced vascular smooth muscle cell apoptosis through an increased mitochondrial production of ROS [
67
]. The involvement of HNE-mediated apoptosis in the oxidative damage of neural cells has been suggested by several authors [
78
,
83
] by analyzing the role of HNE in cell death resulting from β-amyloid exposure. These authors showed that HNE treatment of neuronal cells induced dose-dependent death and caspase activation which were blocked by inhibition of caspases.
An indirect demonstration of the ability of HNE to induce apoptosis is represented by results obtained by lowering the intracellular concentration of HNE in cells transfected with enzymes involved in HNE metabolism. For example, the over-expression of GSTA4-4 or GST5.8, which detoxify HNE, inhibits apoptosis induced by the xantine/xanthine oxidase, H
2
O
2
, UV and doxorubicin [
84
]. HL-60 cells also acquire resistance to apoptosis induced by 20 µM HNE when transfected with GSTA4-4n [
85
]. On the contrary, increased concentration of HNE, obtained by inhibiting RalBP1-mediated transport of GS-HNE, leads to apoptosis in cells of various origin even in the absence of any stressor [
86
,
90
]. In conclusion, several reports, by showing a role for HNE in apoptosis induction, demonstrate the involvement of lipid peroxidation in this process.
3.3. Regulation of Replicative Potential of Cells
3.4. Regulation of Angiogenesis
In addition to the genetic and epigenetic changes that occur during transformation, another discrete step is required to allow tumor propagation and progression: the induction of a tumor vasculature, termed the "angiogenic switch" [
111
]. Angiogenesis is orchestrated by a variety of activators and inhibitors and, during the "angiogenic switch", the predominant angiogenic factors can activate quiescent endothelial cells, thus stimulating them to initiate migration, proliferation and organisation in tubular structure. Activators of endothelial-cell proliferation and migration are mainly receptor tyrosine kinase ligands, such as vascular endothelial growth factor (VEGF), fibroblast growth factor (FGF), platelet-derived growth factor (PDGF). A prototypical angiogenesis inhibitor is thrombospondin-1 and many other molecules have been identified, such as angiostatin and endostatin [
111
]. The importance of the angiogenic program in controlling tumor growth is underlined by antiangiogenic gene therapy as a new therapeutic approach to the treatment of cancer patients [
112
].
A large body of evidence demonstrate the pro-angiogenic role of ROS and results have been reviewed by several authors [
12
,
46
,
113
,
114
,
115
]. Exogenous ROS stimulate induction of VEGF, promote cell proliferation and migration [
116
,
117
,
118
,
119
], cytoskeletal reorganization [
120
] and tubular morphogenesis [
118
,
121
] in ECs. Moreover, ROS are involved in the production of pro-angiogenetic factors in different cell types, both of normal and tumoral origin [
46
,
113
,
122
,
123
]. As previously reported, the major source of ROS is aerobic respiration in the mitochondria. In tumor cells and in endothelial cells, ROS can also be generated by the NADPH-oxidase [
113
,
124
]. Modulation of the activity of this enzyme affects cell growth and angiogenesis in various experimental models [
125
,
126
,
127
]. For example, the transfection of NIH 3T3 cells with the Nox1 gene, a homolog of gp91
phox
, the catalytic subunit of the NADPH-oxidase, renders them capable of forming well vascularized tumors, whereas the parent cells form microscopic dormant tumors that are poorly vascularized. Similarly, Nox1 expression converts DU-145 prostate epithelial cells from weak to strong tumorigenic potential, with a corresponding increase in tumor vascularity, pointing out the generality of the angiogenic effect of Nox1 [
128
].
The angiogenic property of HNE is under investigation, but literature is still poor and conflicting results have been reported. HNE, at concentrations of 1.0 and 2.5 µM, significantly stimulated rat aortic smooth muscle cell growth and PDFG production [
129
]. Ayalasomayajula and Kompella reported an increase of VEGF expression in human retinal pigment epithelial cells after treatment with 1 µM HNE [
130
]. Moreover VEGF receptor 1 expression was induced in a dose-response manner in myeloid cells treated with 15 and 60 µM HNE [
122
]. However, the anti-angiogenic properties were recently demonstrated by Stagos and collaborators in human bone marrow endothelial cells (HBMEC) [
131
]. These authors demonstrated that 5 and 10 µM HNE were able to inhibit the tube formation of HBMEC cells. In an attempt to elucidate the mechanism, they demonstrated that this inhibition occurs at least in part
via
HNE-induced expression of chondromodulin-I (CHM-I), a protein with well-known anti-angiogenetic properties [
131
]. The anti-angiogenic property of HNE is also sustained by our recent findings on microRNA (miRNA) [
132
], a class of conserved non-coding small RNAs, which regulate gene expression by translation repression of coding mRNAs [
132
]. HNE, indeed, is able to modulate the expression of ten miRNAs in HL-60 human leukemic cells. Among them, we observed the down-regulation of miR-378 [
132
], which has been demonstrated to enhance cell survival, tumor growth, and angiogenesis in the human glioblastoma U-87 cell line [
134
], through repression of the expression of two tumor suppressors, Sufu and Fus-1. In accordance to these results, we demonstrated that HNE is also able to up-regulate Sufu expression in HL-60 cells after HNE-treatment [
132
].
3.5. Regulation of Cell Adhesion, Tumor Invasion and Metastasis
3.6. Regulation of Genomic Instability-DNA Repair
4. Concluding Remarks
In this review we summarised the different effects displayed by ROS and HNE in controlling carcinogenesis, cell proliferation and tumor progression and invasion. In all these areas the effects of ROS and HNE are different, in relation to doses, cell type and molecular pathway employed.
Moreover, for both ROS and HNE, the majority of experiments were performed "
in vitro
" and the lack of "
in vivo
" evidence limits the possibility for a real evaluation of their effects on tumor development. Indeed, in tumor tissue the presence of ROS, as well as of lipid peroxidation products, depends not only on their concentration in each tumor cell, that by virtue of the tumor heterogeneity, can be highly variable, but also on their concentration in surrounding tissue that may affect the tumor cell response. Finally, it must be underlined that both ROS and HNE are physiologically present in the cells and they play an important role in cell life. For this reason, it is very important to clarify the risks and benefits of a perturbation of ROS and HNE levels in tumor cells and in this field there is much work to be done.
Acknowledgements
Supported by grants from
Compagnia di San Paolo
and University of Turin (ex 60%) funds (GB).
© 2010 by the authors; licensee Molecular Diversity Preservation International, Basel, Switzerland. This article is an open access article distributed under the terms and conditions of the Creative Commons Attribution license (http://creativecommons.org/licenses/by/3.0/).