Surgery Triggers Outgrowth of Latent Distant Disease in Breast Cancer: An Inconvenient Truth?
1
Harvard School of Public Health, BLDG I, Rm 1311, 665 Huntington, Ave., Boston, MA 02115, USA
2
Department of Medical Oncology, Fondazione IRCCS Istituto Nazionale Tumori, Via Venezian 1, 20133 Milano, Italy
3
University of South Carolina School of Medicine, Columbia, SC, USA
4
Royal Free and UCL Medical School, Centre for Clinical Science and Technology, Clerkenwell Building, Archway Campus, Highgate Hill, London, N19 5LW, UK
5
Breast Unit, Department of General Surgery, James Paget University Hospital Gorleston, Great Yarmouth, UK
*
Author to whom correspondence should be addressed.
Received: 9 March 2010 / Revised: 25 March 2010 / Accepted: 26 March 2010 / Published: 30 March 2010
Abstract
We review our work over the past 14 years that began when we were first confronted with bimodal relapse patterns in two breast cancer databases from different countries. These data were unexplainable with the accepted continuous tumor growth paradigm. To explain these data, we proposed that metastatic breast cancer growth commonly includes periods of temporary dormancy at both the single cell phase and the avascular micrometastasis phase. We also suggested that surgery to remove the primary tumor often terminates dormancy resulting in accelerated relapses. These iatrogenic events are apparently very common in that over half of all metastatic relapses progress in that manner. Assuming this is true, there should be ample and clear evidence in clinical data. We review here the breast cancer paradigm from a variety of historical, clinical, and scientific perspectives and consider how dormancy and surgery-driven escape from dormancy would be observed and what this would mean. Dormancy can be identified in these diverse data but most conspicuous is the sudden synchronized escape from dormancy following primary surgery. On the basis of our findings, we suggest a new paradigm for early stage breast cancer. We also suggest a new treatment that is meant to stabilize and preserve dormancy rather than attempt to kill all cancer cells as is the present strategy.
View Full-Text
►

▼

Figures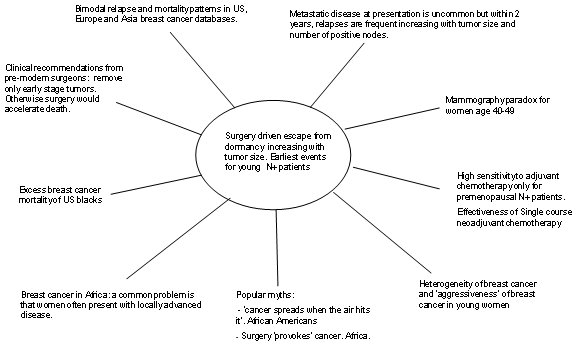 Share & Cite This Article
MDPI and ACS Style
Retsky, M.; Demicheli, R.; Hrushesky, W.; Baum, M.; Gukas, I. Surgery Triggers Outgrowth of Latent Distant Disease in Breast Cancer: An Inconvenient Truth? Cancers 2010, 2, 305-337.
Related Articles
Comments
[Return to top]