Open Access This article is
freely available
re-usable
Article
Glass Imprint Templates by Spark Assisted Chemical Engraving for Microfabrication by Hot Embossing
1
Department of Mechanical and Industrial Engineering, Concordia University, Montreal, QC H4B 1R6, Canada
2
FlowJEM Inc., 80 St. George Street, Toronto, ON M5S 3H6, Canada
3
Posalux SA, 18, Fritz Oppliger, CH-2504 Biel/Bienne, Switzerland
4
Département de Chimie, Université Laval, Québec, QC G1V 0A6, Canada
*
Correspondence: Tel.: +1-418-656-2131 (ext. 7157)
Academic Editor: Hongrui Jiang
Received: 21 December 2016 / Accepted: 16 January 2017 / Published: 23 January 2017
Abstract
:
As the field of microelectromechanical systems (MEMS) matures, new demands are being placed on the microfabrication of complex architectures in robust materials, such as hard plastics. Iterative design optimization in a timely manner—rapid prototyping—places challenges on template fabrication, for methods such as injection moulding and hot embossing. In this paper, we demonstrate the possibility of using spark assisted chemical engraving (SACE) to produce micro patterned glass templates. The direct, write-based approach enabled the facile fabrication of smooth microfeatures with variations in all three-dimensions, which could be replicated by hot embossing different thermoplastics. As a proof of principle, we demonstrated the technique for a high glass transition temperature polycarbonate. Good fidelity over more than 10 cycles provides evidence that the approach is viable for rapid prototyping and has the potential to satisfy commercial-grade production at medium-level output volumes. Glass imprint templates showed no degradation after use, but care must be taken due to brittleness. The technique has the potential to advance microfabrication needs in academia and could be used by MEMS product developers.
Keywords:
micro-fabrication; hot embossing; micro-machining; microfluidics; glass; thermoplastics; MEMS; spark assisted chemical engraving
2. Materials and Methods
Consumables included polycarbonate (PC) (Lexan 9034-112, Sabic Polymershapes, Brampton, ON, Canada), polypropylene (PP) (PolyPrime, Coquitlam, BC, Canada), cycloolifin polymer (COP) (Zeon, Zeonex, Louisville, KY, USA), polymethyl methacrylate (PMMA) (Plaskolite, Optix, Columbus, OH, USA), polystyrene (PS) (McMaster Carr, Elmhurst, IL, USA), polydimethyl siloxane (PDMS) (Sylgard184, Dow Corning, Midland, MI, USA), glass (borosilicate, square 50.8 mm, thickness = 3.175 mm, Corning Inc., Corning, NY, USA), potassium hydroxide (KOH Cas 1310-58-3, Cayman Chemical Company, Ann Arbor, MI, USA), tool-electrodes (tungsten carbide cylinders, diameter = 100 µm, Posalux SA, Biel/Bienne, Switzerland), and Trichloro (1
H
,1
H
,2
H
,2
H
-perfluorooctyl) silane (Sigma-Aldrich, Oakville, ON, Canada).
Milling designs were created using computer-aided design software (AutoCAD 2015, AutoDesk San Rafael, CA, USA). Glass machining was conducted using an industrial SACE system (Microfor SACE, Posalux SA, Biel/Bienne, Switzerland) and a home-build lab SACE set-up (SACE1, Electrochemical Green Engineering Group, Concordia University, Montreal, QC, Canada). A universal motion controller (XPS-C4, Newport, Irvine, CA, USA) was used to program the
x
,
y
,
z
axes.
z
-Direction control was achieved by a proportional–integral–derivative (PID) control loop using an optical sensor and voicecoil actuator on the machining head.
Embossing was accomplished using a converted hydraulic press (Model 3851-C Carver Inc., Wabash, IN, USA) with ±1 °C temperature control, compressed gas cooling was applied to the top and bottom platens, and ±0.05 MPa pressure control was applied between the platens. Embossing was conducted inside a custom compression chamber that was placed between the top and bottom platens, with leads for gas exchange and vacuum control. The temperatures inside the embossing chamber were determined to be 4–6 °C lower than the platen set values. No determination of the real pressures applied to the embossing tool and plastic substrate was made, but it was estimated to be between 0.2 and 0.4 MPa lower than the value determined by the external pressure gauge.
Evaluation of the microfeatures on the embossing template and embossed polymer substrate was conducted using optical profilometry (Veeco NT 1100, Veeco, Plainview, NY, USA) and optical microscopy (Olympus BX41, Olympus, Center Valley, PA, USA) was combined with the application of a charge-coupled device (CCD) camera (EvolutionTM VF, Media Cybernetics Inc., Silver Spring, MD, USA) using ImagePro software. Root mean square (RMS) roughness was conducted on optical profile images using the plugin "Analyse Stripes" in the open source software ImageJ (software developed by contributors worldwide).
3. Results and Discussion
4. Conclusions
In this work, the use of SACE milled glass templates for the embossing of microstructures in thermoplastics was demonstrated. This technique had the advantage of rapidly and accurately introducing features into glass substrates, with good control over all three dimensions. Optimization of the technique for generating smooth surfaces was demonstrated using a new commercially available SACE machine. With proper care during embossing, the use of glass templates provides a viable alternative to expensive and time-consuming template fabrication methods. Here, it is demonstrated that repeated embossing cycles (
n
> 10) generate samples with minimal variation in their features from run-to-run, especially for small features. This preliminary work opens the door to further developments that can significantly reduce the time and cost required for the production of microfabricated plastic parts.
Acknowledgments
This work was supported by the Natural Sciences and Engineering Research Council of Canada (NSERC). L.A.H. would like to thank the Ministère de l'Education, de l'Enseignement supérieur, et de la Recherche (MEESR), for the bourse d'excellence pour étudiants étrangers (V1). Furthermore, the authors would like to acknowledge Posalux SA and C. Goyer for the use of the Microfor SACE machine.
Author Contributions
L.A.H. initiated the project with J.G., designed and prepared CAD files, fabricated the glass moulds and characterized them and contributed in writing the paper; X.G. prepared CAD files and conduced embossing, moulding and characterization of polymer and glass parts; M.S. conduced fabrication by embossing and some characterization of embossed polymer parts; R.W. oversaw the project regarding glass mould fabrication by SACE technology; J.G. conceived of and oversaw the project and wrote the paper.
Conflicts of Interest
The authors declare no conflict of interest. The founding sponsors had no role in the design of the study; in the collection, analyses, or interpretation of data; in the writing of the manuscript, and in the decision to publish the results.
References
Berthier, E.; Young, E.W.K.; Beebe, D. Engineers are from PDMS-land, biologists are from polystyrenia.

Lab Chip

2012,

12

, 1224–1237. [Google Scholar] [CrossRef] [PubMed]
Yole Development Market and Technology Trends for Microfluidic Applications—21 September 2011. Unpublished work.
Cameron, N.S.; Roberge, H.; Veres, T.; Jakeway, S.C.; John Crabtree, H. High fidelity, high yield production of microfluidic devices by hot embossing lithography: Rheology and stiction.

Lab Chip

2006,

6

, 936–941. [Google Scholar] [CrossRef] [PubMed]
Greener, J.; Li, W.; Ren, J.; Voicu, D.; Pakharenko, V.; Tang, T.; Kumacheva, E. ESI: Rapid, cost-efficient fabrication of microfluidic reactors in thermoplastic polymers by combining photolithography and hot embossing.

Lab Chip

2010,

10

, 522–524. [Google Scholar] [CrossRef] [PubMed]
Leech, P.W. Hot Embossing of Microchannels in Cyclic Olefin Copolymer.

Camb. J. Online

2009,

1191

, 1–12. [Google Scholar] [CrossRef]
Gates, B.D.; Xu, Q.; Love, J.C.; Wolfe, D.B.; Whitesides, G.M. Unconventional nanofabrication.

Annu. Rev. Mater. Res.

2004,

34

, 339–372. [Google Scholar] [CrossRef]
Yao, D.; Nagarajan, P.; Li, L.; Yi, A.Y. A two-station embossing process for rapid fabrication of surface microstructures on thermoplastic polymers.

Polym. Eng. Sci.

2007,

47

, 530–539. [Google Scholar] [CrossRef]
Schaller, T.; Bohn, L.; Mayer, J.; Schubert, K. Microstructure grooves with a width of less than 50 μm cut with ground hard metal micro end mills.

Precis. Eng.

1999,

23

, 229–235. [Google Scholar] [CrossRef]
Shiu, P.P.; Knopf, G.K.; Ostojic, M.; Nikumb, S. Rapid fabrication of tooling for microfluidic devices via laser micromachining and hot embossing.

J. Micromech. Microeng.

2008,

18

, 25012. [Google Scholar] [CrossRef]
Shibata, T.; Takahashi, Y.; Kawashima, T.; Kubota, T.; Mita, M.; Mineta, T.; Makino, E. Micromachining of electroformed nickel mold using thick photoresist microstructure for imprint technology.

Microsyst. Technol.

2008,

14

, 1359–1365. [Google Scholar] [CrossRef]
Novak, R.; Ranu, N.; Mathies, R.A. Rapid fabrication of nickel molds for prototyping embossed plastic microfluidic devices.

Lab Chip

2013,

13

, 1468–1471. [Google Scholar] [CrossRef] [PubMed]
Debono, M.; Voicu, D.; Pousti, M.; Safdar, M.; Young, R.; Kumacheva, E.; Greener, J. One-step fabrication of microchannels with integrated three dimensional features by hot intrusion embossing.

Sensors

2016,

16

, 2023. [Google Scholar] [CrossRef] [PubMed]
Zhang, L.; Gu, F.; Tong, L.; Yin, X. Simple and cost-effective fabrication of two-dimensional plastic nanochannels from silica nanowire templates.

Microfluid. Nanofluid.

2008,

5

, 727–732. [Google Scholar] [CrossRef]
Niino, H.; Ding, X.; Kurosaki, R.; Narazaki, A.; Sato, T.; Kawaguchi, Y. Imprinting by hot embossing in polymer substrates using a template of silica glass surface-structured by the ablation of LIBWE method.

Appl. Phys. A

2004,

79

, 827–828. [Google Scholar] [CrossRef]
Iliescu, C.; Taylor, H.; Avram, M.; Miao, J.; Franssila, S. A practical guide for the fabrication of microfluidic devices using glass and silicon.

Biomicrofluidics

2012,

6

, 016505. [Google Scholar] [CrossRef] [PubMed]
Wüthrich, R.; Ziki, J.D.A.

Micromachining Using Electrochemical Discharge Phenomenon

, 2nd ed.; Wüthrich, R., Ziki, J.D.A., Eds.; William Andrew Publishing: Boston, MA, USA, 2015. [Google Scholar]
Van Toan, N.; Toda, M.; Ono, T. An investigation of processes for glass micromachining.

Micromachines

2016,

7

, 19–22. [Google Scholar] [CrossRef]
Liu, J.W.; Huang, Q.A; Shang, J.T.; Tang, J.Y. Micromachining of Pyrex7740 Glass for Micro-Fluidic Devices. In Proceedings of the 14th International Conference on Miniaturized Systems for Chemistry and Life Sciences, Groningen, The Netherlands, 3–7 October 2010; pp. 1907–1909.
Haque, R.U.M.; Wise, K.D. A glass-in-silicon reflow process for three-dimensional microsystems.

J. Microelectromech. Syst.

2013,

22

, 1470–1477. [Google Scholar] [CrossRef]
Wüthrich, R.; Fascio, V. Machining of non-conducting materials using electrochemical discharge phenomenon—An overview.

Int. J. Mach. Tools Manuf.

2005,

45

, 1095–1108. [Google Scholar] [CrossRef]
Abou Ziki, J.D.; Hof, L.A.; Wüthrich, R. The machining temperature during spark assisted chemical engraving of glass.

Manuf. Lett.

2015,

3

, 9–13. [Google Scholar] [CrossRef]
Le Bourhis, E.

Glass, Mechanics and Technology

; Wiley-VCH: Weinheim, Germany, 2014. [Google Scholar]
Zumdahl, S.S.; DeCoste, D.J.

Introductory Chemistry

, 7th ed.; White, A., Ed.; Brooks/Cole, Cengage Learning: Boston, MA, USA, 2010. [Google Scholar]
Boyd, D.C.; Danielson, P.S.; Thompson, D.A.; Velez, M.; Reis, S.T.; Brow, R. Glass. In

Kirk-Othmer Encyclopedia of Chemical Technology

; Wiley: Hoboken, NJ, USA, 2004. [Google Scholar]
Zheng, Z.-P.; Su, H.-C.; Huang, F.-Y.; Yan, B.-H. The tool geometrical shape and pulse-off time of pulse voltage effects in a Pyrex glass electrochemical discharge microdrilling process.

J. Micromech. Microeng.

2007,

17

, 265–272. [Google Scholar] [CrossRef]
Cao, X.D.; Kim, B.H.; Chu, C.N. Micro-structuring of glass with features less than 100 μm by electrochemical discharge machining.

Precis. Eng.

2009,

33

, 459–465. [Google Scholar] [CrossRef]
Chak, S.K.; Venkateswara Rao, P. The drilling of Al2O3 using a pulsed DC supply with a rotary abrasive electrode by the electrochemical discharge process.

Int. J. Adv. Manuf. Technol.

2008,

39

, 633–641. [Google Scholar] [CrossRef]
Liu, J.W.; Yue, T.M.; Guo, Z.N. An analysis of the discharge mechanism in electrochemical discharge machining of particulate reinforced metal matrix composites.

Int. J. Mach. Tools Manuf.

2010,

50

, 86–96. [Google Scholar] [CrossRef]
Kim, M.; Moon, B.-U.; Hidrovo, C.H. Enhancement of the thermo-mechanical properties of PDMS molds for the hot embossing of PMMA microfluidic devices.

J. Micromech. Microeng.

2013,

23

, 95024. [Google Scholar] [CrossRef]
Jaszewski, R.W.; Schift, H.; Gobrecht, J.; Smith, P. Hot embossing in polymers as a direct way to pattern resist.

Microelectron. Eng.

1998,

41

, 575–578. [Google Scholar] [CrossRef]
Soga, N. Elastic moduli and fracture toughness of glass.

J. Non Cryst. Solids

1985,

73

, 305–313. [Google Scholar] [CrossRef]
Yamane, M.; Mackenzie, J.D. Vicker's Hardness of glass.

J. Non Cryst. Solids

1974,

15

, 153–164. [Google Scholar] [CrossRef]
Saint Gobain Glass Glass Physical Properties. Available online: http://uk.saint-gobain-glass.com/trade-customers/physical-properties (accessed on 15 February 2016).
Wilantewicz, T.E.; Varner, J.R. Vickers indentation behavior of several commercial glasses at high temperatures.

J. Mater. Sci.

2008,

43

, 281–298. [Google Scholar] [CrossRef]
Denry, I.L.; Holloway, J.A. Elastic constants, Vickers hardness, and fracture toughness of fluorrichterite-based glass-ceramics.

Dent. Mater.

2004,

20

, 213–219. [Google Scholar] [CrossRef]
Matzke, H.; Toscano, E.; Routbort, J.; Reimann, K. Temperature dependence and fracture toughness and elastic moduli of a waste glass.

J. Am. Ceram. Soc.

1986,

69

, C-138–C-139. [Google Scholar] [CrossRef]
Petit, F.; Sartieaux, A.C.; Gonon, M.; Cambier, F. Fracture toughness and residual stress measurements in tempered glass by Hertzian indentation.

Acta Mater.

2007,

55

, 2765–2774. [Google Scholar] [CrossRef]
Johnston, I.D.; McCluskey, D.K.; Tan, C.K.L.; Tracey, M.C. Mechanical characterization of bulk Sylgard 184 for microfluidics and microengineering.

J. Micromech. Microeng.

2014,

24

, 35017. [Google Scholar] [CrossRef]
MIT Material Properties PDMS. Available online: http://www.mit.edu/~6.777/matprops/pdms.htm (accessed on 5 March 2016).
Greer, A.I.M.; Vasiev, I.; Della-Rosa, B.; Gadegaard, N. Fluorinated ethylene–propylene: A complementary alternative to PDMS for nanoimprint stamps.

Nanotechnology

2015,

27

, 155301. [Google Scholar] [CrossRef] [PubMed]
Microchem Material Properties. Available online: http://www.microchem.com/pdf/SU-8 3000 Data Sheet.pdf (accessed on 5 March 2016).
Hammacher, J.; Fuelle, A.; Flaemig, J.; Saupe, J.; Loechel, B.; Grimm, J. Stress engineering and mechanical properties of SU-8-layers for mechanical applications.

Microsyst. Technol.

2008,

14

, 1515–1523. [Google Scholar] [CrossRef]
Jena, R.K.; Yue, C.Y.; Yun, K.X. Effect of a CNT based composite micromold on the replication fidelity during the microfabrication of polymeric microfluidic devices.

RSC Adv.

2014,

4

, 12448–12456. [Google Scholar] [CrossRef]
Cytec Idustries Inc. Conapoxy FR-1080. Available online: http://www.needfill.co.kr/cd/FR-1080.html (accessed on 5 March 2016).
Ellsworthadhesives Epoxy Resins Material Properties. Available online: http://www.ellsworthadhesives.co.uk/media/wysiwyg/files/cytec/CytecElectronicsBrochure-EU.pdf (accessed on 5 March 2016).
Statistics based on 2011–2016 order statistics from FlowJEM Inc. Unpublished work.
Figure 1. (a) Laboratory spark assisted chemical engraving (SACE) versatile glass micromachining setup. (b) Chemical mechanism responsible for the localized degradation of the SiO2 network at the SACE tool tip (blue). (c) Image of the industrial Microfor SACE machine (Posalux SA) used in this work with inset showing a close up of the machining zone.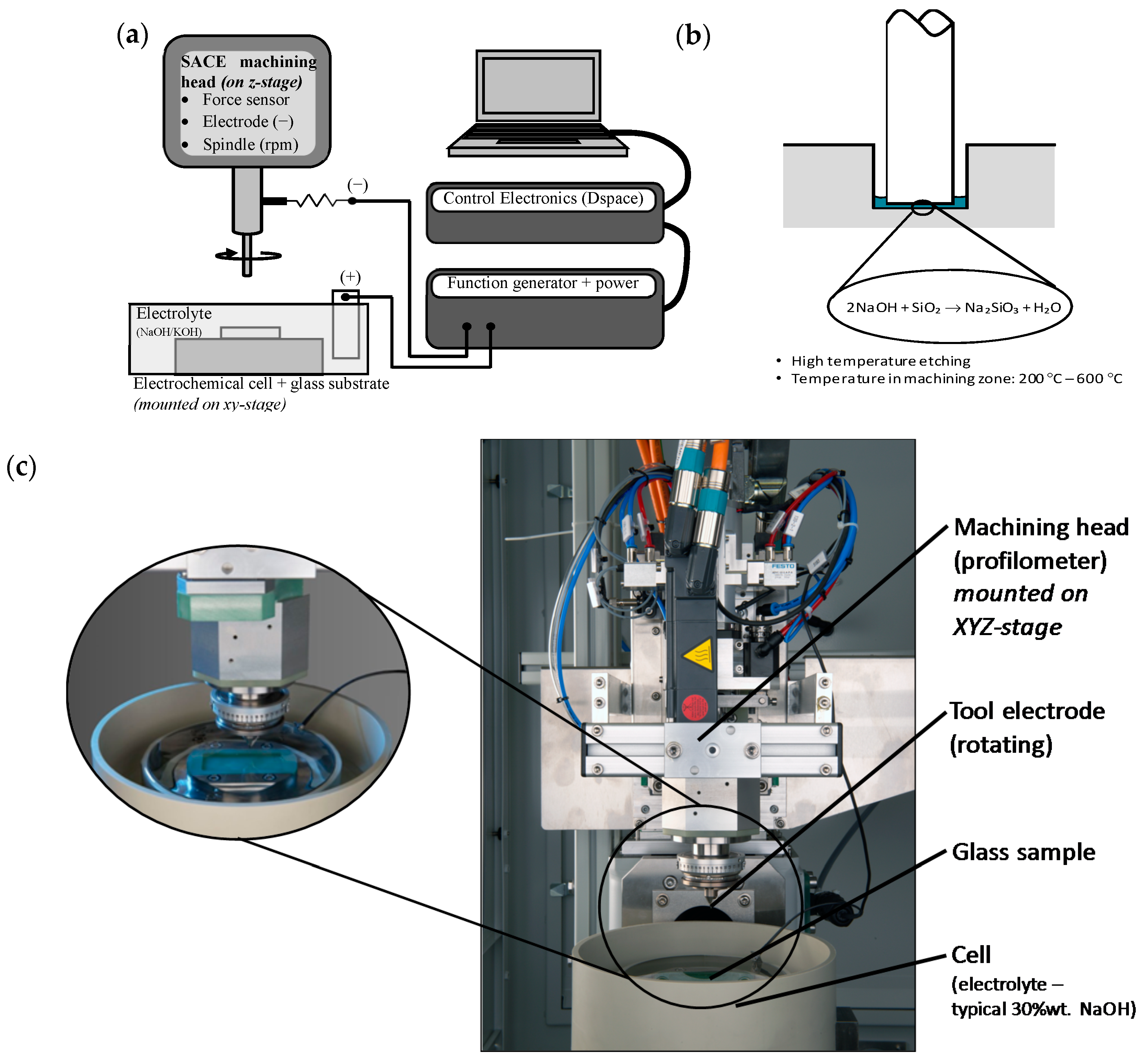 Figure 2. A graphic highlighting 3D drilling, milling, and cutting machining operations performed on the same glass substrate.
Figure 3. Top-view microscope images of example surfaces after SACE milling: a cut made with the lab set-up (a) and a cut made on the industrial Microfor SACE machine (Posalux SA) (b). Scale bars are in 50 µm.
Figure 4. A schematic from the CAD file (a) that was used to produce the glass template by SACE milling for this work (b). Highlighted regions include drill arrays (red box 1–4) and trenches ("a"–"f", "A", "B"). A schematic showing a double replication procedure of the original template (black) for producing positive replicates in PDMS (white) (c).
Figure 5.
The process of embossing includes (
a
) putting a polymer sheet in light contact with the glass template while the system temperature is elevated to
T
e
. (
b
) After stabilization of temperature, embossing pressure is applied and the heated polymer conforms to the template bas-relief features. (
c
) After cooling to
T
d
, the master is separated from the patterned polymer. Optical profilometry of (
d
) features on the glass template and (
e
) the embossed PC substrate for vertical drill holes (
i
), straight trenches (
ii
), and spiral pattern (
iii
). Red and blue colours show raised and recessed surfaces, respectively. Inset figures for straight trenches in glass and the corresponding embossed PC were acquired from microscopy of cross-sections. Scale bars for template images (
d
) are each 1 mm and common for the corresponding image in (
e
).
Table 1. SACE machining conditions.
Feature
Machining Mode
Electrolyte
Pulsed Voltage Input
High Level
Low Level
Period
Duty Cycle
Channels/lines
Constant depth-of-cut (50 µm) ×

n

20 wt % KOH
36 V
17.5 V
2.6 ms
96.15%
Holes
Gravity feed drilling
20 wt % KOH
36 V
17.5 V
2.6 ms
96.15%
Table 2. Comparison of relevant properties for different hot embossing template materials.

| Material | Linear Temp. Expansion Coefficient (µm∙(m∙k)−1) | Thermal Conductivity (W∙(m∙k)−1) | Hardness (GPa) | Fracture Toughness (MPa∙m1/2) | Tensile Strength (MPa) | Compressive Strength (MPa) |
| --- | --- | --- | --- | --- | --- | --- |
| Glass borosilicate (toughened) [33] | 4.0 | 1.05 | 6.2 [34,35] | 0.7 [36]/2 [37] | 30/200 | 1000 |
| PDMS (Stylgard 184) [38] | 310 | 0.15 [39] | N/A 1 | - | 7 [40] | 2–50 |
| Photoresist (SU-8 series) [41] | 52 | 0.2 | 0.3 [42] | - | 73 | - |
| Epoxy resins [43] | - | - | N/A 2 [43,44] | 400 | 70 [45] | - |
| Ni | 13.0 | 91 | 6.3–11.8 | 100–150 | - | - |
1 The elastomer PDMS has a measured hardness of 50 in the Shore A scale, a scale ranging from 1 to 100 for the softest polymer materials; 2 the resin elastomer Conapoxy has a measured hardness of 90 in the Shore D scale, a scale ranging from 1 to 100 for the hardest polymer based materials.
Table 3. Material properties and embossing conditions for materials used in this study.
Material
Material Properties
Embossing Conditions

T

g 1 (°C)

T

m 1 (°C)

t

d 2 (min)

T

e/

T

d 3 (°C)

p

4 (PSI)

t

e 5 (min)
COP
138
210
50–100
150/130
70
5
PMMA
113
160
75–90
145/80
130
5
PC
149
155
40–80
175/145
150
5
PS
101
240
70–80
115–125/100
120–130
5
PP
−6
164
N/A
145/100
150
5
1

T

g and

T

m are the glass transition temperature and melting point, respectively; 2

t

d is the material dehydration time as recommended by the manufacturer; 3

T

e and

T

d are the embossing and de-embossing temperatures, respectively; 4

p

is the embossing pressure which is held for 2 min; 5

t

e is the temperature stabilization time at the embossing temperature before pressure is applied.
Table 4. Embossing results for substrates after embossing process cycles one, five and eleven.
Feature
Glass Template
1st Embossing
5th Embossing
11th Embossing
Feature Statistics Line a, d, f
Name

d

Image

d

w

Rq

d

w

Rq

d

w

Rq

d

w

Rq

Average

d

,

w

,

Rq

Line a
50
42
251
6.9
42
237
5.3
42
239
3.5
41
239
3.1
Line d
350
361
318
8.8
362
316
8.8
358
313
5.0
359
312
8.4
Line f
550
565
457
11.6
556
471
18.5
560
491
9.4
554
451
6.2
All dimensions (

d, w, Rq

) are in micrometers. Image resolution in the

z

-direction was ±4 µm.
© 2017 by the authors; licensee MDPI, Basel, Switzerland. This article is an open access article distributed under the terms and conditions of the Creative Commons Attribution (CC BY) license (http://creativecommons.org/licenses/by/4.0/).