3-D Micro and Nano Technologies for Improvements in Electrochemical Power Devices
1
Department of Mechanical and Aerospace Engineering, University of California, Irvine, 5200 Engineering Hall, Irvine, CA 92697, USA
2
Department of Physics and Astronomy, University of California, Irvine, 4129 Frederick Reines Hall, Irvine, CA 92697, USA
3
Department of Biomedical Engineering, University of California, Irvine, 5200 Engineering Hall, Irvine, CA 92697, USA
*
Authors to whom correspondence should be addressed.
Received: 17 February 2014 / Revised: 27 March 2014 / Accepted: 28 March 2014 / Published: 8 April 2014
(This article belongs to the Special Issue
Power MEMS
)
Abstract
This review focuses on recent advances in micro- and nano-fabrication techniques and their applications to electrochemical power devices, specifically microfabricated Lithium-ion batteries, enzymatic and microbial fuel cells (biofuel cells), and dye-sensitized solar cells (DSSCs). Although the maturity of these three technologies ranges from market ready (batteries) to fundamental research (biofuel cells) to applied research (DSSCs), advances in MEMS (Micro-Electro-Mechanical Systems) and NEMS (Nano-Electro-Mechanical Systems) techniques, particularly modifications in surface area and surface chemistry, and novel genetic and molecular engineering techniques, significantly improve the electrochemical activity of these technologies across the board. For each of these three categories of power-MEMS devices the review covers: (1) The technical challenges facing the performance and fabrication of electrochemical power devices; (2) Current MEMS and NEMS techniques used to improve efficiency; and (3) Future outlook and suggested improvements of MEMS and NEMS for implementation in electrochemical power devices.
View Full-Text
►

▼

Figures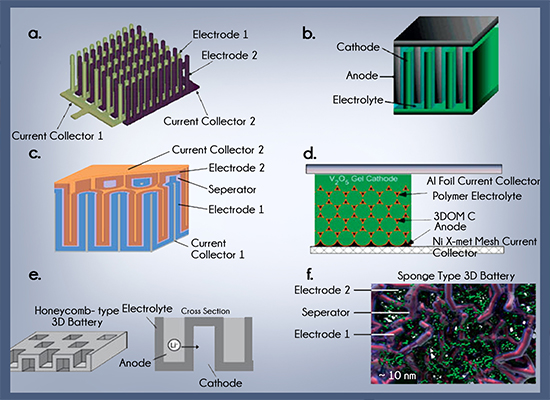 Share & Cite This Article
MDPI and ACS Style
Holmberg, S.; Perebikovsky, A.; Kulinsky, L.; Madou, M. 3-D Micro and Nano Technologies for Improvements in Electrochemical Power Devices. Micromachines 2014, 5, 171-203.
Related Articles
Comments
[Return to top]