Urinary Sodium-to-Potassium Ratio Tracks the Changes in Salt Intake during an Experimental Feeding Study Using Standardized Low-Salt and High-Salt Meals among Healthy Japanese Volunteers
1
Department of Pharmacology, Fukushima Medical University School of Medicine, Fukushima 960-1295, Japan
2
Department of Nephrology, Hypertension, Diabetology, Endocrinology and Metabolism, Fukushima Medical University School of Medicine, Fukushima 960-1295, Japan
3
Department of Medicine II, Endocrinology and Hypertension, Tokyo Women's Medical University, Tokyo 162-8666, Japan
4
Research and Development Department, Omron Healthcare Co., Ltd., Muko 617-0002, Japan
5
Department of Public Health, Shiga University of Medical Science, Shiga 520-2192, Japan
6
Department of Pathology, University of Virginia Health System, Charlottesville, VA 22908, USA
7
Center for Epidemiologic Research in Asia, Shiga University of Medical Science, Shiga 520-2192, Japan
*
Author to whom correspondence should be addressed.
Received: 6 June 2017 / Revised: 15 August 2017 / Accepted: 25 August 2017 / Published: 29 August 2017
Abstract
The Na/K ratio is considered to be a useful index, the monitoring of which allows an effective Na reduction and K increase, because practical methods (self-monitoring devices and reliable individual estimates from spot urine) are available for assessing these levels in individuals. An intervention trial for lowering the Na/K ratio has demonstrated that a reduction of the Na/K ratio mainly involved Na reduction, with only a small change in K. The present study aimed to clarify the relationship between dietary Na intake and the urinary Na/K molar ratio, using standardized low- and high-salt diets, with an equal dietary K intake, to determine the corresponding Na/K ratio. Fourteen healthy young adult volunteers ingested low-salt (3 g salt per day) and high-salt (20 g salt per day) meals for seven days each. Using a portable urinary Na/K meter, participants measured their spot urine at each voiding, and 24-h urine was collected on the last day of each diet period. On the last day of the unrestricted, low-salt, and high-salt diet periods, the group averages of the 24-h urine Na/K ratio were 4.2, 1.0, and 6.9, while the group averages of the daily mean spot urine Na/K ratio were 4.2, 1.1, and 6.6, respectively. The urinary Na/K ratio tracked changes in dietary salt intake, and reached a plateau approximately three days after each change in diet. Frequent monitoring of the spot urine Na/K ratio may help individuals adhere to an appropriate dietary Na intake.
View Full-Text
►

▼

Figures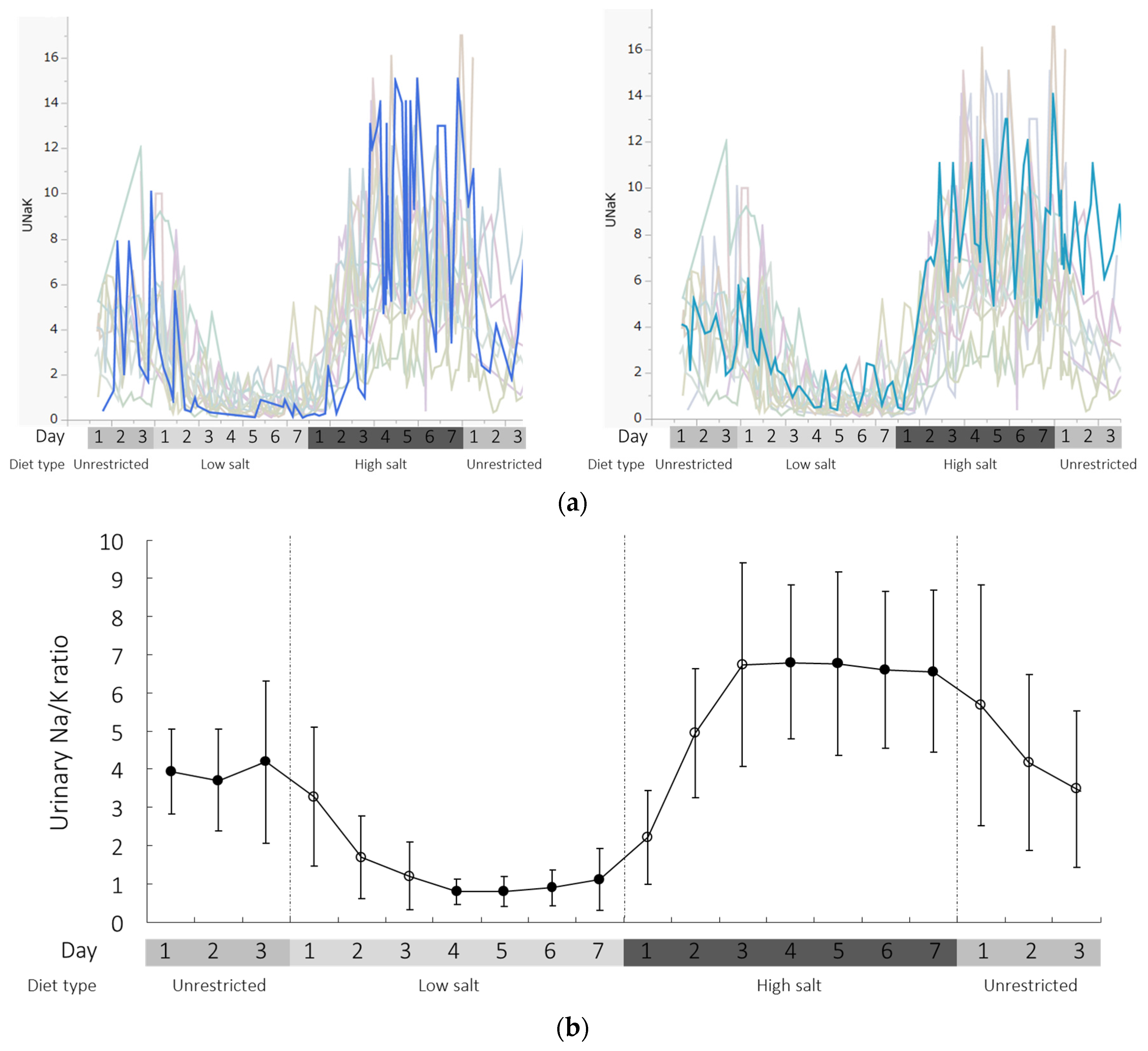 Figure 1
This is an open access article distributed under the
Creative Commons Attribution License
which permits unrestricted use, distribution, and reproduction in any medium, provided the original work is properly cited. (CC BY 4.0).
Share & Cite This Article
MDPI and ACS Style
Yatabe, M.S.; Iwahori, T.; Watanabe, A.; Takano, K.; Sanada, H.; Watanabe, T.; Ichihara, A.; Felder, R.A.; Miura, K.; Ueshima, H.; Kimura, J.; Yatabe, J. Urinary Sodium-to-Potassium Ratio Tracks the Changes in Salt Intake during an Experimental Feeding Study Using Standardized Low-Salt and High-Salt Meals among Healthy Japanese Volunteers. Nutrients 2017, 9, 951.
Note that from the first issue of 2016, MDPI journals use article numbers instead of page numbers. See further details here.
Related Articles
Comments
[Return to top]