Genistein Supplementation and Cardiac Function in Postmenopausal Women with Metabolic Syndrome: Results from a Pilot Strain-Echo Study
1
Department of Clinical and Experimental Medicine, University of Messina, 98100 Messina, Italy
2
Department of Economics, Business, Environmental Science and Quantitative Methodologies, University of Messina, 98100 Messina, Italy
3
Department of Experimental, Specialized Medical and Surgical and Odonto-stomatological Sciences, University of Messina, 98100 Messina, Italy
4
Department of Pediatric, Gynecological, Microbiological, and Biomedical Sciences, University of Messina, 98100 Messina, Italy
5
Department of Clinical and Experimental Medicine, University Magna Græcia, 88100 Catanzaro, Italy
6
Department of Cardiology, SS. Annunziata Hospital, 12038 Savigliano (CN), Italy
7
Centre of Research for Effectiveness and Appropriateness in Medicine (C.R.E.A.M.), Di.Bi.M.I.S., University of Palermo, 90127 Palermo, Italy
8
Department of Internal Medicine, National Relevance and High Specialization Hospital Trust ARNAS Civico, Di Cristina, Benfratelli, 90127 Palermo, Italy
*
Author to whom correspondence should be addressed.
Received: 21 April 2017 / Revised: 30 May 2017 / Accepted: 31 May 2017 / Published: 7 June 2017
Abstract
Genistein, a soy-derived isoflavone, may improve cardiovascular risk profile in postmenopausal women with metabolic syndrome (MetS), but few literature data on its cardiac effects in humans are available. The aim of this sub-study of a randomized double-blind case-control study was to analyze the effect on cardiac function of one-year genistein dietary supplementation in 22 post-menopausal patients with MetS. Participants received 54 mg/day of genistein (
n
= 11) or placebo (
n
= 11) in combination with a Mediterranean-style diet and regular exercise. Left ventricular (LV) systolic function was assessed as the primary endpoint, according to conventional and strain-echocardiography measurements. Also, left atrial (LA) morphofunctional indices were investigated at baseline and at the final visit. Results were expressed as median with interquartile range (IQ). A significant improvement of LV ejection fraction (20.3 (IQ 12.5) vs. −1.67 (IQ 24.8);
p
= 0.040)), and LA area fractional change (11.1 (IQ 22.6) vs. 2.8 (9.5);
p
= 0.034)) were observed in genistein patients compared to the controls, following 12 months of treatment. In addition, body surface area indexed LA systolic volume and peak LA longitudinal strain significantly changed from basal to the end of the study in genistein-treated patients. One-year supplementation with 54 mg/day of pure genistein improved both LV ejection fraction and LA remodeling and function in postmenopausal women with MetS.
View Full-Text
►

▼

Figures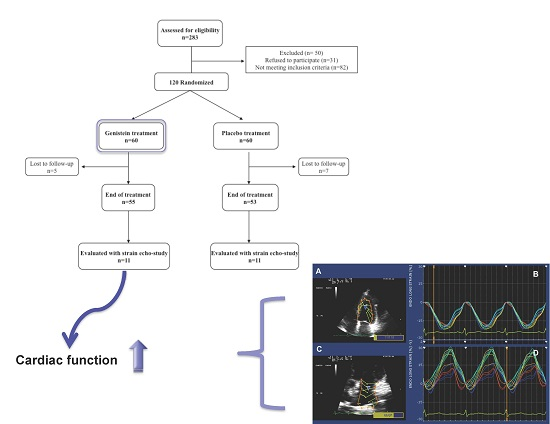 This is an open access article distributed under the
Creative Commons Attribution License
which permits unrestricted use, distribution, and reproduction in any medium, provided the original work is properly cited. (CC BY 4.0).
Share & Cite This Article
MDPI and ACS Style
de Gregorio, C.; Marini, H.; Alibrandi, A.; Di Benedetto, A.; Bitto, A.; Adamo, E.B.; Altavilla, D.; Irace, C.; Di Vieste, G.; Pancaldo, D.; Granese, R.; Atteritano, M.; Corrao, S.; Licata, G.; Squadrito, F.; Arcoraci, V. Genistein Supplementation and Cardiac Function in Postmenopausal Women with Metabolic Syndrome: Results from a Pilot Strain-Echo Study. Nutrients 2017, 9, 584.
Note that from the first issue of 2016, MDPI journals use article numbers instead of page numbers. See further details here.
Related Articles
Comments
[Return to top]