Involvement of UDP-Glucuronosyltransferases and Sulfotransferases in the Excretion and Tissue Distribution of Resveratrol in Mice
1
Department of Pharmaceutical Sciences, Division of Clinical Pharmacy and Diagnostics, University of Vienna, Vienna 1010, Austria
2
Institute of Cancer Research and Comprehensive Cancer Center, Department of Medicine I, Medical University of Vienna, Vienna 1010, Austria
3
Department of Pathology and Lab Medicine, UCLA School of Medicine and School of Public Health, University of California at Los Angeles, Los Angeles, CA 90095, USA
4
Saint-Antoine Research Center, Sorbonne University, Paris 75005, France
5
Department of Pathophysiology and Allergy Research, Center of Pathophysiology, Medical University of Vienna, Vienna 1010, Austria
6
Department of Medical and Chemical Laboratory Diagnostics, Medical University of Vienna, Vienna 1010, Austria
*
Author to whom correspondence should be addressed.
Received: 26 October 2017 / Revised: 27 November 2017 / Accepted: 7 December 2017 / Published: 12 December 2017
Abstract
Resveratrol is a naturally occurring polyphenolic compound with various pharmacological activities. It is unknown whether the expression of metabolizing enzymes correlates with resveratrol levels in organs and tissues. Therefore, we investigated the metabolism and tissue distribution of resveratrol in mice and assessed its association with the expression of UDP-glucuronosyltransferase (Ugt) and sulfotransferase (Sult) genes. Plasma, urine, feces, and various organs were analyzed using high-performance liquid chromatography at up to 8 h after intragastric resveratrol administration. The metabolism of resveratrol was pronounced, leading to the formation of resveratrol glucuronides and sulfates. Concentrations of resveratrol and its metabolites were high in the gastrointestinal organs, urine, and feces, but low in the liver and kidneys. In lung, heart, thymus, and brain tissues, parent resveratrol levels exceeded the sulfate and glucuronide concentrations. The formation of resveratrol conjugates correlated with the expression of certain
Ugt
and
Sult
genes. Reverse transcription quantitative PCR (RT-qPCR) analysis revealed high mRNA expression of
Ugt1a1 and Ugt1a6a
in the liver, duodenum, jejunum, ileum, and colon, leading to high concentrations of resveratrol-3-O-glucuronide in these organs. Strong correlations of resveratrol-3-O-sulfate and resveratrol-3-O-4′-O-disulfate formation with
Sult1a1
mRNA expression were also observed, particularly in the liver and colon. In summary, our data revealed organ-specific expression of
Sults and Ugts
in mice that strongly affects resveratrol concentrations; this may also be predictive in humans following oral uptake of dietary resveratrol.
View Full-Text
►

▼

Figures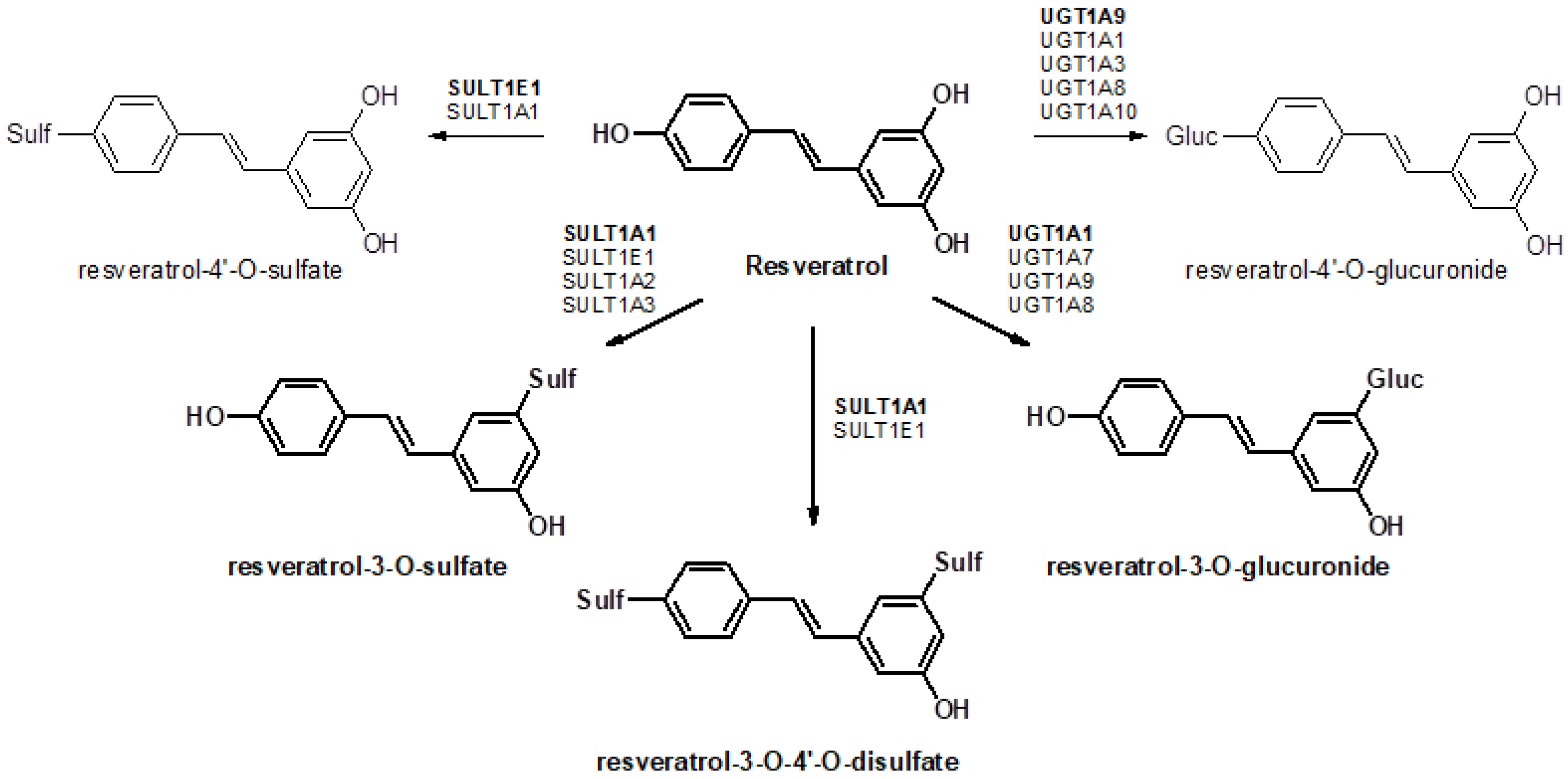 Figure 1
This is an open access article distributed under the
Creative Commons Attribution License
which permits unrestricted use, distribution, and reproduction in any medium, provided the original work is properly cited. (CC BY 4.0).
Share & Cite This Article
MDPI and ACS Style
Böhmdorfer, M.; Szakmary, A.; Schiestl, R.H.; Vaquero, J.; Riha, J.; Brenner, S.; Thalhammer, T.; Szekeres, T.; Jäger, W. Involvement of UDP-Glucuronosyltransferases and Sulfotransferases in the Excretion and Tissue Distribution of Resveratrol in Mice. Nutrients 2017, 9, 1347.
Note that from the first issue of 2016, MDPI journals use article numbers instead of page numbers. See further details here.
Related Articles
Comments
[Return to top]