Open Access This article is
freely available
re-usable
Review
Protein Requirements during Aging
1
Research Institute, Hospital for Sick Children, Toronto, ON M5G 1X8, Canada
2
Faculty of Kinesiology and Physical Education, University of Toronto, Toronto, ON M5S 2W6, Canada
3
Agricultural, Food and Nutritional Science, University of Alberta, Edmonton, AB T6G 2R3, Canada
4
Department of Paediatrics, University of Toronto, Toronto, ON M5G 1X8, Canada
5
Nutritional Sciences, University of Toronto, Toronto, ON M5S 3E2, Canada
6
Department of Pediatrics, University of British Columbia, Vancouver, BC V6H 3V4, Canada
7
Research Institute, BC Children's Hospital, Vancouver, BC V5Z 4H4, Canada
8
School of Population and Public Health, University of British Columbia, Vancouver, BC V6T 1Z3, Canada
*
Correspondence: Tel.: +1-604-875-2000 (ext. 4911)
Received: 22 June 2016 / Accepted: 2 August 2016 / Published: 11 August 2016
Abstract
:
Protein recommendations for elderly, both men and women, are based on nitrogen balance studies. They are set at 0.66 and 0.8 g/kg/day as the estimated average requirement (EAR) and recommended dietary allowance (RDA), respectively, similar to young adults. This recommendation is based on single linear regression of available nitrogen balance data obtained at test protein intakes close to or below zero balance. Using the indicator amino acid oxidation (IAAO) method, we estimated the protein requirement in young adults and in both elderly men and women to be 0.9 and 1.2 g/kg/day as the EAR and RDA, respectively. This suggests that there is no difference in requirement on a gender basis or on a per kg body weight basis between younger and older adults. The requirement estimates however are ~40% higher than the current protein recommendations on a body weight basis. They are also 40% higher than our estimates in young men when calculated on the basis of fat free mass. Thus, current recommendations may need to be re-assessed. Potential rationale for this difference includes a decreased sensitivity to dietary amino acids and increased insulin resistance in the elderly compared with younger individuals.
Keywords:
elderly; protein; requirements; indicator amino acid oxidation
1. Introduction
Dietary protein plays a key role in various physiological, metabolic, and structural activities of the human body. Therefore, determination of its requirement at every stage of the life cycle requires the application of methods which capture all of the dynamic processes within the human body in which protein participates as total nitrogen and/or amino acids. As science has progressed, a better understanding of the human genome and increased knowledge of human nutrition have revealed that the human body functions best within a range of nutrient intake which is neither too little nor too much. Thus, malnutrition includes both under and over nutrition. The concept of optimal health as it relates to nutrient intake, therefore, refers to a state in which the individual and population intake of nutrients is not only intended to prevent deficiency (minimal intake) but to meet the cells metabolic, physiologic, and structural needs without discrepancy between what is required and what is provided so that the cells equilibrium is maintained (optimal intake). Arguably, aging is one of the stages of the life cycle where the decrease in adaptive capacity suggests a more optimal/ideal nutrient intake will be highly beneficial.
Aging is accompanied by considerable changes in body composition with increases in fat mass and a progressive loss of skeletal mass [
1
]. While this is potentially due to several reasons, inadequate protein intake could be a major risk factor [
2
,
3
]. Adequate dietary protein could play a key role in preventing this decline in muscle mass [
4
]. Therefore, there is a keen interest in determining the protein requirements during aging. Over the past 2–3 decades the issue of protein requirements in elderly has been covered in detail by Fukagawa and Young [
5
], Campbell and Evans [
6
], Kurpad and Vaz [
7
], and recently by Nowson and O'Connell [
8
]. Our objective in this brief review is to describe how the current recommendations for protein in elderly are set, and discuss our recent findings on protein requirements in healthy elderly determined using the stable isotope based-minimally invasive indicator amino acid oxidation (IAAO) method [
9
].
2. Current Protein Intake Recommendations
3. Protein Requirements Determined by Indicator Amino Acid Oxidation
4. Expression of Protein Requirements on a Bodyweight or Fat Free Mass Basis
The suggestion is that while the current DRI recommendations for protein might be adequate to promote nitrogen balance in healthy elderly individuals, it is inadequate to promote optimal health and prevent progressive loss of muscle mass.
5. Functional Evidence for a Higher than Current Protein Recommendations in Elderly
Although it is understood that population based studies of protein intake and its relationship to clinical outcomes are difficult to interpret, the inherent difficulty in conducting long-term metabolic studies in which protein intake is appropriately controlled has led to a strong reliance on data generated from retrospectively collected data. Data from Houston et al. [
52
] in which they assessed the dietary intake of 2066 men and women aged 70–79 years showed that subjects in the highest quintile of protein intake (1.1 g/kg/day/18.2% of calories) lost 40% less lean mass over the course of three years than those in the lowest quintile of intake (0.7 g/kg/day/12.7% of calories). Recent data from the Framingham Offspring Cohort study [
53
] (men = 1166, women = 1509) showed that in both men and women, leg lean mass was higher and quadriceps strength was higher in participants in the highest quartile of protein intake compared with those in the lowest quartile. For men and women, the lowest quartile of protein intake represented 0.7 and 0.8 g/kg/day whereas the highest quartile represented 1.2 and 1.32 g/kg/day respectively. In both studies the lowest protein intakes, which resulted in the poorest outcomes, are closest to the current DRI recommendations, whereas the highest intakes, with the most positive outcomes, mimics the requirement estimates derived by our group using the IAAO method.
Recently Tieland et al. [
54
,
55
] published two randomized double-blind placebo controlled trials of protein supplementation for 24 weeks in frail elderly. Protein supplements (~15 g, twice a day) increased protein intake in the test group to 1.3 to 1.4 g/kg/day, and led to no change in muscle mass, but led to increased muscle strength, in particular, leg extension strength and improved physical performance (measured by balance, gait, and chair lift ability) [
55
]. In addition, it was shown that resistance exercise for 24 weeks indeed improved strength and physical performance with an increase in muscle mass in frail elderly, but the additional protein intake (~1.4 g/kg/day) was required to gain the increase in muscle mass [
54
]. Numerous studies have also shown a beneficial effect of protein intake on bones at levels above the current recommendations. Positive effects on bone mineral density [
56
] and hip fractures [
57
] have been reported. In addition, hypercalcemia observed with increasing protein intake up to 2.0 g/kg/day was due to increased intestinal absorption of calcium with the high protein intake rather than a negative effect of protein on bone health [
58
,
59
]. Misconceptions exist regarding the effect of high protein on bone and renal health. While it is currently accepted that a high protein diet is harmful to individuals with existing kidney dysfunction, a protein intake at the level estimated by our group for older adults has not been found to be dangerous to healthy individuals [
60
,
61
].
Current evidence suggest that aging is associated with glutathione deficiency, which results in increased oxidative stress [
33
], impaired fasted oxidation of nonessential fatty acids, and insulin resistance [
62
]. Young adults fed a protein intake based on the 1985 FAO/WHO recommendation of 0.75 g/kg/day experienced a glutathione deficiency compared to that observed when they consumed their habitual diet in which protein was consumed at 1.13 g/kg/day [
63
]. In that study, young adults were able to maintain nitrogen balance despite the antioxidant deficient state [
63
]. In the elderly, where decreased sensitivity to dietary protein requires increased protein and/or essential amino acids to stimulate the same rate of muscle protein synthesis as that observed in younger persons, it raises the question whether current recommendations for protein are sufficient to maintain glutathione synthesis. Furthermore, it was shown recently in elderly that glutathione deficiency was corrected when the diet was supplemented with the glutathione precursors cysteine and glycine [
33
]. Since cysteine is a non-essential amino acid synthesized from the essential amino acid methionine, and hence the rate limiting amino acid for glutathione synthesis, this begs the question as to whether the underlying problem is one of dietary protein inadequacy or amino acid inadequacy. This is relevant because we have shown that when adequate protein and methionine are provided to young adults, supplemental cysteine does not increase glutathione synthesis [
64
]. Nevertheless, in the elderly, it is possible that a glutathione deficiency could reflect a protein deficiency and/or a deficiency of specific amino acids. Thus, in the future, there exists a need to determine optimal amino acid needs in elderly to optimize protein nutrition.
6. Conclusions
In conclusion, the current recommendations for protein intake in elderly based on the nitrogen balance data are potentially underestimates. The IAAO method presents an alternative to nitrogen balance for the derivation of dietary protein requirements. The estimates for protein requirements in both elderly men and women were derived to be 0.9 and 1.2 g/kg/day as the EAR and RDA, respectively. The higher derived estimate is similar to the amount of dietary protein required for better physiologic, metabolic, and functional capacity as assessed from metabolic, epidemiological, and randomized controlled studies, as described above. The efficacy of the derived estimate in promoting sustained health and functional well-being in elderly needs to be tested in future long-term prospective clinical studies.
Acknowledgments
Supported by the Canadian Institute for Health Research (CIHR) grant MOP-10321.
Author Contributions
G.C.-M. and R.E. conceived and drafted the review; G.C.-M., R.O.B., P.B.P. and R.E. wrote the paper.
Conflicts of Interest
The authors declare no conflict of interest.
Figure 1.
A hypothetical pattern of response in nitrogen balance observed due to increasing intakes of protein. A hypothetical example of the relationship between various protein intake levels and the nitrogen balances (true and apparent, 10% overestimated). Application of linear regression analysis on both true and overestimated nitrogen balance values resulted in nitrogen requirements of 100 and 120 mg/kg/day, respectively (0.63 and 0.75 g/kg/day, protein respectively). Application of the two-phase linear regression analysis on both true and overestimated nitrogen balance values resulted in a nitrogen requirement of 120 g/kg/day. Application of linear regression analysis underestimated nitrogen requirements by 20% when the nitrogen balance values were overestimated by 10%. Adapted with permission from [
19
].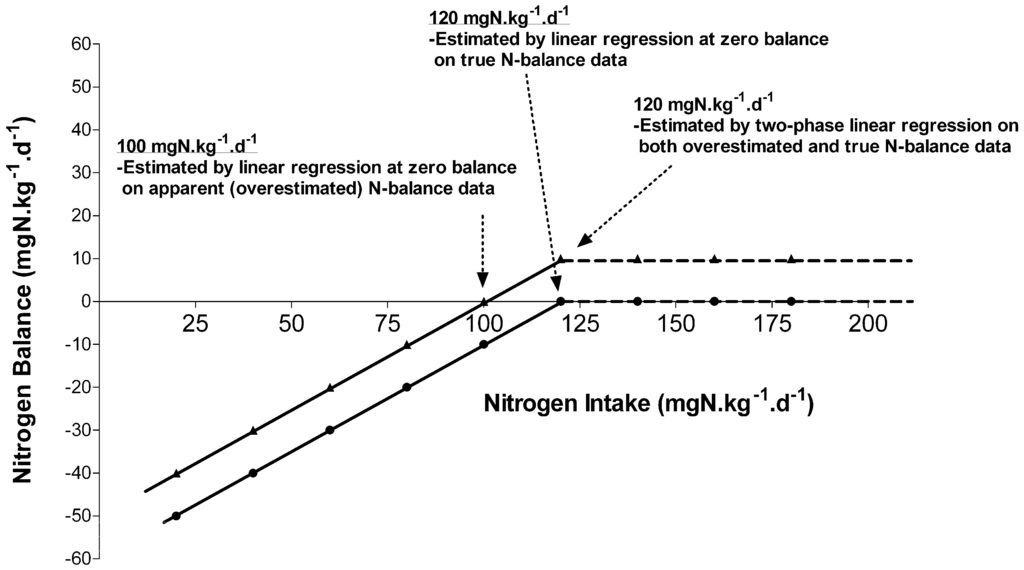 Figure 2.
Protein requirements in healthy elderly determined using the IAAO method (
a
) Women >65 years,
n
= 12, each subject participated in a minimum of two test intakes for a total of 82 studies, mean (population safe intakes) = 0.96 (1.29) g/kg/day; (
b
) Men >65 years,
n
= 6, each subject participated in seven test intakes for a total of 42 studies, mean (population safe intakes = 0.94 (1.24) g/kg/day.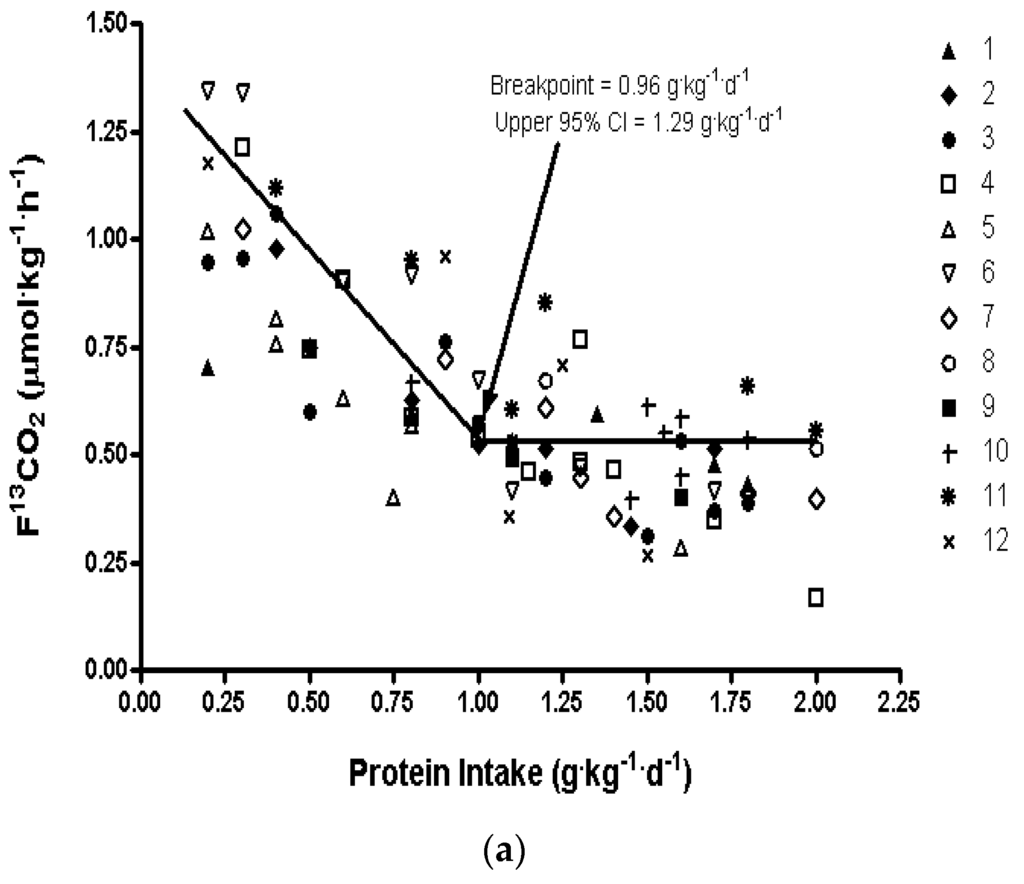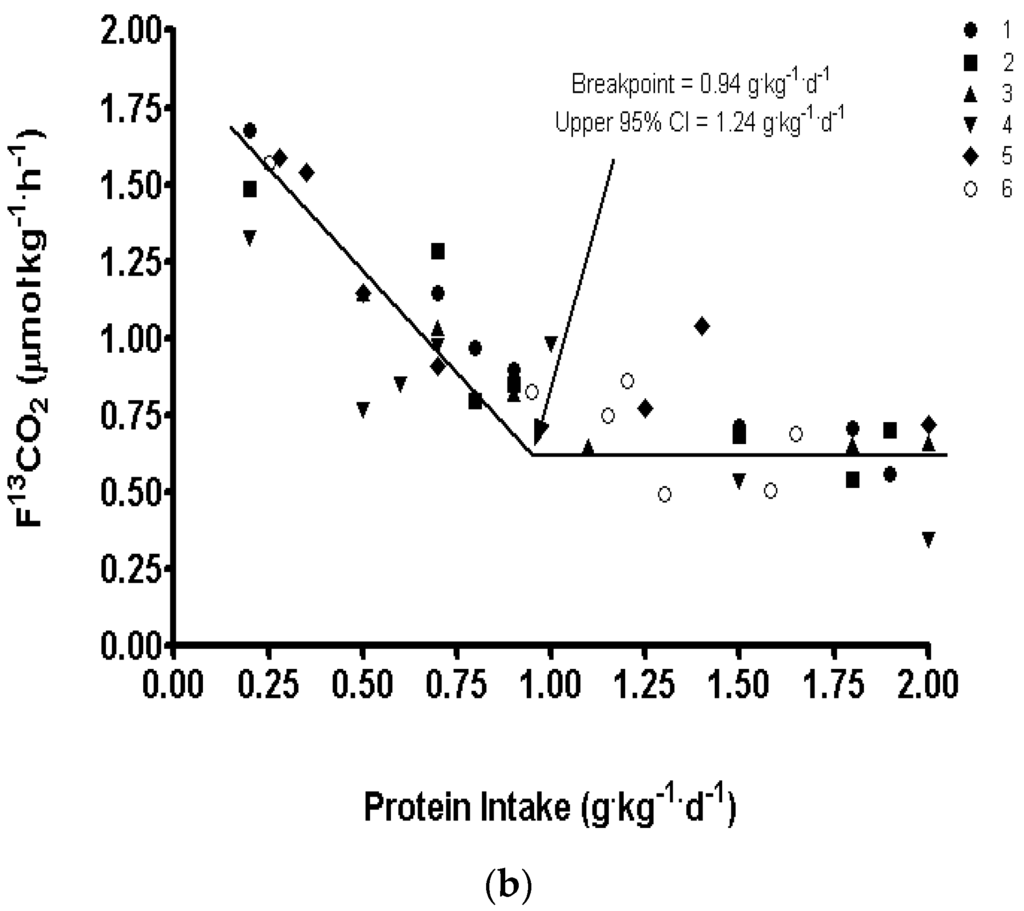 Table 1. Protein requirements in adults.
Estimated Average Requirement, EAR (g/kg/Day)
Recommended Dietary Allowance, RDA (g/kg/Day)
Estimated Average Requirement, EAR (g/kg Fat Free Mass (FFM)/Day)
% of Total Calories (Resting Energy Expenditure (REE) × 1.7)
Current protein recommendations for young and older adults
Adult DRI's 1
0.66
0.8
-
Data from studies in young adults
Re-analysis of N Balance 2
0.91
1.0
-
IAAO, young men
0.93
1.2
1.14 ± 0.09
10%–13%
Data from studies in older male and female adults
IAAO, 80–87 years women
0.85
1.15
-
10%–13%
IAAO, 65–85 years women
0.96
1.29
1.62 ± 0.14
13%–15%
IAAO, 66–79 years men
0.94
1.24
1.59 ± 0.15
14%–18%
1 Current recommendations [10], based on single linear regression analysis of Nitrogen balance data; 2 Reanalysis of Nitrogen balance data using two-phase linear regression analysis; IAAO, indicator amino acid oxidation.
© 2016 by the authors; licensee MDPI, Basel, Switzerland. This article is an open access article distributed under the terms and conditions of the Creative Commons Attribution (CC-BY) license (http://creativecommons.org/licenses/by/4.0/).