Carbohydrate Mouth Rinse Maintains Muscle Electromyographic Activity and Increases Time to Exhaustion during Moderate but not High-Intensity Cycling Exercise
1
Research Group Applied to Sport Science—GPCAE, Federal University of Alagoas, Avenue Lourival Melo Mota, s/n, Maceió-AL 57072-900, Brazil
2
Sport Science Research Group—GPCE, Federal University of Pernambuco, Alto do Reservatório street, Bela Vista, Vitória de Santo Antão-PE 608-680, Brazil
3
Laboratory of Applied Biomechanics, State University of Londrina, Avenue Gil de Abreu e Souza, 2335, Unidade 1121, Esperança, Londrina 86058-100, Brazil
4
Endurance Performance Research Group, University of São Paulo, Avenue Prof. Mello de Morais, 65, São Paulo SP 05508-030, Brazil
*
Author to whom correspondence should be addressed.
Received: 30 October 2015 / Revised: 7 December 2015 / Accepted: 9 December 2015 / Published: 9 March 2016
Abstract
The aim was to investigate the influence of a carbohydrate (CHO) mouth rinse on the vastus lateralis (VL) and rectus femoris (RF) electromyographic activity (EMG) and time to exhaustion (TE) during moderate (MIE) and high-intensity cycling exercise (HIE). Thirteen participants cycled at 80% of their respiratory compensation point and at 110% of their peak power output to the point of exhaustion. Before the trials and every 15 min during MIE, participants rinsed with the CHO or Placebo (PLA) solutions. The root mean square was calculated. CHO had no effect on the TE during HIE (CHO: 177.3 ± 42.2 s; PLA: 163.0 ± 26.7 s,
p
= 0.10), but the TE was increased during MIE (CHO: 76.6 ± 19.7 min; PLA: 65.4 ± 15.2 min;
p
= 0.01). The EMG activity in the VL was higher than PLA at 30 min (CHO: 10.5% ± 2.6%; PLA: 7.7% ± 3.3%;
p
= 0.01) and before exhaustion (CHO: 10.3% ± 2.5%; PLA: 8.0% ± 2.9%;
p
= 0.01) with CHO rinsing. There was no CHO effect on the EMG activity of RF during MIE or for VL and RF during HIE. CHO mouth rinse maintains EMG activity and enhances performance for MIE but not for HIE.
View Full-Text
►

▼

Figures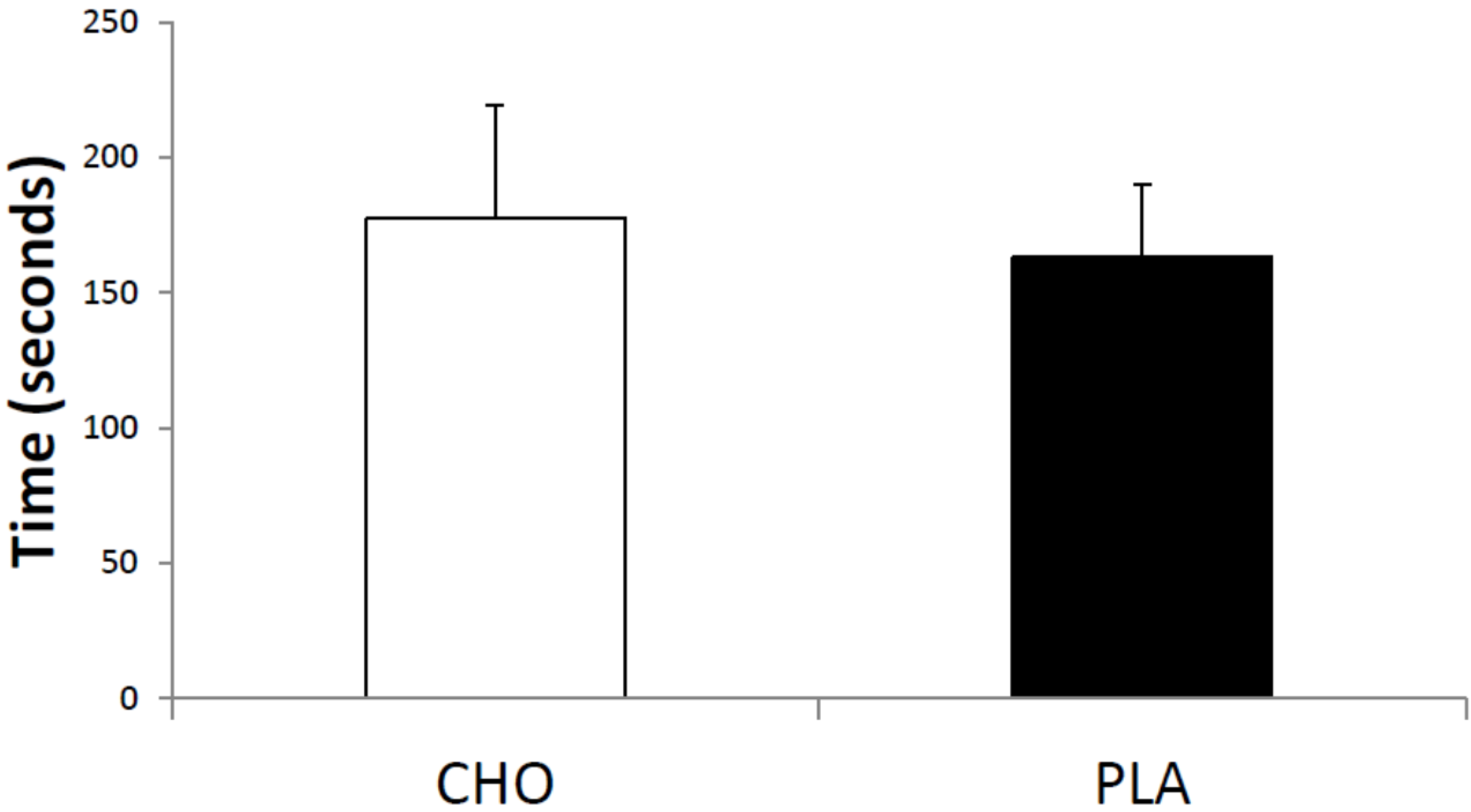 Figure 1
This is an open access article distributed under the
Creative Commons Attribution License
which permits unrestricted use, distribution, and reproduction in any medium, provided the original work is properly cited. (CC BY 4.0).
Share & Cite This Article
MDPI and ACS Style
Bastos-Silva, V.J.; Melo, A.A.; Lima-Silva, A.E.; Moura, F.A.; Bertuzzi, R.; de Araujo, G.G. Carbohydrate Mouth Rinse Maintains Muscle Electromyographic Activity and Increases Time to Exhaustion during Moderate but not High-Intensity Cycling Exercise. Nutrients 2016, 8, 49.
Note that from the first issue of 2016, MDPI journals use article numbers instead of page numbers. See further details here.
Related Articles
Comments
[Return to top]