Gestational Vitamin 25(OH)D Status as a Risk Factor for Receptive Language Development: A 24-Month, Longitudinal, Observational Study
1
Department of Preventive Medicine, University of Tennessee Health Science Center, 66 N. Pauline Street, Memphis, TN 38163-2181, USA
2
Urban Child Institute, 600 Jefferson Avenue, Memphis, TN 38105, USA
3
Department of Psychiatry, University of Tennessee Health Science Center, 711 Jefferson Avenue, Memphis, TN 38163, USA
4
Boling Center for Developmental Disabilities, University of Tennessee Health Science Center, 711 Jefferson Avenue, Memphis, TN 38163-2167, USA
5
College of Nursing, University of Tennessee Health Science Center, 711 Jefferson Avenue, Memphis, TN 38163, USA
6
Department of Pediatrics, University of Tennessee Health Science Center, 50 N. Dunlap Street, Memphis, TN 38103-2893, USA
7
Division of Pediatric Endocrinology, Department of Pediatrics, University of Tennessee Health Science Center, 50 N. Dunlap Street, Memphis, TN 38103-2800, USA
8
Department of Psychology, University of Memphis, 352 Psychology Building, Memphis, TN 38152-3370, USA
*
Authors to whom correspondence should be addressed.
Received: 15 September 2015 / Revised: 5 November 2015 / Accepted: 16 November 2015 / Published: 2 December 2015
Abstract
Emerging data suggest that vitamin D status during childhood and adolescence can affect neurocognitive development. The purpose of this study was to investigate whether gestational 25(OH)D status is associated with early childhood cognitive and receptive language development. The Conditions Affecting Neurocognitive Development and Learning in Early Childhood Study (CANDLE) study enrolled 1503 mother-child dyads during the second trimester of healthy singleton pregnancies from Shelby County TN. Among 1020 participants of the total CANDLE cohort for whom 25(OH)D levels were available, mean gestational 25(OH)D level during the second trimester was 22.3 ng/mL (range 5.9–68.4), with 41.7% of values <20 ng/dL. Cognitive and language scaled scores increased in a stair-step manner as gestational 25(OH)D levels in the second trimester rose from <20 ng/dL, through 20–29.99 ng/dL, to ≥30 ng/dL. When controlling for socioeconomic status, race, use of tobacco products, gestational age of the child at birth, and age at the 2-year assessment, the gestational 25(OH)D was positively related to receptive language development (
p
< 0.017), but not cognitive or expressive language.
View Full-Text
►

▼

Figures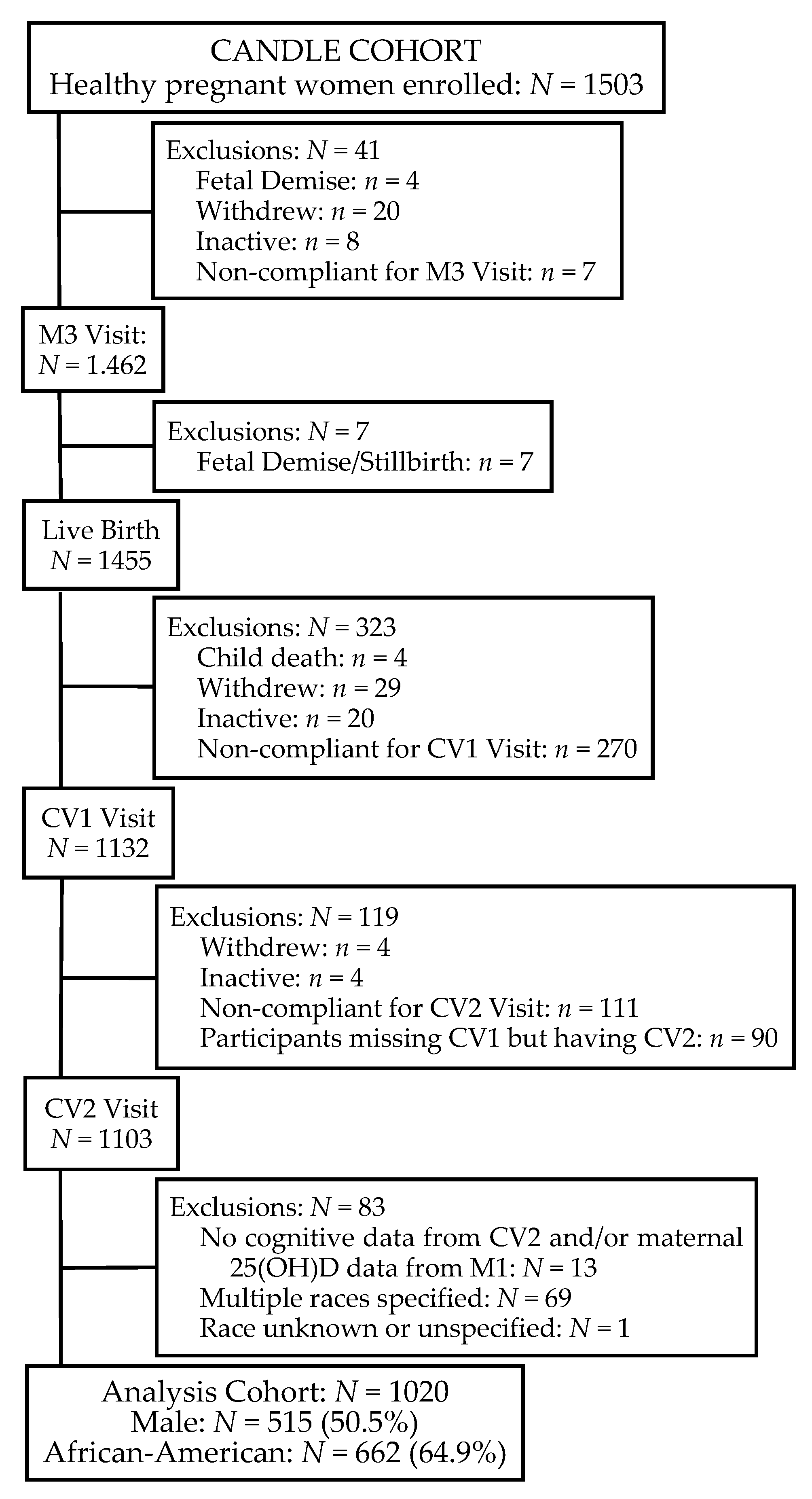 Figure 1
This is an open access article distributed under the
Creative Commons Attribution License
which permits unrestricted use, distribution, and reproduction in any medium, provided the original work is properly cited. (CC BY 4.0).
Share & Cite This Article
MDPI and ACS Style
Tylavsky, F.A.; Kocak, M.; Murphy, L.E.; Graff, J.C.; Palmer, F.B.; Völgyi, E.; Diaz-Thomas, A.M.; Ferry, R.J. Gestational Vitamin 25(OH)D Status as a Risk Factor for Receptive Language Development: A 24-Month, Longitudinal, Observational Study. Nutrients 2015, 7, 9918-9930.
Related Articles
Comments
[Return to top]